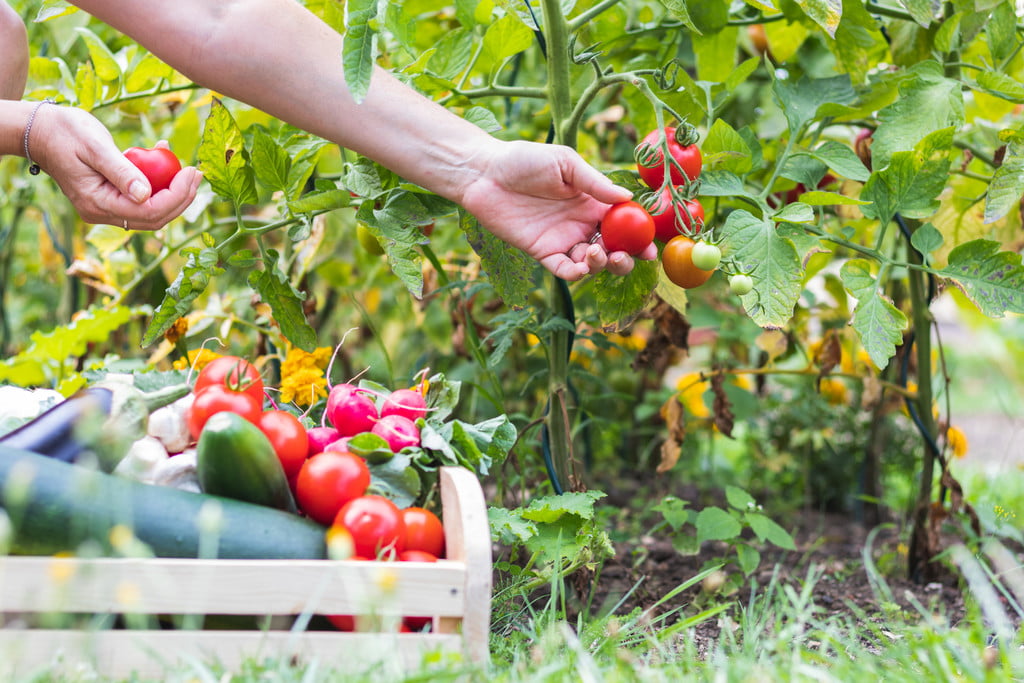 Growing your own vegetable garden is a fun and rewarding hobby to get into. Not only does it allow you to bring fresh and nutritious produce to your table, but it also serves as an enjoyable way to bond with the whole family.
Vegetable gardening may seem like a daunting and stressful task, but trust us when we say it's really just all about paying attention: Getting the basics right and learning what will keep your veggies lively, healthy, and tasty. Check out these helpful tips we've compiled on how to grow your own vegetable garden, or take a look at our guide to growing tomatoes in pots.
Picking the right location
A successful vegetable garden starts with choosing the right location. This is an important step and requires some thought. Your garden must be exposed to sunshine with a little afternoon shade, so pay attention to the surrounding trees and take notes on the way the sun shades. You'll also want to go for a spot that's close to a garden hose and garden hose reel and somehow protected from floods, strong winds, and frost.
Planning the garden's size
If you have the room for a huge vegetable garden that can grow everything you want (and the time, energy, and effort needed to maintain it), then, by all means, go for it. However, it's always better to start small first. The ideal size for a beginner garden would be 11 rows wide, each row measuring 10 feet long. It's large enough to grow veggies for a family of four for one summer, with some leftovers that you can freeze, can, or give away. You can choose to make the rows shorter if you prefer a smaller garden.
Determining the type of bed
There are several options on what type of bed to use. One of the simplest ways is using raised or square footbeds. In addition to their materials being inexpensive, this type of bed doesn't require you to till the soil. They even act as a barrier that helps keep the grass from getting into the garden. You can also make use of galvanized animal troughs, which are basically like big planters.
If you're concerned about having limited space, pots are the way to go. There are various sizes available, and it's up to you to decide on what to use as long as they are suitable for the vegetables you want to grow. It's a very practical option that offers the convenience of being able to be moved to wherever the sun is.
Planting directly into the soil is another common method that has been used for centuries. Make sure the garden has moist and well-drained soil and is not rocky; otherwise, you'll need to improve it with natural matter such as compost and till it to remove the rocks. Creating rows is advisable to give room for plants to develop and grow as well as provide easy access to the bed. You can also get rid of rows if you're growing a smaller garden or want more room available for growing crops.
Choosing the vegetables
This goes without saying, but only grow plants you would like to eat. It also helps to know what types of plants grow best in your region (and in each season) as well as the availability of vegetables at your grocery store. Some of the most common productive plants that are easy to grow include tomatoes, lettuce, carrots, beets, cabbage, radishes, and zucchini squash. It's also great to grow your own herbs as it's less expensive than buying at the grocery store.
After choosing the veggies, the next thing you have to decide on is whether to go for seeder plants or seeds. Seed packets are less expensive options but they require investing in supplies like containers, potting soil, and a light stand. There are also seeds that need to be sown into the soil directly; check the label if there are necessary steps to be done prior to planting. For beginners, however, it is generally recommended to purchase small starter plants or seedlings rather than try propagating from seeds. Plants with good color and strong stems are your best picks.
Additional tips
Gardening equipment: Having the right garden tools and equipment is important in starting a vegetable garden as well as maintenance and harvesting. Stick to the basics, such as gloves, shovel, pruning shears, garden fork, hand trowel, rake, hoe, garden hose, and watering essentials.
Soil fertilization: Fertile soil will enable your crops to grow quicker and produce a higher yield. We suggest using organic matter like rotted manure from plant-eating animals or ready-made compost. You can also try one of the best fertilizers.
Pest control: Pesky pests have long been a concern when it comes to maintaining gardens. There are many types of pesticides and insecticides on the market, but it's better to use organic and natural remedies and methods.
Plant support: There are certain types of vegetables that need extra support, such as trellises, stakes, and cages. These will allow the plants to grow properly and result in cleaner produce.
Looking for more tips? Be sure to browse through our home and garden hub.
Editors' Recommendations