From fiery and bright to subtle and light, orange flowers add a pop of color to any garden space. There are so many shapes, sizes, and shades to choose from, so how can you be expected to pick? We're here to help, with this list of six gorgeous orange flowers. No matter what type of climate you live in, there's an orange flower fit for your yard. Keep reading to find your perfect match!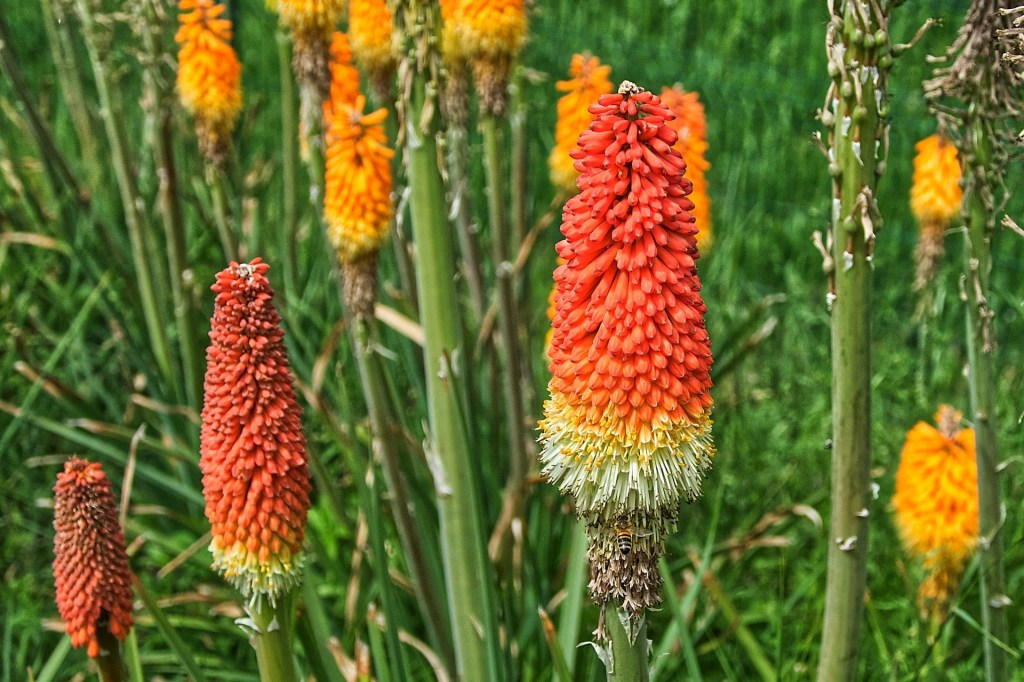 Kniphofia
Also called torch lilies or red hot pokers, these tall, unique-looking plants strongly resemble their namesakes. They can grow to be five feet tall and are very attractive to pollinators, making them excellent centerpieces. Just make sure to give them plenty of room to grow.
You can start them from seed or transplant them as seedlings. Either way, plant your kniphofia somewhere in full sun. They grow in clumps, so be sure to plant any other flowers a foot or two away, or plant them after the kniphofia have grown. Kniphofia prefer well-draining soil and are moderately drought tolerant but do require regular watering during dry spells.
Parodia haselbergii
Parodia haselbergii, sometimes called the scarlet ball cactus, is a small, round cactus with a stunning, red-orange bloom. If you have a sunny area in need of some color but don't have enough space for a kniphofia, this cactus is an excellent choice. They also grow well in containers, as they stay small and grow slowly.
They need full sun and are not cold tolerant below 45° F. Parodia haselbergii need a little more water than the average cactus but are still moderately drought tolerant. During spring and summer, when the cactus is growing, water your parodia lightly every six to 10 days. Slow your watering schedule down in the fall, watering it only every 15 to 20 days or roughly once a month. In the winter, your parodia is dormant and doesn't need water.
Ligularia
If you have a shady area that needs brightening, then ligularia may be the right plant for you. This shade-loving plant has dark, large leaves and bright, orange-yellow flowers. They can grow in poor to well-draining soil but can't tolerate dry spells, meaning they may need to be watered more frequently in some gardens.
Ligularia has an interesting quirk to conserve water during the hottest parts of the day. They temporarily wilt, going limp while the sun is hot overhead, and then perk back up later, when the temperature has dropped. Ligularia are sometimes targeted by snails and slugs, so keep an eye on their leaves for signs of damage.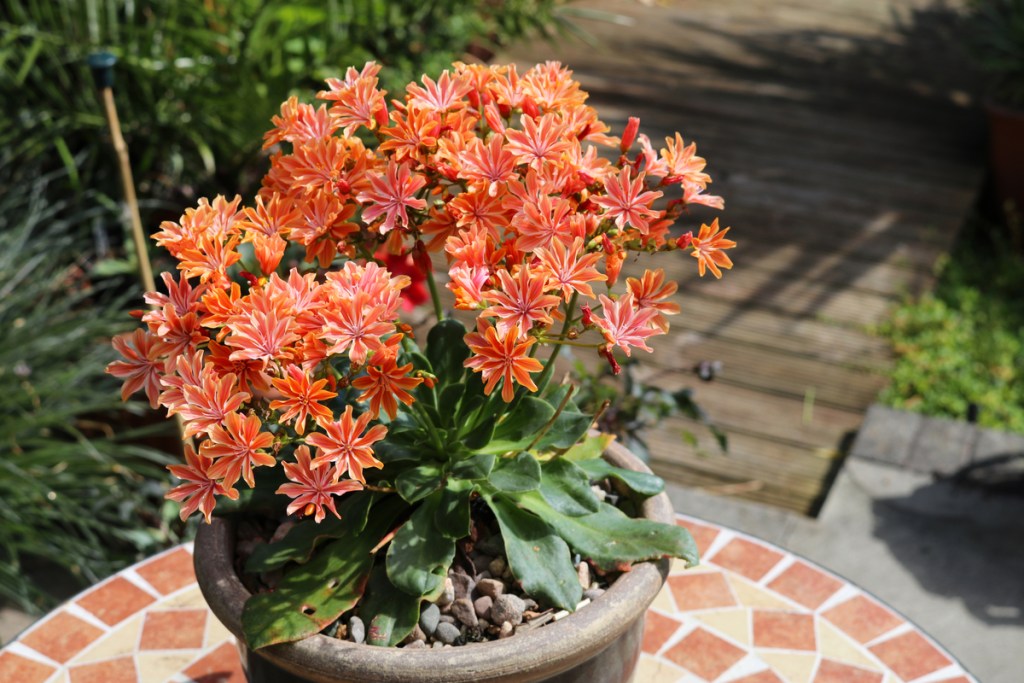 Lewisia
Small, cute, and interesting, lewisia is a great plant to add to a rock garden or container garden. The dark leaves stay low to the ground, with tall, skinny stems shooting up in all directions, ending in flowers with striped or two-toned petals. They grow in full to partial sun and prefer sandy or rocky soil. They need only a moderate amount of water and the bare minimum of nutrients.
Nasturtium
Nasturtium actually makes an excellent addition to any food garden, as the flowers and leaves are both edible. They have a somewhat spicy taste that matches their vibrant orange color. There are both vine and bush varieties available, so you can choose the one that best fits your space.
Nasturtiums like consistent moisture, although they are mildly drought tolerant. They will grow in partial shade but produce more blooms in full sun. Nasturtiums are a great choice for areas that don't typically support other plants since they do just fine in poor soil. In fact, too much nitrogen will lead to more leaves than flowers.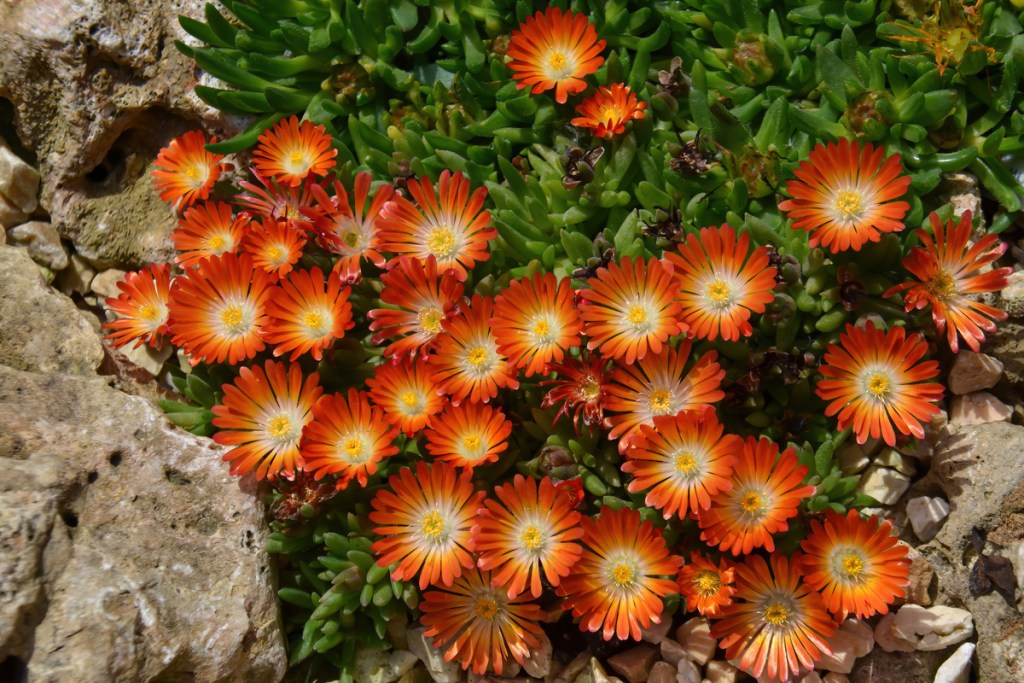 Delosperma
If you live farther north and have colder winters, you may be wondering if there's a flower for you, as well. Well, wonder no more, as delosperma, also called ice plant, is a flowering evergreen that is perfect for you. Delosperma grows low to the ground and is often used as ground cover. In spring, the plant produces beautiful flowers that come in a range of colors, including several shades of orange.
To grow delosperma, plant them in full sun with well-draining soil, especially sandy or rocky soil. Water them weekly during the summer, but they need to be kept fairly dry during the winter. In snowy climates, lay a frost blanket or crop cover over them to keep their leaves dry.
No matter how your garden is set up or what your climate is like, one of these six orange flowers will pair nicely with your needs. With just a bit of patience and a little attention to detail, you can make the orange garden of your dreams — or just add some orange as an accent color. Any gardener can grow these flowers, whether a beginner or an expert. Experiment with different color combinations, or stick to a tried and true favorite. As long as you're enjoying your garden, that's all that matters.
Editors' Recommendations