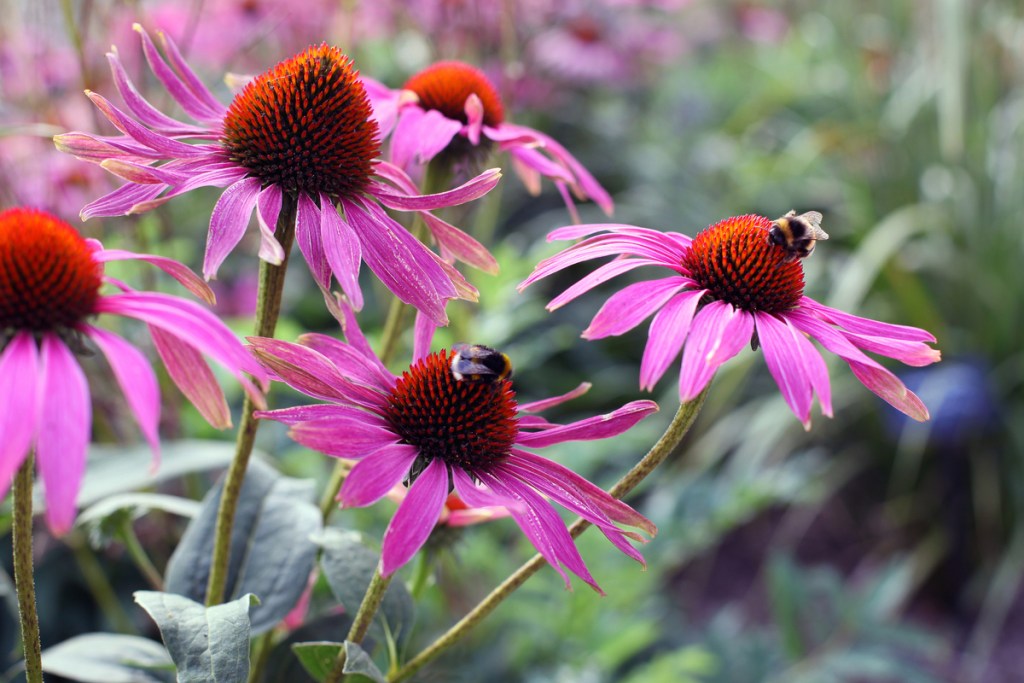 You don't need to live in the desert to think about conserving water. Gardening is challenging enough without worrying whether or not your plants will survive a dry spell. Drought hardy flowers make life a bit easier. Drought tolerant plants have special features that help them survive when rain doesn't come.
Some of the most reliable drought-hardy flowers are perennials that'll grow back year after year. They may develop deep roots that can reach water more easily, or grow low to the ground with less surface area exposed to drying wind. Some have thick leaves with a reduced surface area. With so many ways of adapting to dry conditions, there's no shortage of plants to choose from. Following are some of the easiest drought-tolerant flowers you can grow.
Echinacea
Purple coneflower, Echinacea purpurea, is one of the most popular drought-tolerant plants for numerous reasons. This native North American flower is well adapted to hot summers and cold winters across the continent. The long lasting flowers attract wildlife from early summer through fall, from the butterflies and bees that sip its nectar, to the birds that devour its seedheads.
Although echinacea appreciates consistent soil moisture, once established it only needs irrigation during extended, extreme drought. Purple coneflower is just one of seven native Echinacea species, along with dozens of popular hybrids, that will perform well.
Lavender
Like other members of the mint family, lavender, Lavandula spp., is a rugged plant that thrives where other plants struggle. This native of the Mediterranean region grows best in full sun and well-drained soil, and looks striking in rock gardens and perennial borders.
Whether you plant lavender plants in containers or in your garden, they thrive with low moisture while they look and smell wonderful. Another favorite of pollinators, lavender's purple or blue flowers add a hint of coolness to the hot summer landscape. And, you can cut and dry the foliage or flowers for tea, sachets, or to add a delicious flavor to homemade ice cream.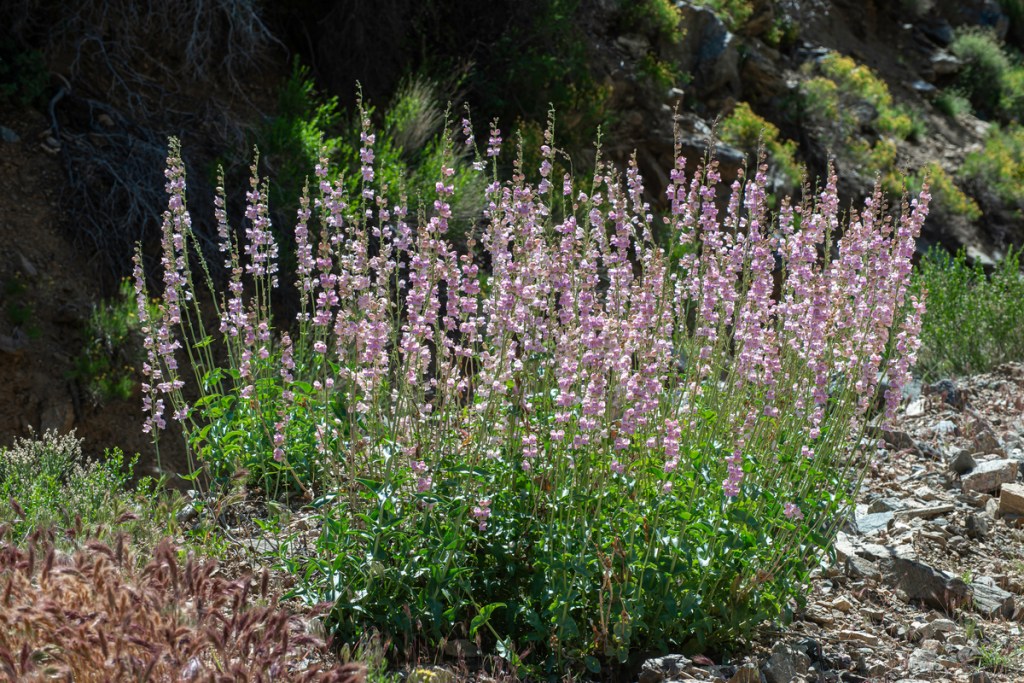 Penstemon
Rugged and reliable Beardtongue, or Penstemon spp., thrives in hot, dry locations, including soils that are mostly gravel and sand. In fact they suffer in wet or poorly drained soil. Simply put, you'll likely never need to water it once it's established.
These North American natives offer tons of variability in size, bloom color, foliage, and form. They're an excellent choice for perennial borders, container plantings, and natural areas due to their reputation for deer and rabbit resistance. Some varieties have foliage that remains year round in regions with mild winter weather. Pollinators adore them and you will too.
Rudbeckia
Black-eyed Susans, Rudbeckia spp., are iconic North American wildflowers and perennial garden staples. Their sunny yellow-ray petals and dark centers bring a punch of color to the landscape throughout the summer, while the mature seedheads add structure to the fall and winter garden. Rudbeckia are beloved by birds and bees, and they're easy to grow in difficult locations.
There's a Rudbeckia species for virtually every need. The ubiquitous Rudbeckia fulgida remains about knee high and thrives in poor soil. R. hirta cultivars feature soft, fuzzy leaves and large flowers, often with a blush of maroon, orange, or red. The mammoth R. maxima may reach heights well over seven feet.
Salvia
Salvias, commonly called sages, are some of the most useful flowers around. The foliage is typically lightly fragrant and resistant to browsing by deer and rabbits. The blue, purple, red, or white flower spikes are colorful, long lasting, and attractive to pollinators. Use them in wild areas, pollinator gardens, perennial borders, or containers.
There are about 50 species of salvia that are native to North America, many of which are drought tolerant. Choose from popular annual or perennial herbaceous species like blue salvia (S. azurea), autumn sage (S. greggii), black and blue salvia (S. guaranitica), mealycup sage (S. farinacea), Texas sage (S. coccinea), and more.
Hylotelephium
What list of drought-hardy flowers would be complete without succulents? Formerly categorized within the Sedum genus, Hylotelephium encompasses several species of showy-flowered succulents. These plants are thick and fleshy, thornless, and hold up well to heat and drought. In addition to their showy flowers, many of these succulents display colorful, attractive foliage for an extended season of interest. Plus, they attract pollinators.
Plant upright selections like 'Autumn Fire' or 'Purple Emperor' (H. telephium) among perennials and low shrubs. Trailing types such as 'Japanese Stonecrop' (H. sieboldii) or 'Pink Mongolian Stonecrop' (H. ewersii) in mixed container plantings, among stepping stones, or as a rock garden groundcover.
For easy maintenance, wise water usage, and season-long garden interest, plant a diverse selection of drought-tolerant flowers. Once they've become established, just keep them mulched and divide them every three to five years for a beautiful, healthy, eco-friendly landscape.
Editors' Recommendations