Everyone has a favorite plant they wish they could have more of without spending a lot of money. With a propagation station, it's much more feasible! You'll have a designated space for rooting cuttings, leaving your mason jars free for things like spices, dried herbs, and pickling vegetables. Propagation stations can be as simple as a vial held up by some wire or sitting in a wooden cube—but why not get one of the stations listed below? They're cool, serve the same function, and let you show off a bit of your personality.
This handmade resin station comes in nine different base colors and three different wire colors, so you can personalize it a bit to fit your style and preferences. The vials themselves are rather skinny, so this station is best for propagating plants on the smaller side (like pothos) as opposed to larger ones (like a mature monstera deliciosa). You'll want to wash out the vials between uses and change the water every three to five days to reintroduce oxygen and prevent algae growth.
Because this item is handmade, there may be slight differences from the ones pictured in the listing–but that's part of the beauty! You'll have three vials consistently, but each piece is unique and one-of-a-kind because they're made to order. The wire is strong enough to hold the vials, but easy enough to reshape if anything happens during shipping.
Unique features: Inspired by geodes, has wire wrapped around the tubes to hold them up, handmade to order
Price: $30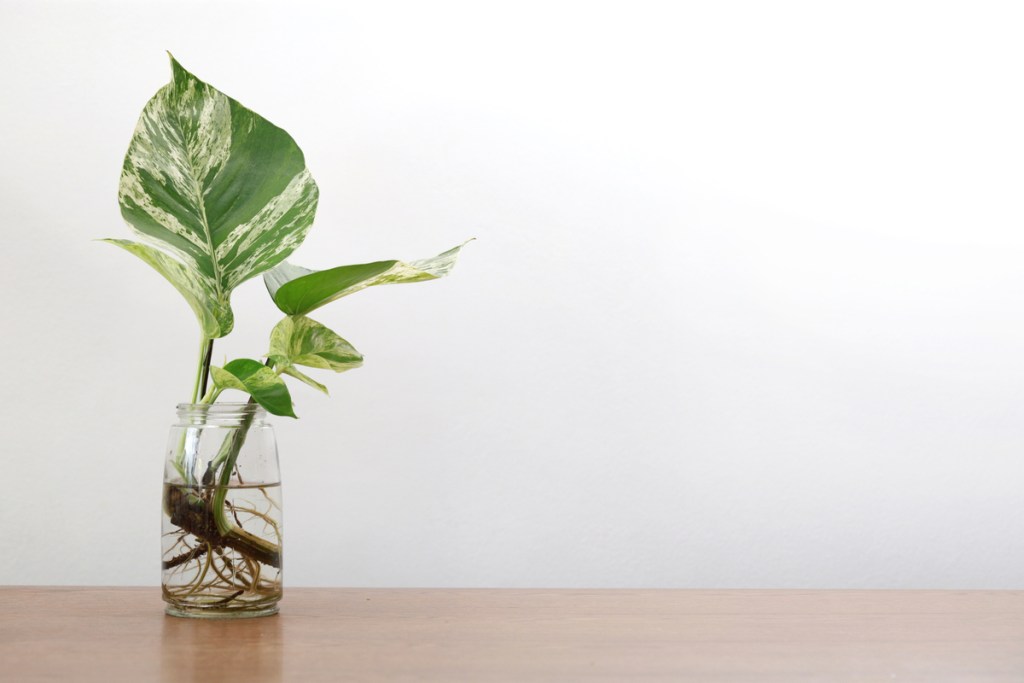 This wall-hanging station is available in three different wood types: mahogany, walnut, and maple. With a light, dark, and middle-of-the-road option, you should be able to choose one that matches your existing decor pretty well. The vial adheres magnetically to the piece of wood, making it easy to remove and hand wash when needed. It's fairly long, so you'd be able to propagate cuttings with longer stems or ones that need more space for roots.
This wood propagation station comes with the needed hardware to hang on the wall and is about six inches wide, so it won't take up too much room on your wall.
Unique features: Made to hang on the wall, space-saving, doubles as art piece
Price: $44
These glass wall orbs are available in packs of one, three, six, or twelve for various price points. Because they have a smaller mouth at the top and widen at the bottom, they aren't as easy to wash by hand as vials would be; however, since they're glass, you should be able to safely put them on the top rack of your dishwasher when they need a good cleaning.
This is another propagation station that, due to its shallow nature, is best for smaller cuttings since there won't be a lot of space to hold a larger one upright. The orbs hang on the wall, offering a beautifully unique design element to any home.
Unique features: Has use instructions on the site listing, comes with needed hardware
Price: $15 for one, $45 for three, $65 for six, or $100 for twelve
This propagation station is a three-tiered wall hanging that comes in six different finishes. The setup of this one lends itself to cuttings with shorter stems. Each tier has five vials (for a total of fifteen) that you can choose to either be glass or plastic. Both will be easily washable since the vials can be removed from the wall hanging. The wall hanging is about 18 inches long, so you'll need to accommodate a decent space for it.
Unique features: Three tiered set-up, free cutting and propagation cube included
Price: $50
Anthropologie has a simple, yet beautiful, staggered vase propagation station. It's a handcrafted set of five vases connected and held up by gold-painted iron. The vials sit in the wire holder at different heights, which offers a fun design element for a desk or side table. Some vials are longer, some shorter, so this station can accommodate a few different sizes and varieties of cuttings.
Unique features: Staggered heights make it more dynamic
Price: $28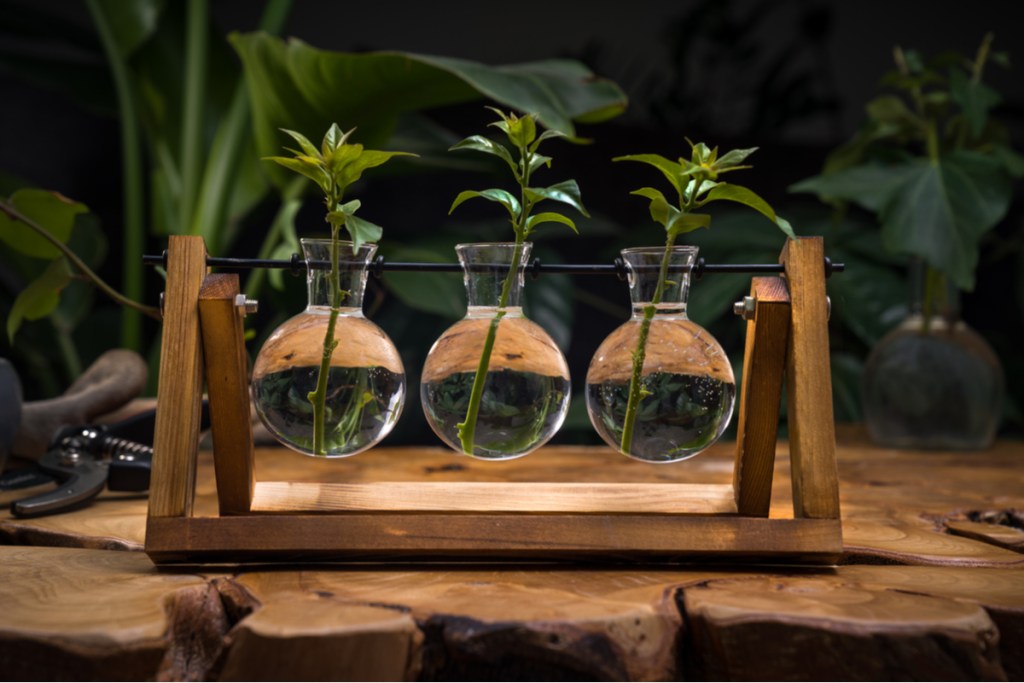 This window cling setup is great for small spaces and small plants! The vials can be easily removed and rinsed out since they adhere magnetically to the suction cups. You won't have to fully take down the station every time you want them cleaned, which is much easier than trying to remember where exactly you had each one positioned. Each vial is decorated with a lace accent, so it's better to hand wash them than run them through the dishwasher.
Unique features: Have attached suction cups to adhere to windows, customizable ribbon accents
Price: Starts at $5 for one vial to $85 for twenty vials
This station is perhaps one of the most minimalistic on the list. You don't have to stick things to the window or make space on your walls. It's as easy as finding a spot on a desk, table, or stand that will fit this station. It comes with three shallow vases for propagating smaller cuttings either via stems or leaves. This station is nine inches wide and five inches tall with each vase being about three inches of that.
Unique features: Perfectly sized for office desk or side table, minimalist look to fit every aesthetic
Price: $37
Propagation stations can make it much easier space- and effort-wise to grow new babies of your favorite indoor and outdoor plants. There are plenty of options available, and you can even take inspiration and buy the materials to DIY one that's unique to you!
Editors' Recommendations