It's well known that adding plants and greenery to living spaces can liven them up instantly. Whether you're a newbie to growing plants indoors or an avid plant owner, adding them to any room will enhance your decor. Incorporating indoor plants as part of your interior design spaces can add a pop of color to any area, especially to those with a neutral color scheme.
If you want to add more plants to your living areas, this guide will give you some creative inspiration for arranging plants in a living room and incorporating plants into your home scenery.
Fill empty areas with plants
A great way to utilize plants in your living room or other common household areas is to fill empty spots with your plants. This way, you won't have to buy additional furniture to fill in open gaps. Styling your living room with plants can help with hard-to-style sections. Be sure to arrange plants using varying pot and plant heights to give the space depth.
Structure a leafy plant divider
In larger living rooms with plants, you can optimize your space by using sizeable leafy greenery as dividers. You can zone, divide, or section off open-plan living space with tall container plants. Using plants as a divider can allow your style and creativity to thrive, especially if you use a variety of tall plants pulled close together to show off their varying leaf shapes, colors, and markings. Furthermore, tall plants will let the daylight gently filter through to the different parts of the room.
Use plants as shelf decor
Shelving systems are ideal for additional storage and also making the most out of wall space. Even better: They're great for displaying plants. Mixing plants of various shapes and sizes is a great way to liven up shelves. There are countless opportunities to coordinate with your plants to mix and match your living room decor. You can choose from upright, trailing, and little potted greenery for added color against a shelved wall. One strategy when deciding how to arrange plants in living room shelves is to use a unified aesthetic by choosing pots with similar shapes and colors.
Pair plants with wall art and color
Plants with similar or related hues should be paired together. While foliage-only plants are rather versatile, when matching them with unusual, colorful leaves or vivid blossoms, be sure to keep your room's color palette in mind. If you want to go for a dramatic look, feel free to be a little more daring with your groupings and the containers they live in.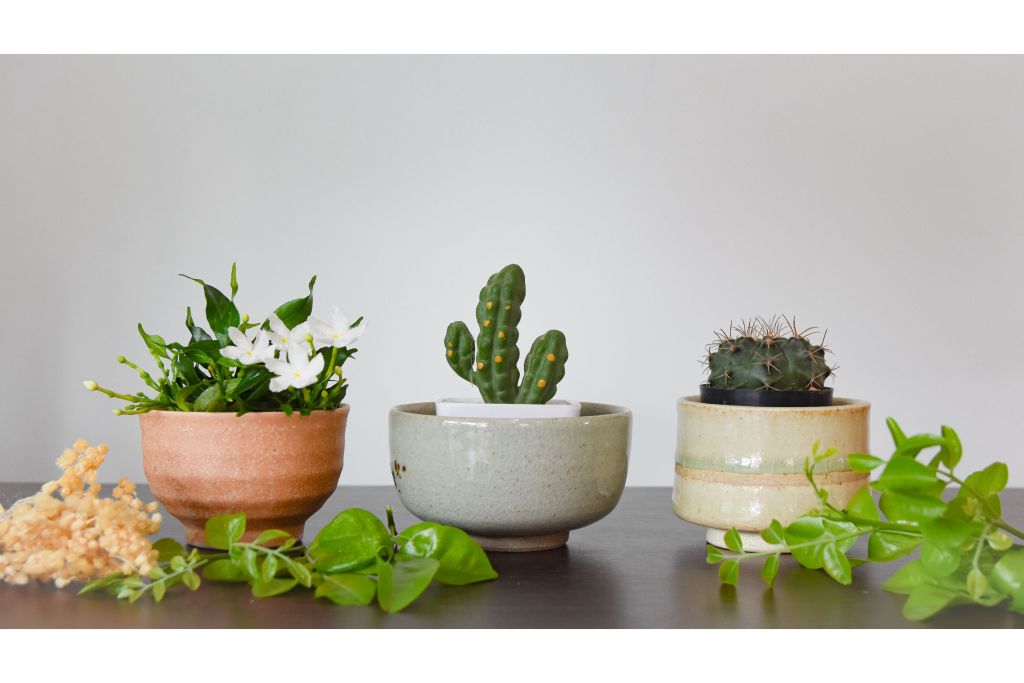 Create depth and dimension with plants
To create greater depth and dimension with your decor, group plants of different sizes and shapes together. The appropriate fittings will enhance the style of your selected containers and the surrounding area by adding character and depth to your interior decoration. Instead of arranging your potted plants in symmetrical lines, add interest by staggering them. Place more prominent, taller plants in the back and smaller ones near the front, thus creating more dimension. You can even use furniture to create a more dramatic contrast, such as ledges, plant stands, tables, and windowsills.
Invest in stylish pots and stands
Depending on your personal style, a compatible planter for your greenery and foliage should be a must. For example, you can use baskets and other natural materials for planters, or, if you're more of a ceramics or a mid-century modern fan, source planters and pots that fit your desired design choices. No matter your decoration style, planters are an easy way to tie together a space and instantly make it look more put together. It can also add a pop of color and allow for better airflow in the living room with plants.
Plants make any room feel like a home. Use these tips to arrange them for maximum interest, and don't be shy to take and share photos of your indoor garden. All your friends and family will be jealous of your stylish displays.
Editors' Recommendations