Pools are absolute amazing spaces to have during the warmer months, especially if you live in sunnier climates. Of course you'll want a deck, and probably a privacy fence if you have close neighbors. But what about plants? As we know from growing indoors, plants have the ability to enhance and brighten a space—and the same applies for outdoor landscapes. However, not every plant is suited to being near a pool. Let's go over how plants can elevate the landscape around your pool and which plants you should avoid.
How landscape design enhances your pool
When planning out what kind of pool you want, you should consider how you want the landscape around it to look. This includes the deck, seating, plants, and more. If you don't plan it out simultaneously, you may not end up having space for everything you want to include. Landscape design is essential to the atmosphere of the space and allows you to express your personal style while creating an area family and guests love to spend time in.
When it comes to plants, one of the best ways you can incorporate them is in containers. Potted plants can be moved as-needed and placed in areas (like on concrete or stone) where they wouldn't otherwise grow; this way, too, they can be used as a perimeter. You can control how much they grow with trimming and pruning, and you won't have to worry about them taking over. There are other ways you can include plants in your landscape design, but you should be wary of which ones you choose and where you put them.
The best way to incorporate plants
Potted plants add visual interest to your pool area and can easily complement the theme. If you want your pool to feel more beachy and you live in an appropriate climate, you can use tropical plants like palms to enhance the feeling of being oceanside. They add color and variation, and the containers they're in keep the dirt and soil mess from making its way into the pool.
Other container plants, like florals, also work well to fill in a concrete area or to designate a perimeter for the pool. If you have a privacy fence, you can place potted plants on the inside so that, from the pool or deck area, you see beautiful greenery instead of drab fencing. Even something as simple as a small patch of grass the kids can play in (because pool rules say no running on the deck or concrete!) can make the outdoor area feel more dynamic.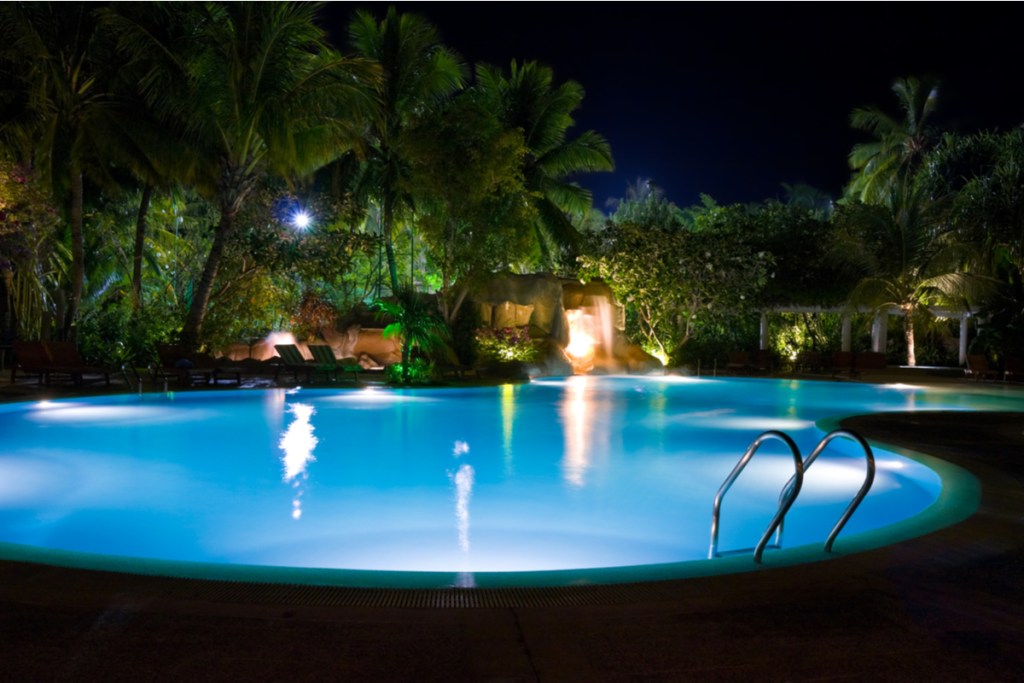 Plants to shy away from
Not every plant is suited for a pool area, usually because of the debris that can fall onto the deck, into the water, and get caught in the filter or throw off the pH balance. Plants also invite a variety of pests and some, like cacti if you're in an area where they can be grown outside, are unsafe for swimming areas. Here are some general plants you'll want to avoid in your pool landscaping.
Most kinds of trees
Trees should be avoided for a few reasons, most notably the debris they produce. When the leaves or bark or sticks (or even branches) fall down, they could land in your pool or filter. A mature tree is especially more likely to wreak havoc on a pool, so you should consider that when you're planning out where to install it in the first place.
Other issues that come with trees planted by pools include sap, animal feces, unwanted animal presence (birds and squirrels become at-risk of falling and drowning, and you'll be left to clean them out), and shade. Some shade is nice to give a break from the sun, but if you're interested in sunbathing or using a solar cover to heat your pool with sunlight, too many trees won't help.
An alternative, pool-friendly option: That doesn't mean you can't have them at all. Smaller varieties of trees can be planted in containers and used around the perimeter, and you can even plant some in the ground on the outside of your fence to increase privacy and seclusion.
Azaleas
Azaleas and other flowering (or non-flowering) bushes and shrubs should unfortunately be avoided, too, unless they're in containers. The biggest problems these plants pose are leaf and flower drop. The debris can be cleaned up if you get to it, but otherwise it has the potential to clog your filter and throw off the balance of your pool.
Deciduous azaleas drop their leaves in the fall, sometimes earlier in drier climates. If your pool is closed when the leaves start to shed, it may not be a big deal; however, you'll have to manage spring clean-up, and it may be best to avoid these plants altogether unless you're keeping them at the perimeter.
An alternative, pool-friendly option: If you're set on having flowers poolside, you can either put these in containers or opt for flowers like black-eyed Susans, which often don't start to have leaf or flower drop until the pool is closed for the season.
There are plenty of plants, such as ornamental grasses, that can beautify the area without posing problems to the overall balance of the water and safety of the space. Do some research to see what plants will survive outdoors in your climate, then decide whether they're better suited for containers, perimeters, or shouldn't be grown poolside at all.
Editors' Recommendations