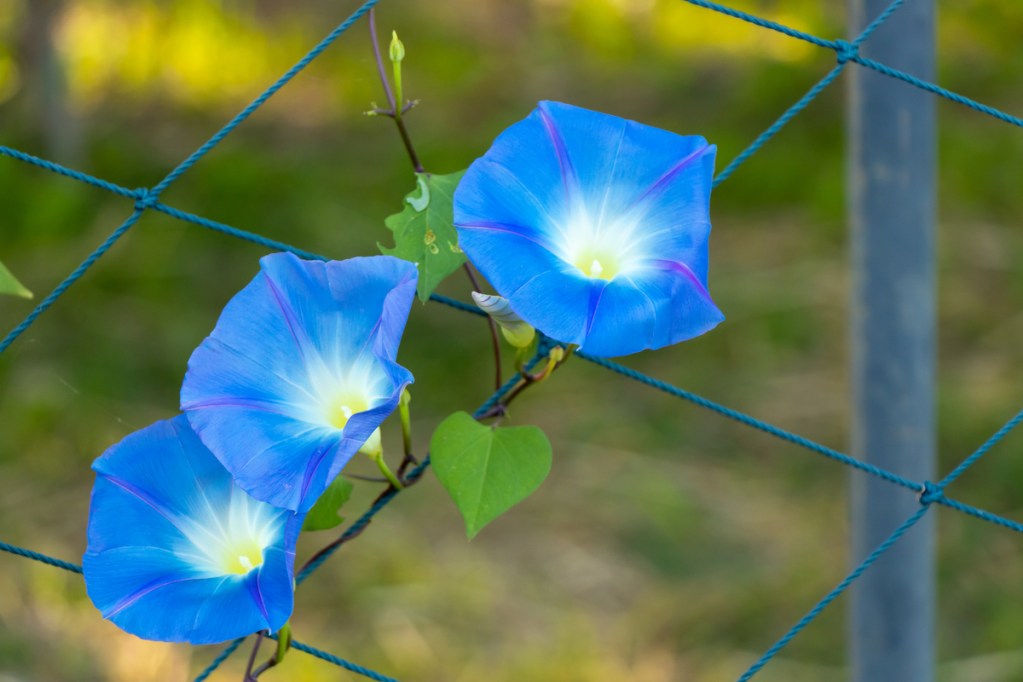 Growing flowers from seed can be a gratifying process, but it does take some patience. If you've always bought ready-to-go flowers but want to try starting blooms from seed, don't skip the seed packet section at your local garden center.
While starting plants from seeds can be a slow process, there are certain flowers that are faster to grow than others. For a warm-weather garden full of bountiful, productive blooms, consider planting these fast-growing flowers from seed — we'll go over everything from calendula to poppy flowers.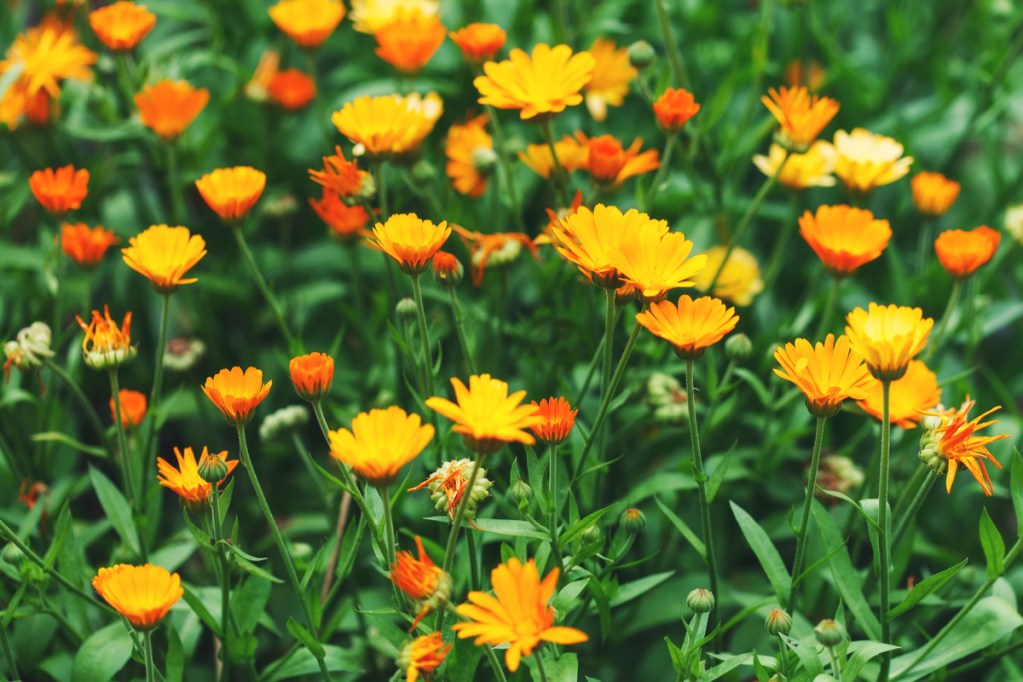 Calendula flowers
Perennial in climate zones 9 to 11, the cheerful yellow calendula flower, or potted marigold, is one of the easiest flowers to grow from seed. In addition to being adaptable to both full sun and partial shade conditions, it's not particularly picky about poor soil conditions — you just have to make sure you're planting your seeds after the last frost has passed.
Seeds germinate in a week and blossom in six to eight weeks. Calendula flowers can also self-sow, so you don't necessarily have to set seeds every growing season. For continued blooms, keep up with deadheading spent flowers. Bear in mind that stress (such as drought) will cause your flowers to drop and go to seed.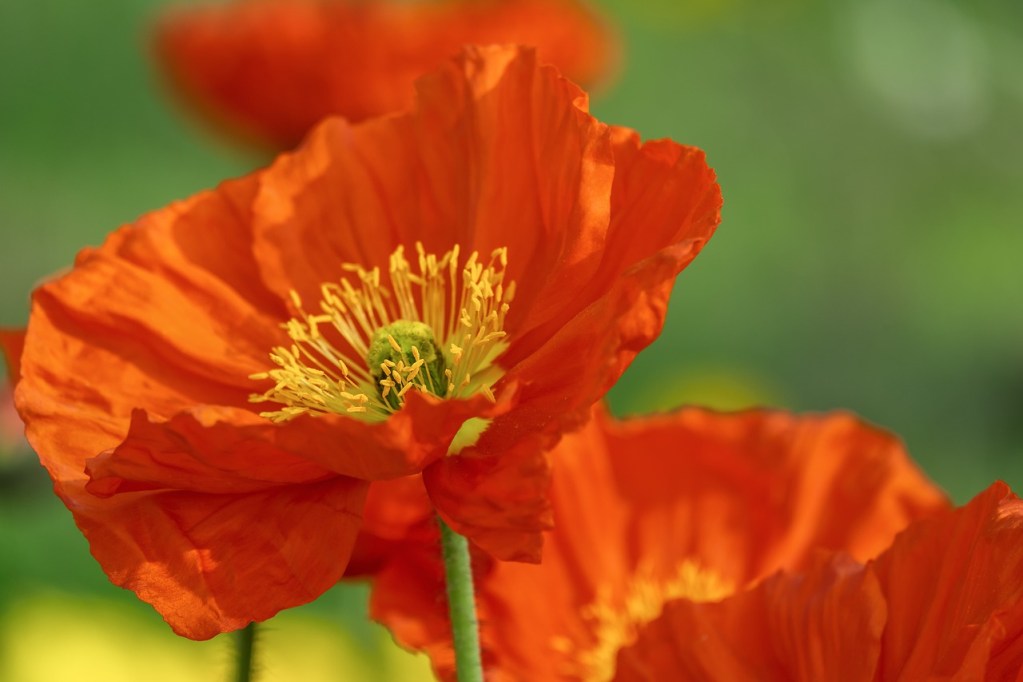 Poppy flowers
For a vibrant pop of red in your garden, poppy flowers make for excellent landscaping blooms in climate zones 6 to 10. You can plant your poppy seeds directly in the ground after the last frost — spring rain and warm soil will help with the germination process. Plant each seed about a quarter-inch deep in a full-sun location and give each plant about 8 to 10 inches of space.
Poppies sprout in about two weeks after planting and should reach maturity 75 days later. Keep in mind that they do have a tendency to self-seed and take over a garden, so some people actually prefer to keep them in containers.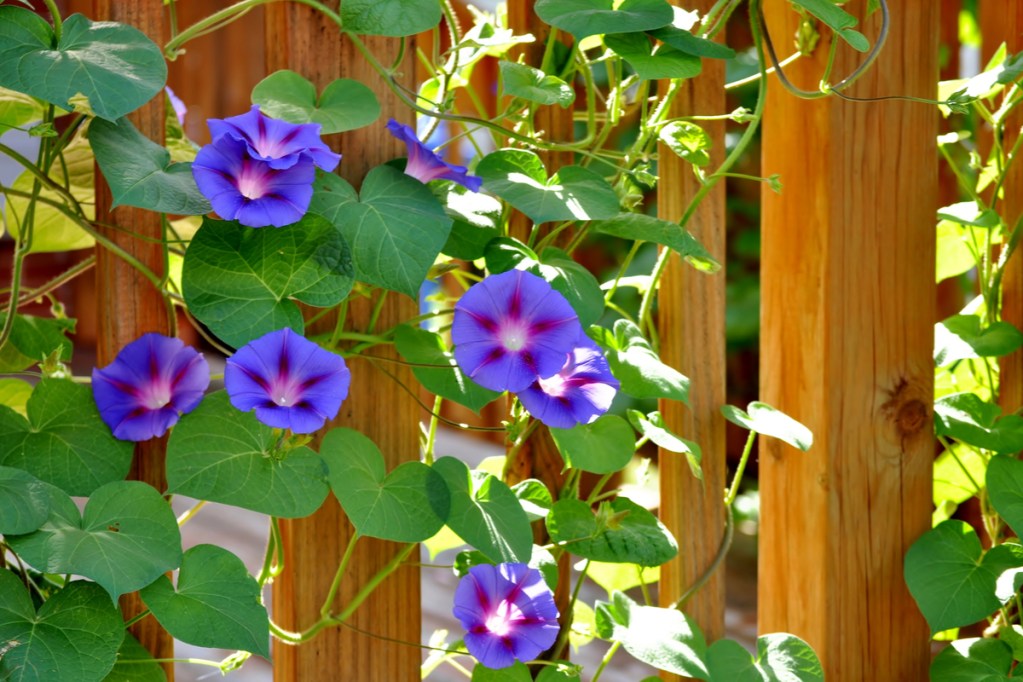 Morning glories
Great for attracting hummingbirds and other pollinators, morning glories are vining flowers with gorgeous trumpet-like blooms. They do best in full sun and are perennial in warm areas, such as climate zones 9 to 11. Early spring is the best time to get started on your morning glory flowers.
Because morning glory seeds have a hard coating, you can file the coating and soak the seeds in water overnight before sowing. After sowing, seedlings should appear in anywhere from one to three weeks. Just make sure you have a trellis or fence to support them, and choose a full-sun location to encourage growth. Because the flowers can self-sow, you may want to eliminate seed pods before the end of the growing season.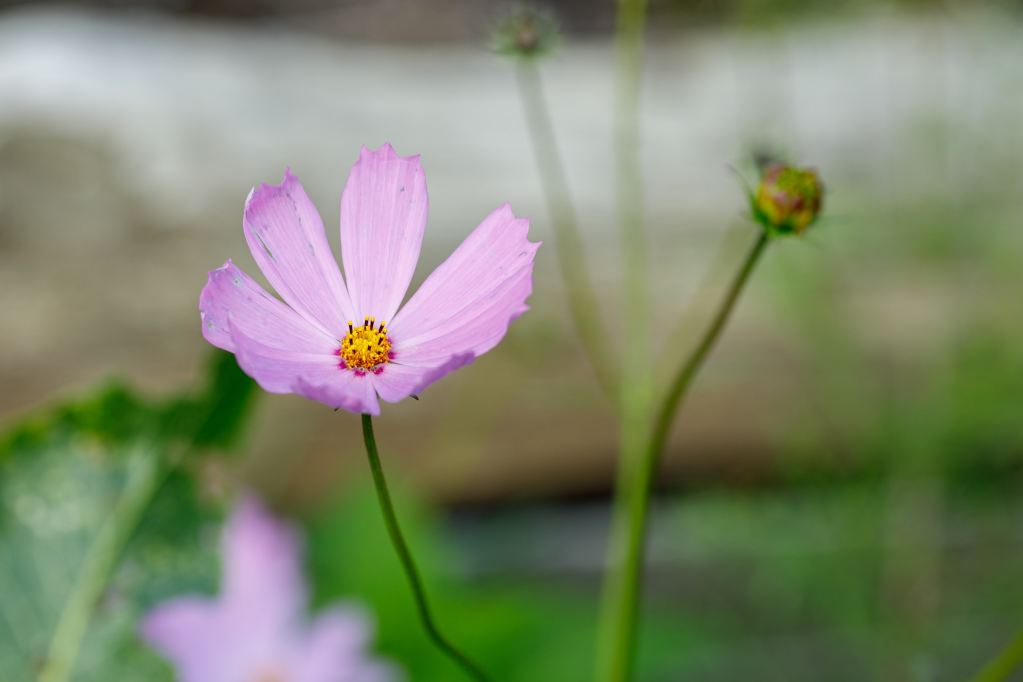 Cosmo flowers
Featuring open-faced blooms in pretty pastels and vibrant colors, cosmos are easy and quick to grow from seed. Hardy in climate zones 7 to 11, these uplifting blooms fare best in partial sun to full shade. They take about a week to germinate from seed and are ready to transplant into garden beds about four to six weeks after germination. That said, you could also directly plant them outside when the temperatures are above 65 degrees Fahrenheit.
When you're planting cosmo flowers outside, give them around 1 to 2 feet in space. They'll bloom in about two months and will continue to flower until the first frost. To keep the blooms coming, make sure to deadhead blooms whenever they fade.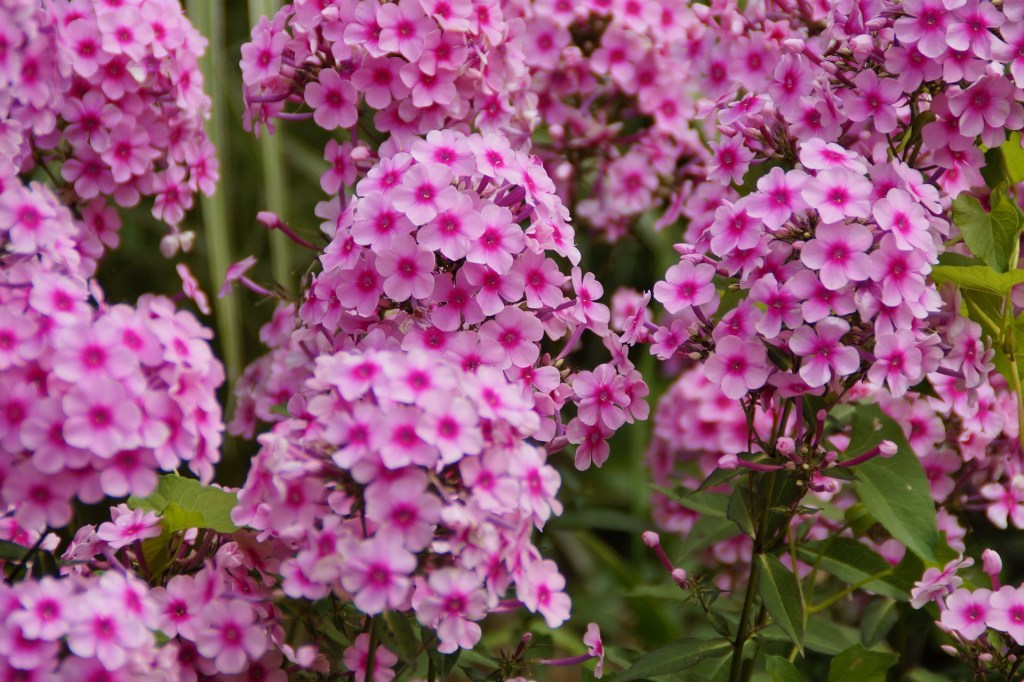 Phlox flowers
Featuring delicate, star-shaped blooms, garden phlox flowers are some of the easiest plants to grow from seed. Great for everywhere from zones 3 to 10, they only take 5 to 10 days to germinate from seed. Although phlox flowers prefer full sun, phlox seeds need darkness to germinate, so you should cover the seeds with 1/8 of an inch of soil.
Because phlox flowers don't do well with transplanting, consider directly sowing them into the ground after the last frost, and space them 8 to 10 inches apart. Expect blooms around late spring to mid-summer.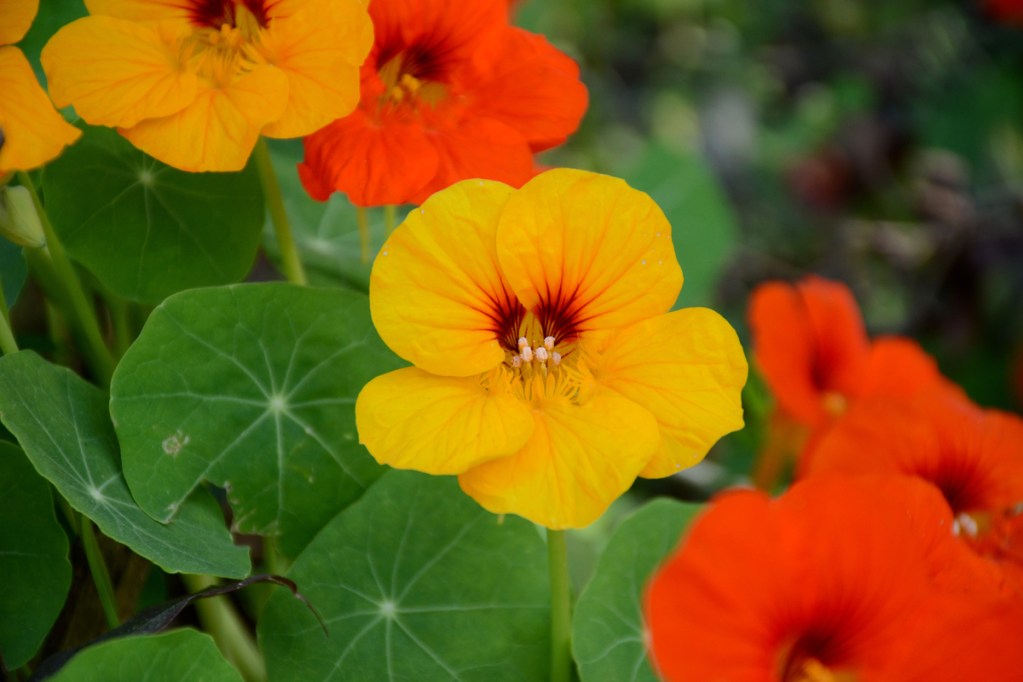 Nasturtium flowers
Often grown as annuals, neon-colored nasturtium flowers are hardy in zones 9 and 10. Although they may be short-lived blooms in many areas, they grow quite effortlessly from seed. While you can start them indoors about six weeks before the first frost, they do best when their roots aren't disturbed. They take about two weeks to germinate from seed and will bloom in one to two months after germination.
Nasturtium flowers grow quickest in full sun, so you may need to be a bit patient if you have them in the shade. You won't want to over-care for your nasturtium — in fact, you may delay blooming if your soil is too rich. Deadheading can be helpful, but it's not strictly necessary.
In addition to brightening up your landscape, flowers also make for lovely cut blooms in the home. Growing them from seed can be a highly rewarding experience, and you usually won't have to wait any more than two or three months to enjoy their vibrant petals. Consider the flowers above as you browse the seed selection at your local nursery, and remember to read individual seed packets to find even more fast-growing flowers. With some water and warm soil, your seeds will germinate and sprout for beautiful results in no time at all.
Editors' Recommendations