Just when you think you're getting the hang of caring for plants, you learn about air plants and your mind is blown! Air plants are lovely little plants that don't need soil to live, and unlike other plants that can live in water, they don't need that either. They're called air plants because they can absorb the water and nutrients they need from the air. Of course, you still have to water them, but this looks more like soaking and allowing the leaves to take a big drink. Once you've learned about air plants, you might have started a decent size collection of them, so now what do you do with them? Here we're going to go through some of the unique ways you can display your adorable air plants.
Gems and crystals
Balance your home energy and cleanse your chakras, all while showing off your air plants. Many sellers on Etsy, like Bella's Bloom, sell adorable crystals and gem holders for air plants. The combination of foliage and rock is both aesthetically pleasing and balancing in a room's overall design. Cluster them together on a shelf and maybe invest in some incense to really set the tone of the space.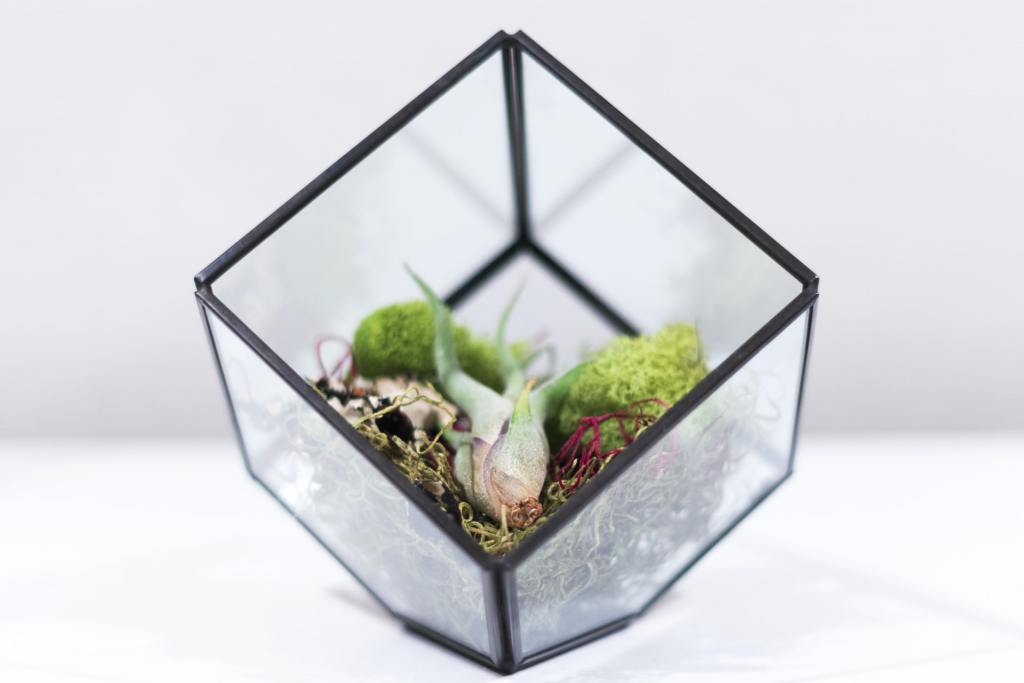 Hanging terrariums
Sometimes shelves can look cluttered, but you still want a way to display your air plants without adding to this clutter. A wonderful way to do this is with hanging terrariums. You likely have other plants hanging around your home; just because they don't need soil doesn't mean you can't also hang an air plant. These little hanging terrariums by AirPlantDesignCenter are affordable and easy to set up. You can place just a single air plant in them or double them up with a cute knick knack to put your own personality into it.
Unique sculptures
One of the cutest ways to display your air plant is to use a sculpture holder to rest the plant in. These options range from tiny pieces that could fit on a desk to larger displays that might need their own nightstand. Either way, they're often funny little sculptures that give the impression that the air plant is the sculpture's hair. For example, this one here is a festive Frankenstein's Monster sculpture. You won't want to wait for Halloween to set up this adorable display.
Frame those plants
Ever think your plants are just so pretty they should be framed on the wall? Same! And this air plant frame by FramedPlants on Etsy is the ideal way to show off those cute little air plants. Handmade by the seller, these frames are unique and an excellent way to display multiple air plants at once. The frame design also reduces the amount of space the air plants take up on a shelf or counter, so this is the option for you if you're limited on space but not on love for air plants!
Vertebrae holders
Don't freak out! These ethically sourced bone displays are edgy and come without guilt. CalmEarthCreations has created a genuinely show-stopping way to display air plants. The bones will delicately hold your air plants and provide a terrific conversation piece for anyone who walks through your door. They'll also look amazing in some Instagram posts; just be sure to source the seller when you share!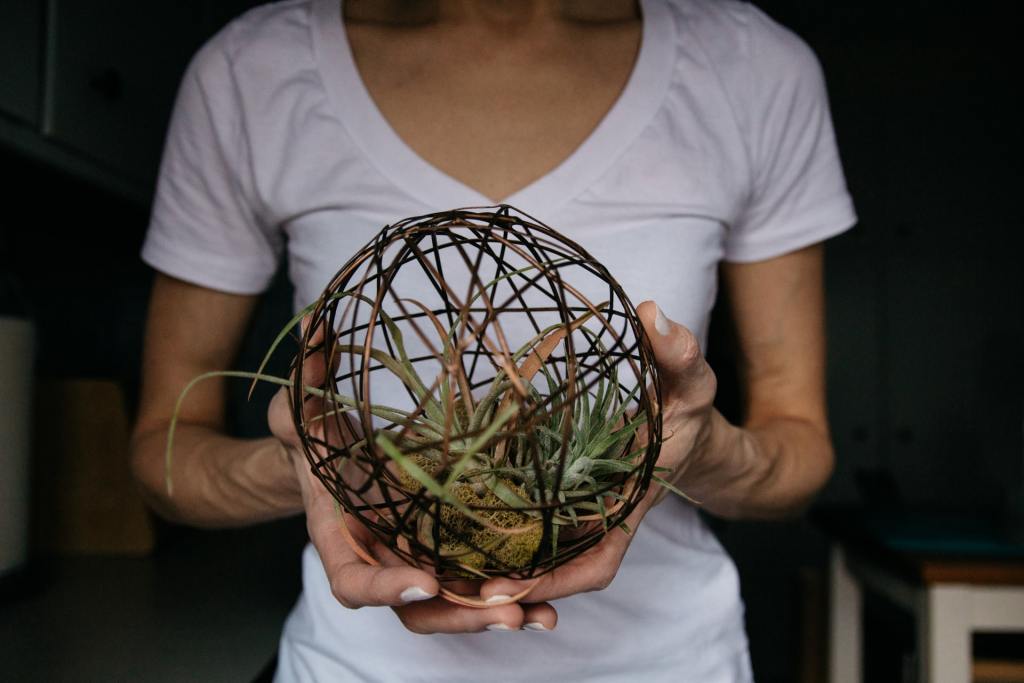 Tabletop displays
While some of us are looking for ways to save space, others might be looking for a statement piece that can be the star of the show on a dining room table or buffet table. These hardwood root balls by EmmaClaireShop are an organic way to display multiple air plants. Each root ball will be different than the others, and you can be sure that you'll have a one-of-a-kind item. The best part is all the nooks and crannies you can tuck air plants into. You can use smaller plants alongside larger ones to create a dynamic look.
Geometric shape displays
For those looking for a more minimalistic design or something that will draw more attention to the plant than the planter, you might want to check out these geometric holders by SanctumHandmade. This seller offers a wide variety of these holders, but they're all elegant and ideal for a more modern style. These planters can be placed on a table or desk, or you can hang them.
Although they can seem intimidating at first, air plants are easy to care for and add a unique look to your plant collection. So get yourself a few to try out and invest in one of these fantastic display options to show off the plant and your personality.
Editors' Recommendations