When you're a houseplant enthusiast, you have an endless world of opportunities to get creative with your plant decor! While you could always get a terracotta or plastic pot at your local garden center, why not get a little original with your plant homes? Creating your own plant holder isn't just fun—it's also often eco-friendly, as it encourages you to upcycle items you likely have around the house. From using disco balls to old boots, here are creative DIY planter ideas to inspire your next weekend plant project!
Disco ball
Make your plant decor part of your at-home discotheque. The blog A Beautiful Mess breaks down how to create a planter that can double as a gorgeous disco ball—or at least half of one, anyway! Start by removing the center mirrors and use a jigsaw to cut the disco in half. Drill in holes on two opposite sides and attach carabiners and chains to them. And there you have it, a disco planter! Just pop in your nursery pot with your plant and attach the chains to a ceiling hook. One optional step is to paint your chains and give them a color that contrasts with your disco ball. Get ready to turn up the music and grow some leaves!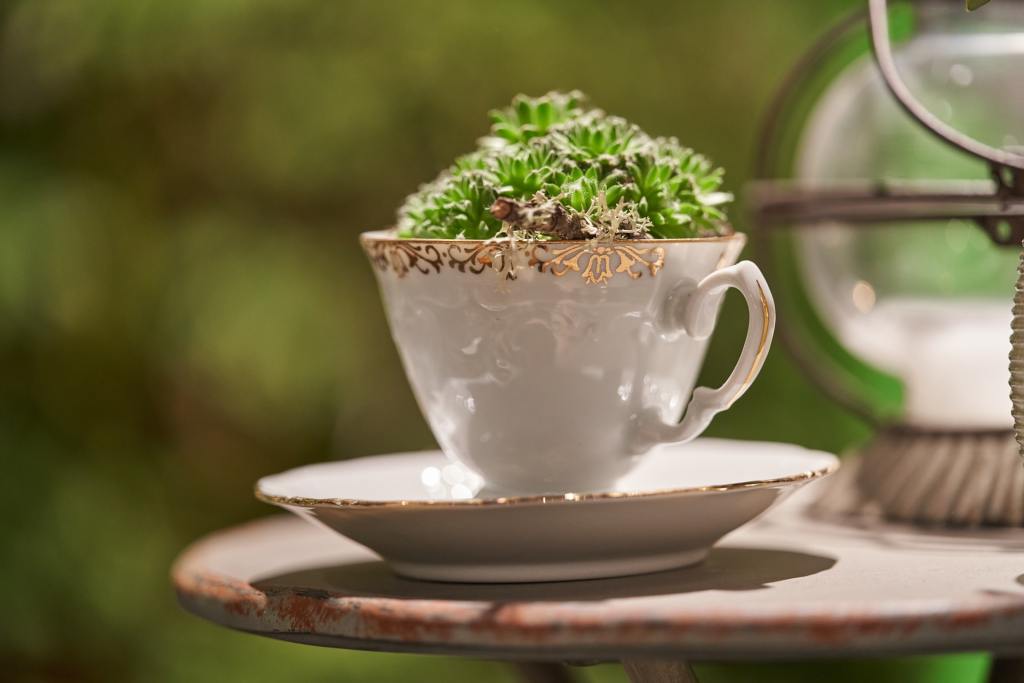 Teacup
Do you have an old teacup lying around? If the mouth is wide enough, you can carefully drill a hole into the bottom of your porcelain teacup to make it a whimsical cottagecore-inspired planter! You can also make things easier for yourself by using your teacup as a cachepot—just pop in your nursery pot, and you'll be good to go. If you're drilling a hole into your cup, add a fancy saucer beneath your plant for aesthetic and practical purposes. Get more tips on creating a teacup plant holder from Tigershed's horticultural blog.
Boots
Your boots may have been made for walking, but what about when they're too worn down? Upcycle your old rain boots (or maybe even your old gardening clogs) into succulent planters! According to the Upcycle My Stuff blog, you'll want to start by drilling some holes into your boots; if you don't have a drill, a hammer and nail will work just fine. If they're worn out and have holes in them already, you may even be able to get away without this step. Add stones and gravel for extra drainage and put in your cactus soil. Then, place in your plants, and voila, you've got a gorgeous succulent display. Adjacent to this boot idea is upcycling your old sneakers and other worn-down accessories, such as handbags. If you're working with a material that isn't waterproof, you might want to insert extra gravel and liners to keep your DIY planter intact.
Coconut shell
One hack from @judybaogarden on TikTok is using a coconut as a planter. You'll want to crack open your coconut and take out the water and meat (to enjoy, of course). After washing the shell, drill holes into the side to add hooks and holes on the bottom for drainage. Add hooks and chains for hanging your plant, then pop in your plant and soil. Prior to adding your plant, you can also put in some activated charcoal to help remove toxins and odors.
Tin cans
If you've got a fancy tin of coffee lying around (like those from Cafe Bustelo or Cafe Du Monde), you've got the perfect material for a gorgeous planter! You can simply put a nursery pot in an empty can or drill drainage holes into your tin and put your plant in it. We recommend adding varnish to the inside and outside of the can to prevent it from rusting. For a more personal touch, you can also paint the outside with your very own design. Browse the Pillar Blue Box blog for more tin can plant holder ideas.
There's nothing wrong with opting for a plastic or clay pot, but if you're looking to give your indoor jungle extra pizzazz, consider a DIY pot to custom-make a beautiful plant holder that's worthy of a #plantshelfie on Instagram! These are just a few starter ideas, of course. You can virtually make a planter from anything that has a basin to hold your plants. Just add some drainage holes, put in some stone and gravel for drainage, or pop in a nursery pot—don't be afraid to let your imagination run a little wild.
Editors' Recommendations