Buying gifts for plant lovers is easy — but what about the people in your life who want a collection as beautiful as yours and can't seem to keep them alive? We all know at least one person who's envious of others' thriving greenery. This year, instead of buying them another poinsettia or holiday cactus, try one of these gifts to get them a bit of a better set-up. With a bit more help than a care guide, anyone can keep plants alive in their home! It's all about identifying which part they struggle with and what you can get to help balance it out.
Self-watering plant globes
These self-watering plant globes are perfect for brown thumb gardeners who have a hard time remembering to water their plants or struggle with overwatering. They come in packs of four, and you can usually find them in a variety of different shapes, colors, and designs. No matter what they look like, self-watering globes all serve the same purpose: to automatically water your plants. These globes from Amazon will last up to two weeks before needing to be refilled — but because they're made from a clear material, it's easy to see the level of the water.
Self-watering globes are great for potted plants and hanging baskets; however, the tricky part will be remembering to refill them. Luckily, letting a plant have a self-watering globe allows it to use the water as it needs and minimizes the risk of overwatering. It can be a lot easier to remember how to refill the globes than it is to remember watering needs for individual plants.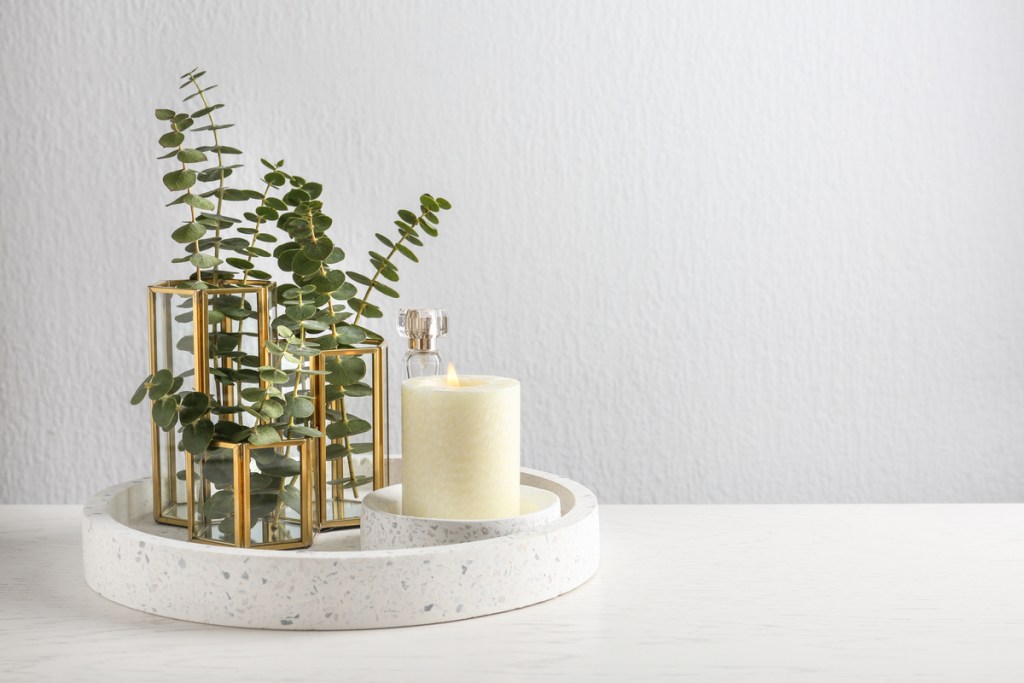 Soy-based growing candle
Why not make the gift a two-in-one? Like the candles you can burn and find a ring hidden in the wax, this soy-based candle from Mindful Gifts is in a container that doubles as a plant pot when the candle is spent. It comes in two different scents: ginger and lime or mint and eucalyptus.
The candle itself is three inches by three inches, so it's perfect for side tables and smaller spaces. Once the candle is fully burned, you can use the ceramic holder to plant the seed paper and grow some wildflowers. It's almost like a fun science project, and because this gift is more centered on the candle anyway, it's not a big deal if the seeds don't grow.
AeroGarden Harvest hydroponic set-up
Although this gift is on the pricier side of things, it's perhaps one of the best things you can get someone who desperately wants to keep plants alive. AeroGarden's Harvest garden is easy to use and perfect for growing smaller plants like fresh herbs. It comes with six pods to start, including plants like dill, parsley and thyme, as well as a three-ounce bottle of plant nutrients.
Because it's a smart garden and a hydroponic garden in one, the Harvest system grows plants in water and has a control panel to indicate when the plants need more water or more nutrients. Best of all, the lights are automatic! It has everything a brown thumb needs to grow fresh ingredients right in their home.
A gardener's tool seat
One of the hardest things about outdoor gardening, especially when you aren't used to caring for plants, is remembering to bring all the tools you need. But with this gardener's tool seat, never again will your loved one forget to bring their tools to harvest crops or dig up diseased plants! This gift not only helps them garden in comfort (who doesn't want to sit after spending an hour digging in the dirt?) but helps them to harvest and weed before the garden's too far gone.
Uncommon Goods' tool seat is a combination of a folding chair and a tool bag in design. The bag can easily detach from the chair as-needed and has twenty-one pockets for different tools. Keep in mind that the tool set isn't included. If the person you're buying the seat for doesn't already have their own, pair the gift with a nice set of tools to get them started!
A five-year gardener's log book
This gardener's log book is perfect for a new gardener who loves organization and finds the care a bit overwhelming. It's waterproof, which is an amazing feature for a book that'll likely be spending a lot of time around wet soil and watering cans. Released by The New York Botanical Garden, this journal works great for all seasons (indoor and outdoor) to help keep track of a plant wishlist, note what vegetables will be planted, or write down what days each houseplant was watered.
Every plant needs different kinds of care, and that's one of the hardest things to get used to as a newcomer. With this log book, your organization-loving friend will be able to track the care in the best way they know how: with notes and bullet points. Although it has a lot of things geared for outdoor gardening, too, it can easily be adapted for indoor care — and maybe encourage them to grow their own veggies a year or two down the road.
Leather gardening gloves
Not only are gloves a great gift for your average gardener, but for people with brown thumbs, they can make the world of plants a little bit nicer. Sometimes, a deterrent to gardening consistently is the itchiness and irritation that comes if you have sensitive skin. These arm-length gardening gloves help protect skin and make it less daunting to get elbow deep in the weeds or repot that growing cactus.
Acdyion's gloves come in three different colors: brown, white, and yellow. They're puncture resistant to protect hands and arms, and they have an ergonomic design to ensure that you can still hold gardening tools with ease.
Set of miniature tools for succulent gardening
For aspiring indoor gardeners who are dying to have beautiful succulents and cacti growing on their shelves, this nine-piece mini tool set is perfect! A full size trowel isn't helpful when you're trying to repot a small plant into a two- to four-inch pot; it's a sure-fire way to make a mess of your space. Luckily, Wodobon's set comes with two different sized shovels, a tiny rake, some small shears, and more.
The tools themselves are made from durable wood and rust-resistant metal, so there isn't a concern about them falling apart after one or two uses.
Stackable garden planters
Let's face it: Plants are much easier to care for when they're all in one place, especially when they're indoors or on a patio. For gardeners who have a hard time remembering to care for plants, having them spread across the home on different plant stands, shelves, or windowsills begs for trouble.
These stackable garden planters from Amazon help keep all the plants in one space. They're great for growing herbs or flowers, and they make use of the vertical space in your home — perfect for outdoor patios or smaller indoor areas.
Remember that this list isn't exhaustive! If you know someone who has a brown thumb but wants so badly to care for plants, talk to them about what they struggle with the most. That knowledge will help you pick out a gift that's perfectly tailored to their needs and wants, helping them branch out and experience the enjoyment plant care has to offer.
Editors' Recommendations