Not everyone has enough space to grow the garden of their dreams, but that doesn't have to stop you from gardening entirely. If you're living in an apartment or dorm room, you might be wondering if it's possible for you to have an indoor herb garden. It can be tricky to fit herbs into a small kitchen, but it's possible with proper planning. Here are a few tricks you can use to maximize your herb garden with minimal space.
Choosing the right herbs
To start your herb garden off, you'll need to choose your herbs carefully. Here's what to consider:
Step 1: Choose herbs that stay small.
Larger herbs such as sage, comfrey, and fennel take up a lot of space, limiting the number of herbs you can have. Opt for smaller herbs, such as mint, chives, and basil.
Step 2: Prioritize herbs that you use often, prefer fresh, and have difficulty finding in grocery stores over herbs you don't use frequently or are readily available.
Step 3: Pick low-maintenance herbs.
Watering your herb garden, making sure all the plants are getting enough light, and fertilizing them can be a chore even when you have plenty of room. It doesn't get easier when you reduce the space, so start with herbs that don't need much.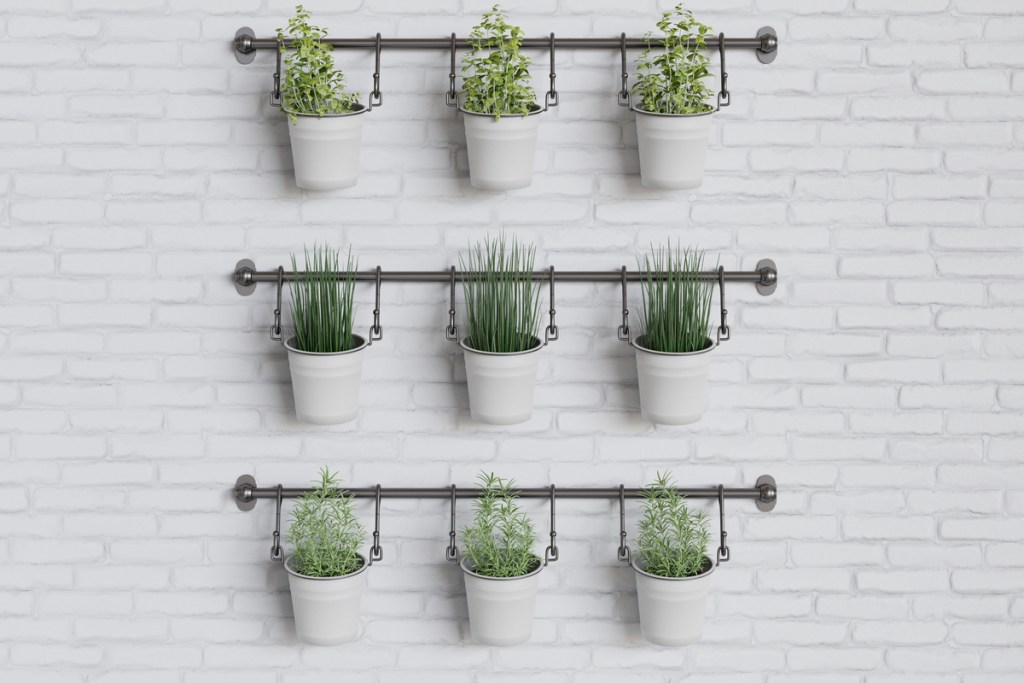 Using extra space
If your counter space is limited, then you'll need somewhere else to place your herbs. Here are a few options:
Step 1: Use hooks to hang pots from the ceiling or walls.
If you're living in an apartment or dorm, there may be rules about using nails on the walls. Stick-on hooks work just as well, and you can move them as necessary!
Step 2: Use tiered or layered hanging planters.
Planting your herbs in a shoe caddy, rows of plastic piping, or water bottles strung together may not be the first thing that comes to mind when you picture an herb garden, but it can be very convenient. You can hang these gardens flat against the wall anywhere you have a stretch of undecorated wall space.
Step 3: Use floor space.
If you're prone to tripping, this option may not be right for you. However, if you have some free floor space in the corner of your kitchen, you can put a few extra herbs there. Remember, they may not get as much light there, so choose shade-loving herbs for floor space.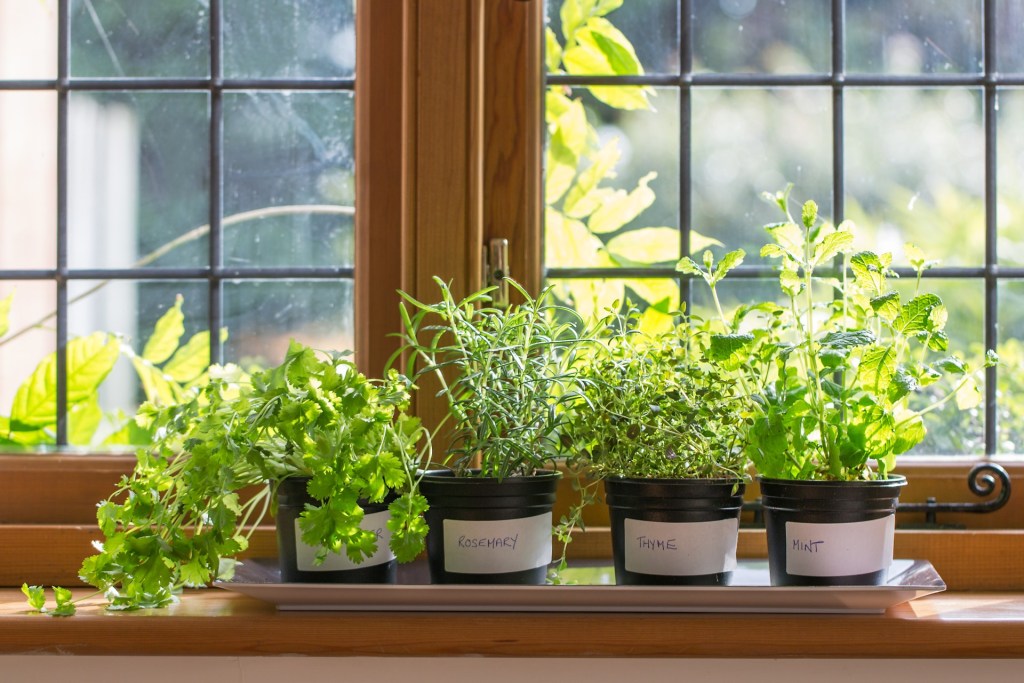 Spreading out your garden
While having an herb garden in your kitchen is the most convenient option for cooking, this isn't typically the room with the most free space. If your counters are loaded with appliances and utensils, you may not have room for many herbs. Instead of rearranging your counter space in the hopes of squeezing in a few more herbs, move some of your herbs to another room.
You can spread your herb garden across as many rooms as you need to. Place a few by your bedroom window, a couple more in your living room, and leave the ones you use the most in the kitchen. If you plan your meals, you can even rotate your herbs according to which ones you'll need next.
Now you're prepared to start your indoor herb garden, no matter how small. With careful planning, you can craft a thriving herb garden to make all your meals delicious. Whether you grow your herbs through propagation, with a kit, or the old-fashioned way, these tips will help you get started. You can even take your herb garden with you when and if you move. You can use your small indoor herb garden as a jumping-off point for a full-sized traditional garden one day.
Editors' Recommendations