Of course, most of us plant lovers adore our green foliage plants. They're the staple and backbone of our plant collections. However, there are a few in our possession that stand out. This could be due to their leaf size or the color of the petiole, but very few have the unique trait that the polka dot begonia has. Let's talk about what this plant is and how it likes to be cared for, including watering, lighting, food, temperature, humidity, toxicity to your pets, and other care tips to ensure this plant lives a long and healthy life.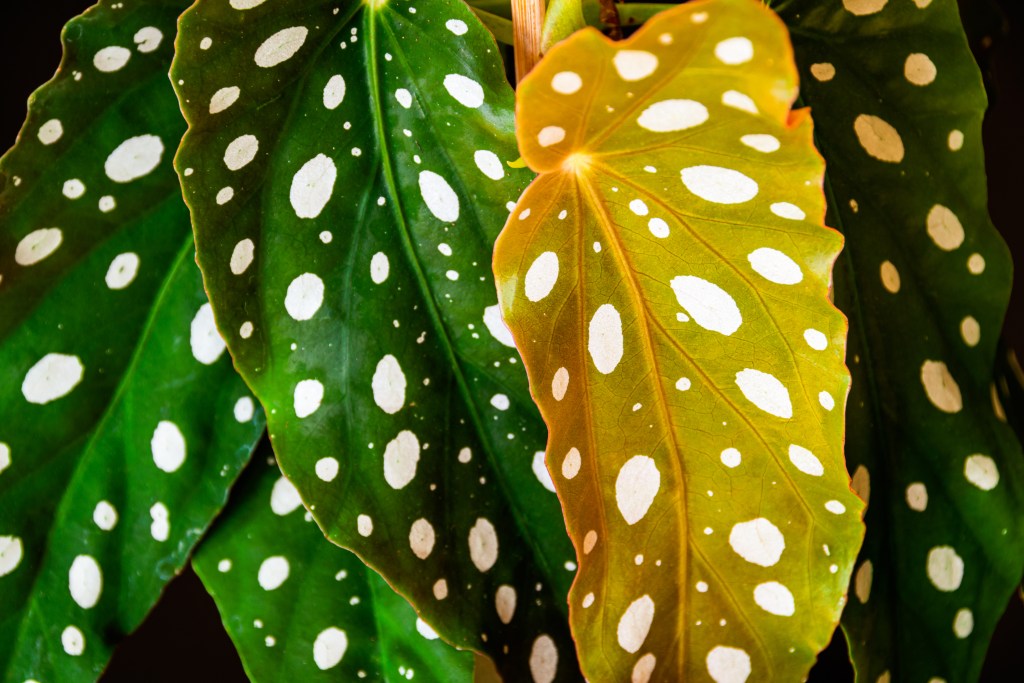 What is a polka dot begonia?
This stunning plant will be sure to catch the eye of any visitor to your home. Polka dot begonias grow in a vertical pattern and may need support as it grows more and more leaves. The olive-green-colored leaves features uniform white spots that are the main focus of this beautiful plant. The leaves are also unique in their shape and are sometimes referred to as angel wings. This gorgeous plant becomes an even bigger show-stopper when it reaches its maximum height of five feet.
Although the polka dot begonia is still considered a beginner-friendly plant, it's not as easygoing as its ZZ or snake plant cousins. It's a bit picky when it comes to lighting and watering, but once you nail those elements down, this plant will grow and grow and grow.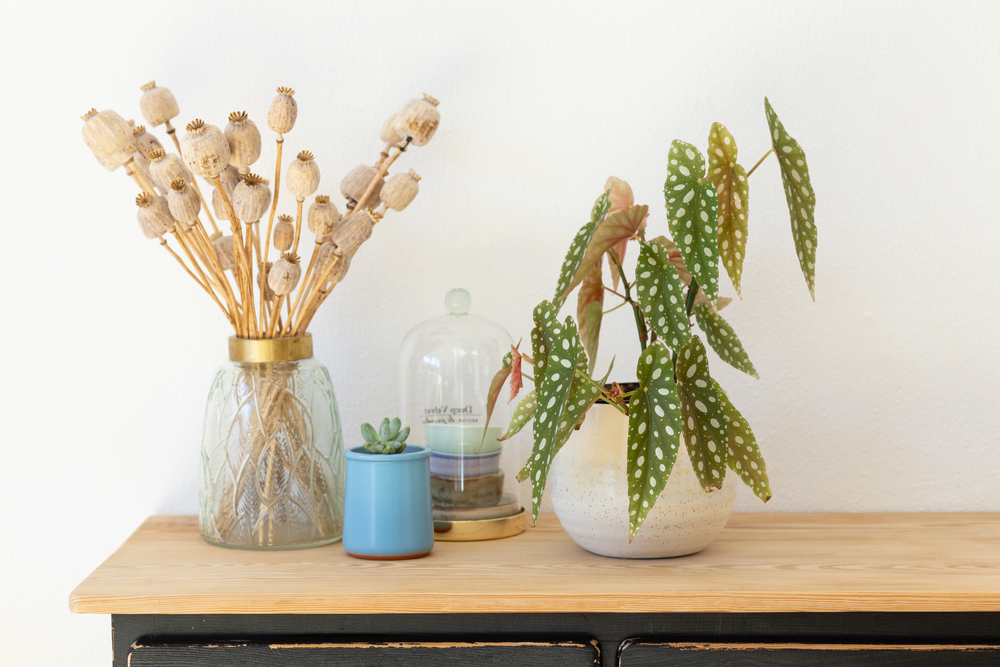 Care tips for polka dot begonias
While none of us want to lose a plant to overwatering or not enough sunlight, we plant lovers can get pretty upset when a star plant such as the polka dot begonia struggles in our care. Though they're not rare, they are harder to find than other plants, and it can be heartbreaking to lose one. Read these care tips to equip yourself with the knowledge you need to care for this plant and help it thrive in your home.
Water
In contrast to most other plants, begonias prefer to stay on the moist side rather than drying out between watering. Therefore, only allow the top inch or so to dry out before watering your begonia again. This will be extra important to notice during the colder months, when the heat we pump into our homes dries out the air.
Light
Don't let the begonia sit in direct sunlight. This plant wants to be in bright indirect or dappled lighting to encourage the best growth and health of the plant.
Food
Fertilize the polka dot begonia like you would most other plants in your home. First, about once a month during the spring and summer months, then not at all during the fall and winter months. If you keep up with fertilizing and watering regularly, you'll see accelerated growth and find your begonia a fast grower compared to other plants that have flamboyant colors.
Temperature
Like almost all other house plants, the polka dot begonia likes the temperatures we humans keep our homes at, typically between 65 and 75 degrees. However, if you allow your home to get warm in the summer, just be sure not to let it get over 85 degrees.
Humidity
Although the polka dot begonia might be picky about its soil and sunlight, it's not too picky about the humidity. As long as you keep it away from vents and drafty doors, the begonia will be fine. However, if you prefer to be on the safe side, you can add a humidifier to the room the plant is in during the drier winter months to ensure the soil doesn't dry out too quickly.
Toxicity
Unfortunately, the polka dot begonia is toxic to both pets and humans if ingested. If you have a pet or child that's curious about everything, it might be best to avoid adding this lovely plant to your collection.
There's no doubt that this plant might quickly become your favorite, and while it is more complex to tend to than other plants, don't let that scare you away. Just remember that it likes its soil to be moister, it wants bright but not direct sunlight, and you'll want to keep it away from vents, pets, and hungry kids.
Editors' Recommendations