It gets scorchingly hot in zone 9, but that doesn't mean you can't enjoy flowering plants along with the rest of the country. If you're worried about finding a plant that can survive the heat of the summer and full sun in zone 9, then here is an inspiration list of flowers that will thrive in the climate.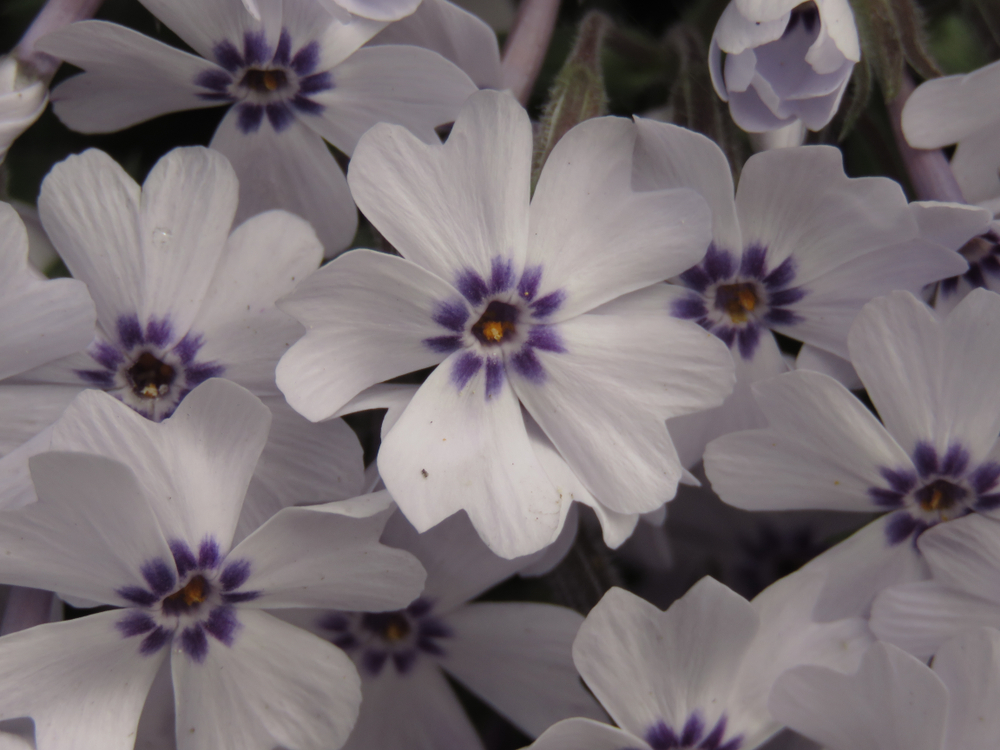 Phlox subulata 'North Hills'
The purple eyes of these tiny white flowers pop against a blanket of green leaves. The phlox subulata, also known as creeping phlox, doesn't grow any taller than six inches tall. It's ideal as a ground cover and will deal with the heat of summer in zone 9 like a champ. If you're looking for a bright flowering plant to fill in a hole in your garden, then this is the perfect option for you! It's also a low-maintenance plant that can survive droughts, rocky soil, and will invite beautiful butterflies to your garden.
Peaches 'N Dreams Double Hollyhock
The hollyhock family is a group of unique and brilliant flowering plants. The peaches 'n dreams double hollyhock is no exception! This zone 9 friendly, full sun-loving plant blooms in mid to late summer and can grow up to five or seven feet tall. It prefers rich, well-draining soil and likes its roots to stay damp. They're also deer resistant, so you don't have to worry about all your work to plant and care for them going to waste. And if you're looking for a plant to add to your pollinator garden, then this is an excellent choice. The peaches hollyhock can also be cut and brought indoors to enjoy or share with friends.
English lavender
You've probably bought products with lavender scents to help you relax. So why not grow it in your landscaping and enjoy that calming aroma fresh from the plant? English lavender, or Lavandula Angustifolia, loves the hot and dry conditions of zone 9. It makes caring for this plant in this zone super easy! This lavender variety wants full sun, well-draining soil, and warm weather. Early on after planting lavender, you'll want to be sure to water it regularly, but once it's established, you'll likely be able to almost forget about it. Then, when it produces those stunning and amazingly scented flowers, you can prune the plant back and bring those flowers indoors. Add them to a small vase in your bathroom during a long spa bath or next to your bed to help you relax after a long day.
Crinum Lilies
If you think this next flower is a bit ghostly, you're not alone! The crinum lilies have been used in graveyards to adorn the plots for centuries. They are also known as swamp lily, spider lily, or cemetery plants. These plants reach three to five feet at maturity and are typically grown from bulbs. The delicate petaled white flower of the swamp lily is its main feature, and it produces a light and pleasant aroma. While the stunning white flowers are show-stopping enough, the foliage of this plant is elegant in its own way.
To ensure this plant is happy, provide it with full sun and moist soil. The flowers will grow large and fragrant and last for a long time.
Enchanted Forest Reblooming Daylily
The common name for this plant does it justice. When you see the blooms of the enchanted forest reblooming daylily, you'll agree that there is no other name that could suit this plant. The large (almost six inches!), pale pink, and ruffled petals of this flower are magical in appearance, and you might even question if it's real! They love full sun and will grow happily in zone 9. You can even grow these gorgeous flowers in a pot and watch the bees enjoy the flower as much as you do. The enchanted flowers appear in the early part of spring and then again in late summer. These flowers are also very fragrant, so you might want to plant or place these flowers in a location where you'll be able to enjoy their scent all the time!
Black Joker Siberian Iris
And last but not least, the black joker Siberian iris is another zone 9 friendly flowering plant that will love that full sun corner of your garden that you aren't sure what to do with. We're sure you've never seen a flower like this, but once you do, you'll want one for your garden!
Growing to be 19 inches tall, these plants flower in late spring and are deer resistant. You'll also make the pollinators around your property happy with these bee-friendly blooms. The colors of these blooms are stunning, bright, and almost neon! There are blue inner petals, dark purple outer petals, and a cream or pink middle petal. Your friends will accuse you of Photoshop until they come over for dinner and see these fantastic, alien-like flowers.
We think all these flowers are unique and would be a fantastic addition to a flower garden in full sun zone 9. Some are even drought-tolerant, and others prefer swamp-like conditions! No matter what your needs are, we hope you've found an excellent new plant for your sunny garden.
Editors' Recommendations