If you are chomping at the bit to get outside and enjoy all spring has to offer, have you ever thought about building your own greenhouse? It may seem like an overwhelming prospect, but you can build a small greenhouse outside pretty easily — and you won't have to spend all of your stimulus check to construct it! We've broken down the steps and costs; so all you need is the time, effort, and a few good days of weather, and you'll be the proud owner of a greenhouse in no time.
Design
This design will be for a 12×24-foot greenhouse with a 6-foot, 8-inch ceiling; in total, it's just a little under 300 square feet. When you're looking for the best spot on your land to build, you'll want to find a place that runs east to west. This is so the southern sun hits on the long side of the greenhouse, which will get direct sunlight most of the day but also offers some shade. Selecting a spot near a large tree is always a good option. You'll also want to pick a level spot (or one you can level easily), and is upslope of drainage areas.
Build
After the land has been tilled and the soil's pH is ideal for growing, you can begin building the greenhouse. The option we're discussing here allows you to build a greenhouse at a reasonable price — coming in around $500. You will need six 2x6x12 pieces of wood, putting two together to make a single length of 24 feet to form a rectangle. Screw in each side using 3-inch screws to connect the boards so the hoops will be exactly 12 inches apart. You will also need 26 pieces of 2-foot rebar for the hoop anchors.
For the doors, buy five 2x4x8s and two 50-pound bags of concrete so the doors are 3-feet wide and 8-inches tall. Mark 1 foot, 6 inches in each direction of the bottom frames, which is where the door frame studs will go. Dig a 1-foot, 6-inch hole flush with the place marked for studs. Place the doors into the post holes.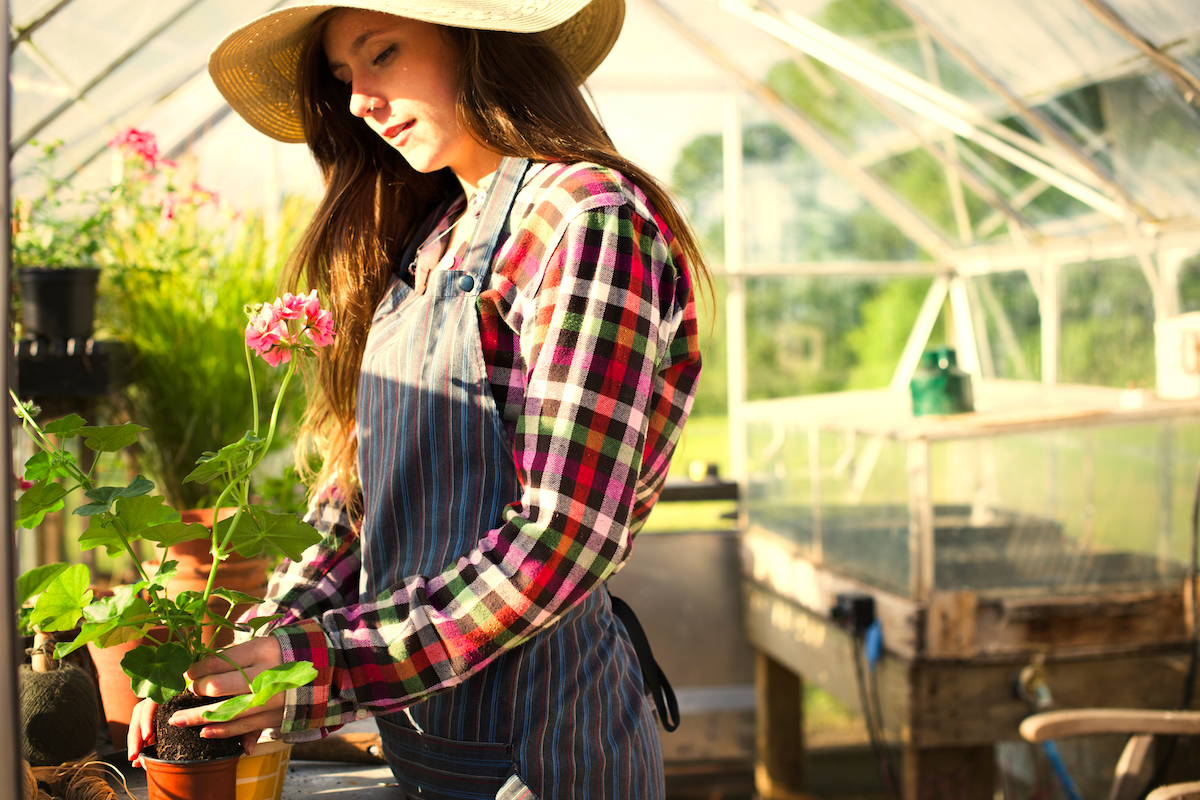 Finishing touches
Next, you'll want to lay down the soil. This needs to be done before the hoops go in. Once the soil is in place, buy 13 20-foot pieces of ¾-inch schedule 40 PVC (your local plumbing supply store should have this). Place one end over the rebar and stick it an inch into the soil. Grab the other end and bring it over to the opposing rebar stake and plant it firmly into the ground. Repeat until all the hoops are in.
For the plastic, you will need a 20×44-foot roll, three bundles of wood lathe, and a box of wide-head galvanized roofing nails (and a couple of friends to help). Spread the film over the greenhouse and secure one side tightly with the lathe strips to the top of the bottom frame. Do this for every side. Finally, place your doors on, step back, and enjoy your masterpiece.
Now comes the fun part of researching and finding exactly what you want to plant. There are so many varieties of flowers, fruits, and vegetables you can buy to place inside your greenhouse. Of course, if you don't have room for a greenhouse this big, you can just half the size, which will lower its cost. There are also free DIY guides online depending on what shape you desire and materials you have access to, which can also help keep the cost down. It's well worth the investment.
Editors' Recommendations