The backyard deck is one of life's simple pleasures — but building one is anything but. There are a dizzying array of options, which all vary based on how you want to use your deck, your property, your budget, and other factors. Perhaps the first question to face is one of size, and with decks, bigger is not always better. These decisions will be driven by the size of your property and the purposes you want the deck to serve. We're here to help you find the right deck size for you and your unique specifications.
Key questions to consider
Before you start to think about the size of your deck, there are several other parts of the project to consider. These can substantially affect your options, including the size of the deck. These questions include:
Budget: The straightforward and necessary starting point. If your Plan A option is unrealistic — or if you can afford more deck than you think — better to know that and set expectations accordingly before you get too far down the road.
Purpose: What do you want to do on or with your deck? What do you want it to look like? What do you value most: Attractiveness, durability, functionality, or a combination?
DIY versus contractor: If you're comfortable with it, building a deck yourself can save you boatloads of money and help ensure you get exactly what you want. Small DIY deck kits are available for as little as a few hundred dollars. On the flip side, hiring a team of professionals who will stand behind their work can offer expertise and peace of mind. Most will be happy to work with you on your specifications and within your budget, and can usually offer financing options. (Just be sure to shop around for a reputable contractor you're comfortable with.)
Materials: Lots of natural and synthetic products are available to give you the look and functionality you want. But if you want to spend a little more on building materials, you may have to compromise on size, and vice versa.
For example, hardwoods like redwood, cedar, or ipe tend to be on the expensive side, but are also among the most durable and beautiful (however, definitely check with your local supplier or the Forest Stewardship Council before you buy to be sure you're buying wood that was sustainably harvested, rather than from rain forests or another environmentally sensitive area). Pine, PVC, and composite materials made from wood and plastic resin tend to be more budget-friendly.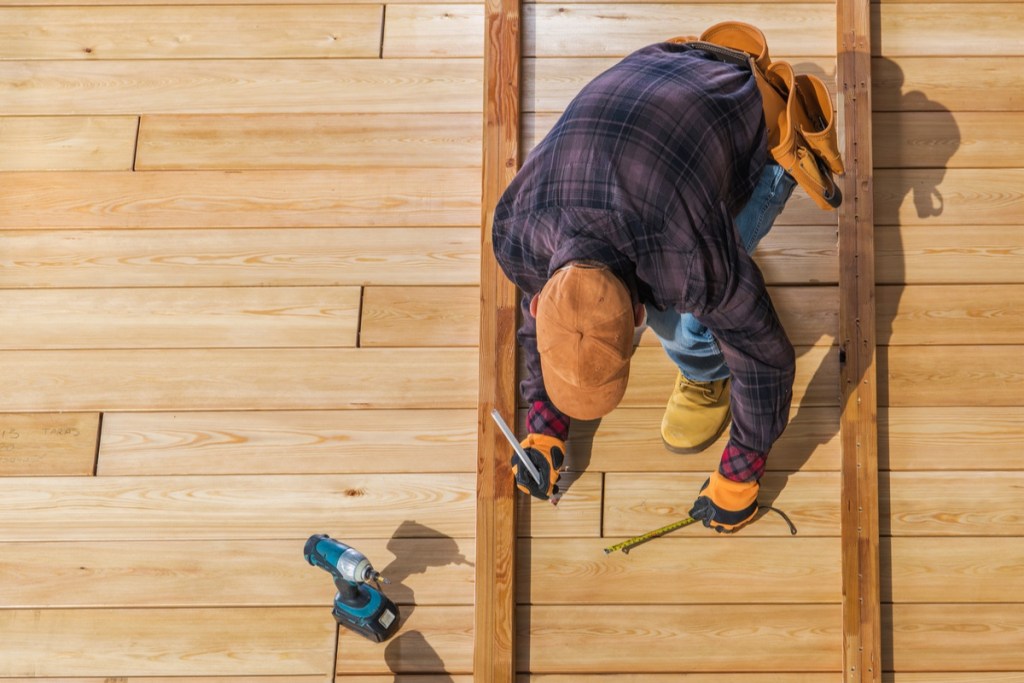 Calculating the right size
Once the above parameters are set, it's time to consider the size of your deck project. As with the other aspects of the process, sizing will depend on many factors, including your own personal preferences, which can't always be captured by an algorithm or pre-made template.
With that said, there are some basic rules to follow, and quite a few online tools to help you understand your options and create a general sizing plan. One of the most well-known of these tools is the Lowe's Deck Designer.
Here are a few other ideas to consider when looking for your deck's deal.
The Golden Rule
Experts tend to recommend a deck size that is no more than 20 percent of your property's square footage. Any larger than that and you run the risk of the deck taking over too much of your yard or property.
But again, this is a personal call to make. If you're looking to create a large outdoor kitchen or a large space for entertaining, a larger size may make sense.
Know the rules
Local governments, homeowner associations, and other groups have rules governing decks construction, including what sizes are allowed. Understand the rules and regulations and get your ducks in a row before you start to plan, especially if you plan to build it yourself.
What's the best deck size for entertaining?
Ready for the broken record? This depends on what kind of entertaining you hope to do. Will it be dinner for four, or a pool party for 40?
Often, a small grilling and seating area is sufficient to entertain. Experts recommend a deck size of about 150 square feet for as many as six people. For 10 to 12 people, that size increases to about 300 square feet.
There also are questions you can ask to help you narrow down your options, including:
Will you need a kitchen area?
What are your seating needs?
Are you interested in a multi-level construction?
Existing structures, or those that you might install along with the deck, also can make a big difference. This could include a pool, hot tub, or gazebo, among other things.
Bottom line
Whether you do it yourself or hire a professional, the size of each deck can be guided by several factors. There are plenty of resources available online and in person that can guide you through the decision-making process. At the end of the day, picking the right deck size is a personal decision.
Editors' Recommendations