One of the best parts about having houseplants is deciding how you want to arrange them. Whether on a desk, a shelf, or a windowsill, fitting them in with your decor and your aesthetic is incredibly satisfying. A good shelf display can make even a terracotta pot look like the fanciest thing in the world. Across different shopping sites (especially ones that sell homemade goods!), you'll easily be able to find a shelf or other kind of display that fits the style you're after.
These acrylic window shelves on Etsy range in size from 24 inches to 72 inches (a whopping six feet long!), and they're designed with windows in mind. If you want something that not only catches the sunlight but perhaps makes the plants feel like they're floating, this is a fabulous choice! The clear acrylic will reflect the light, minimally blocking the window and still letting your room feel open while creatively displaying sets of plants. And these shelves work on walls, too! Best of all, the shop even does custom sizes if the one you need isn't listed.
Price: $55 to $169 per shelf, depending on size
How many plants per shelf: 24-inch shelf can reasonably accommodate at least two medium-sized plants or four small-sized plants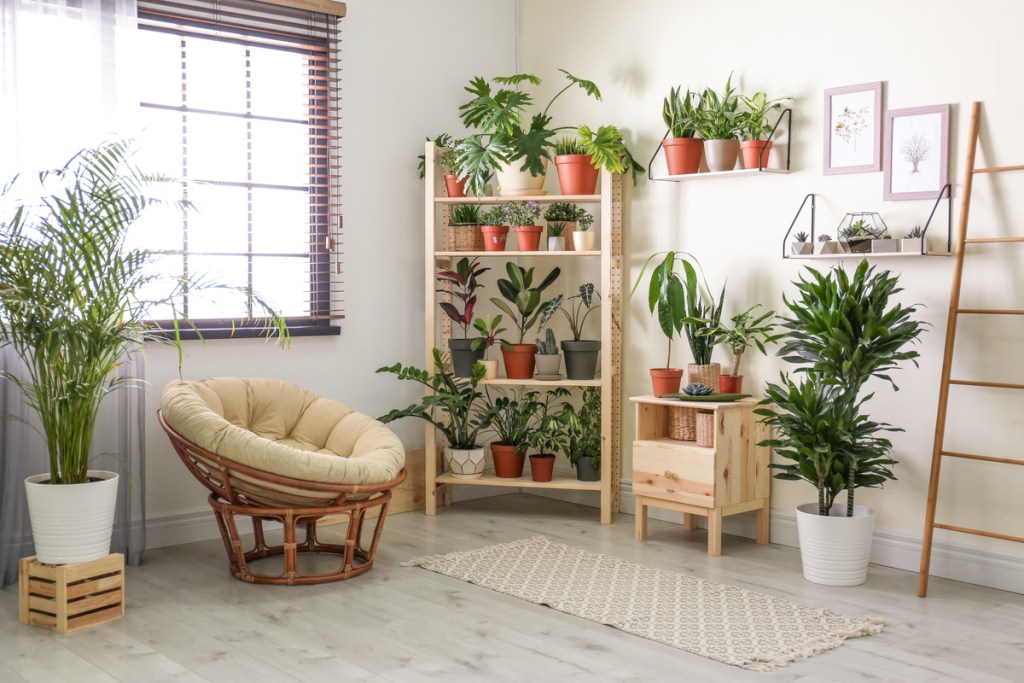 If you don't have tons of houseplants (yet), this plant stand could easily double as a bookshelf for a shared space. It has eight different tiers that give it a more dynamic feel. The shelves themselves are slatted, so if any water drips out of the trays, it has somewhere to go and won't accumulate under the pots on the wood. It's almost three feet tall, so be sure you have a spot in your home that can fit something of that size.
Price: $205
How many plants per shelf: At least 16 plants, depending on size
This multi-tiered plant stand from Wayfair has shelves for pots and a hook at the top for hanging planters. The price point for this is for one shelf/stand; if you want a similar look to the product photo, you would need to order two. It's a bit on the pricier end of things, but has a modern metal look to it that will fit seamlessly in a room with other pieces of curved furniture (think round ottomans, papasan chairs, oval lamps, items of that nature). The black and white options feature shelves of the same color while the rustic brown plant stand has wood grain shelves with black metal supports. And although these stands have a unique look as a pair, they also look great on their own! Whether you buy one or two, you can arrange them and fit them in with your decor with little to no hassle.
Price: $214 per stand
How many plants per shelf: At least six plants, depending on size
This 12-tier wooden plant stand is about 56 inches tall and would look beautiful in a sunroom or against a wall with a lot of natural lighting. Because it can hold such a large amount of plants (big or small), it's a perfect choice for someone whose houseplant collection is rapidly expanding and doesn't have many spots in the home left to put the pots. The angular wooden design works well with a variety of aesthetics as long as you don't mind a natural look.
Price: $200 for the 12-tier option
How many plants per shelf: About 19 plants, depending on size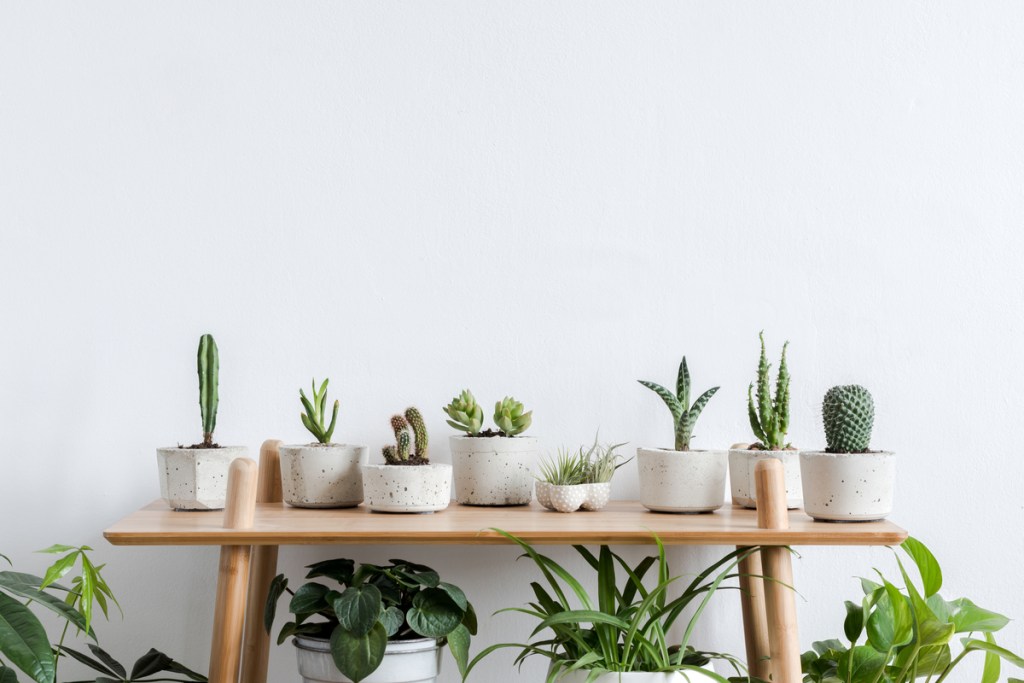 These floating hexagon shelves from Etsy are a beautiful balance between rustic and modern. With five different color options (gray, dark walnut, English chestnut, jacobean, and ebony), these shelves will work well with almost any color palette. If you don't have a lot of natural wood, you can opt for the gray or ebony choices to match your decor. And the ones that are natural wood are each different shades, which is great for pairing with other light or dark wood furniture.
Price: Starts at $68 for three 12-inch shelves
How many plants per shelf: 1 to 2, depending on if you use an included shelf divider
This hanging planter is perhaps on the more unique side of things, since most macrame hangers only accommodate one pot. With three tiers, you can easily hang three of your plants in a window or other sunny location without having to crowd the space. Best of all, since it's such an affordable price point, you can easily purchase two or three and elevate your houseplant collection.
Price: $20
How many plants per shelf: 3 plants per hanger
Beyond these, there are also rustic planters that fit in with a more industrial style space and ones similar in design but in different colors. And if you're ever in a pinch, an affordable bookshelf or end table makes a great temporary solution for a plant stand while you browse for the perfect one.
Editors' Recommendations