Nothing beats the feeling of fresh soil, but handling dirt with your bare hands isn't the best course of action for very long. Besides carrying potentially harmful microbes, fungi, pests, and germs, soil can get everywhere. Plus, scrubbing dirt from nails can be a grueling task and prolonged exposure to fertilizers, pesticides, and sunlight can lead to dry, damaged hands. Reliable gardening gloves can protect you from all of that, providing open cuts or wounds a barrier from infection. Disposable gloves can be a quick fix, but they're not durable or eco-friendly in the grand scheme of things. To find the best gardening gloves out there, read ahead to learn about which factors to consider when selecting a pair and where you can buy the right one for you.

What to look for when buying garden gloves
If you've ever walked into a big-box hardware store, you've probably seen dozens of gloves lined up. With so many options out there, how do you even start to find the right ones? Here are the top factors to weigh before investing in a pair.
Material: Material is probably the most important factor to consider. The most common option that you'll have is cloth. These gloves are inexpensive and breathable, but they're not as protective as other gloves. Leather gloves tend to be the most expensive type, but they're durable and offer good protection from thorns and spines. Nitrile or rubber gloves fall somewhere in between these options in terms of price and quality, as they offer protection at a budget-friendly price, but they might not be able to handle thick thorns and spines as well. Most gardening gloves come in cloth with rubber grips.
Cost: Finding a decent pair of gardening gloves isn't usually cost prohibitive — you can often find a decent pair (or even pairs) of nitrile-coated gloves online anywhere between $10 to $20. Leather gloves tend to cost a little more, falling between the $15 and $40 range. If you do extensive gardening work, it's worth buying a few good pairs, so you may need to make an initial investment.
Use: Usually, nitrile gloves, or even cloth gloves with a rubber grip, can help you get through many basic gardening tasks, such as watering, transplanting, and fertilizing. Leather gloves are great investments if you work with cacti and flowers with thorns.
Size: Gloves should fit your hand size so they feel comfortable and can keep germs and foreign objects out. Some gloves even have a drawstring cord around the wrist, too. Always read the measurements online and measure your hands accordingly if you can't test them in person.
If you're looking to stock up on decent-quality gloves, COOLJOB Gardening Gloves for Men is a good pick. They feature a breathable, knit polyester base with a lightweight design so that your hands won't work up a sweat. Additionally, they have a sturdy rubber coating for a decent grip and extra protection. They come in a snug, true-to-size fit so you can control your fingers easily. And with six pairs for under $20, you're also getting a good deal. While they come in a set, they aren't disposable — they're meant to last. To clean them, you can hose off dirt buildup or toss them into your washing machine. One thing to keep in mind is that these are water resistant but not entirely waterproof.
These gloves are technically marketed towards men, but you can also check the sizing chart to see if you have a good fit for your hands. Alternatively, COOLJOB also sells gloves for women with white bases and fluorescent colors. They have different costs and sizes but offer, more or less, the same quality.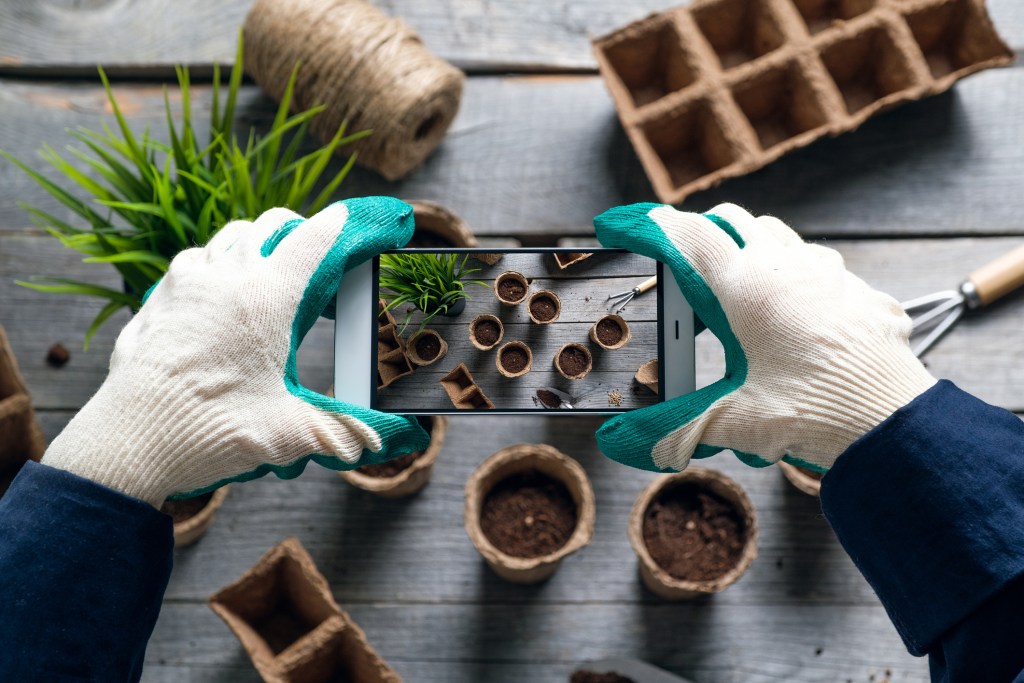 What we love about the Pine Tree Tools Bamboo Gardening Gloves is that they're touchscreen compatible. That's right: You can look up gardening tips while tending your plants. They come in sizes M through XL, so you have a wide range of options to choose from as well. The bamboo material is breathable and comfortable, while the rubber helps you maintain a good grip. You can also wash these, but it's best to hand wash and air dry them since bamboo can shrink.
Even if you don't work with roses, cacti, or rocks, the Legacy Gardens Leather Gardening Gloves remain a top choice. Yes, their durable leather material will prevent sharp objects from poking you. But they're also just high-quality, durable gloves at a great price point. Costing anywhere between $15 to $20, these feature a double-stitched layer at the thumb and top two fingers to protect your hands. You won't be leaving your arms bare, either; these are 8.5 inches long, so they provide good coverage. Their A-grade goatskin leather is soft and breathable for maximum comfort throughout your gardening sessions. When it comes to variety, find these gloves in different unisex colors and sizes XS through XXL.
With any of these gloves, consider what kind of garden projects you'll be working on and how long you'll be out in the garden. For avid gardeners, it's a good idea to pick up a few backup pairs or at least a very durable leather pair. If you're going to spend a long time in the garden, play it safe and invest in gloves that offer decent protection — though, more often than not, you won't have to break the bank to find high-quality gloves.
Editors' Recommendations