Nothing can ruin a cozy night around the campfire like mosquitoes. With options like candles or chemical sprays that make your skin itch, you might decide to stay indoors — it's also not great to think about the possible damage these sprays cause to the environment. Luckily, there are now eco-friendly bug sprays that are good for your skin and the world around you. Biodegradable and DEET-free, these options can keep the bugs away and save the planet.

Benefits of biodegradable insect repellant
There have been countless studies showing the damaging effects of chemicals, such as DEET, pyrethroids, permethrin, and cyfluthrin. All of these can be found in most commercial bug sprays. Unfortunately, many of these can cause or worsen health issues, like headaches, seizures, asthma, skin irritation, neurotoxicity, and more.
With natural insect repellent, you can keep the bugs away without ruining your skin or the environment. Many can be made at home, but more and more are coming on the market and can be conveniently purchased online or in stores. These bug repellents use ingredients you can pronounce and recognize, like rosemary, baking soda, mineral oil, peppermint, or citronella.
We're going to tell you about some of the best eco-friendly and skin-friendly options you can buy online.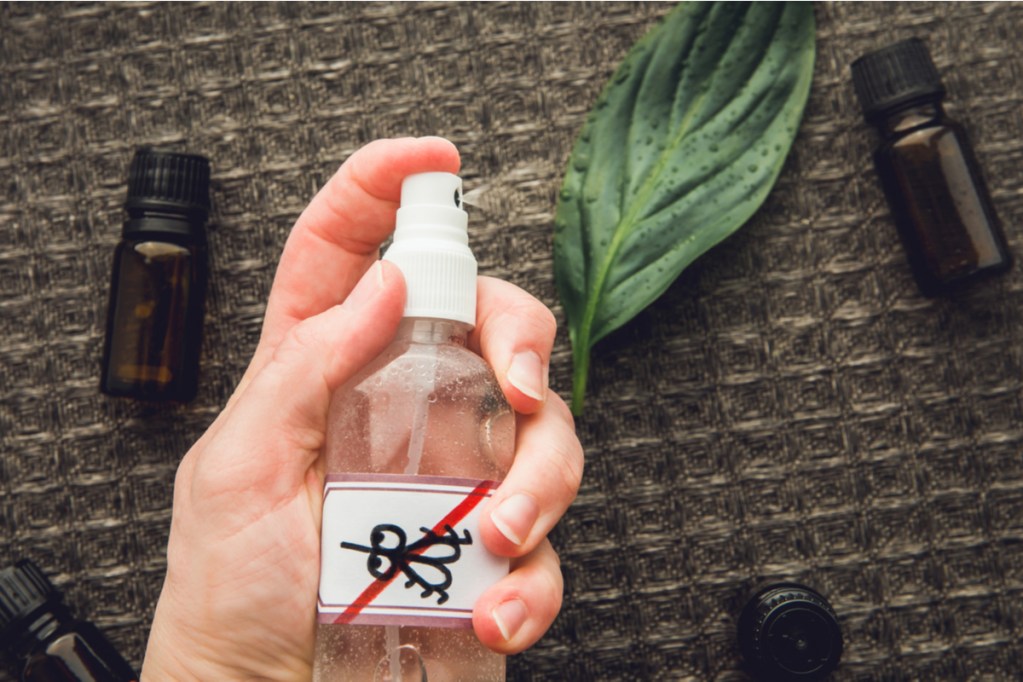 Eco-friendly bug sprays
Before jumping in, remember always to read the labels to ensure there are no ingredients used that you or other family members may be allergic to.
Sawyer Products 20% Picaridin Insect Repellent
For trips within a tropical environment, this bug spray will keep mosquitoes, ticks, flies, gnats, and chiggers away for up to 12 hours. It's comfortable on the skin, and its non-greasy formula makes it safe to use on backpacks, clothing, watches, and other outdoor items. It's also a good option for those with sensitive noses since it does not have a fragrance.
Natrapel Picaridin Insect Repellent
This spray gives you 12 hours of protection from mosquitoes and ticks. It's even safe for pregnant or breastfeeding mothers and children over 2 months. The 3.4-ounce container is the maximum size allowed on a plane in a carry-on bag. This spray is also safe on gear and won't ruin items such as fishing lines, clothes, or backpacks.
Murphy's Naturals Lemon Eucalyptus Oil Insect Repellent
With natural ingredients like lemon eucalyptus oil and deionized water, you can rest easy knowing this bug spray won't leave nasty and harmful chemicals on the skin. Use it to repel mosquitoes for up to six hours. It doesn't leave you feeling greasy or itchy and can keep the bugs away while you're gardening, hiking, camping, or playing outside with the kids.
Babyganics Travel Size Bug Spray
When it comes to our kids, we want to make sure anything going onto or into their little bodies is healthy and safe. This bug spray is free of DEET, parabens, sulfates, phthalates, artificial fragrances, and dyes. All the ingredients are derived from plants like citronella, peppermint, rosemary, lemongrass, and geranium. It's never been tested on animals and won't leave you or your kids feeling greasy.
Quantum Health Buzz Away Extreme
This bug spray has no artificial preservatives, toxins, or harsh chemicals. It uses essential oils like lemongrass, cedarwood, peppermint, citronella, and more to keep annoying bugs away. These ingredients are carried in purified water and plant-based preservatives. For weekend camping trips or outdoor sports games, this repellent will keep mosquitoes and ticks away.

Badger – Anti-Bug Shake & Spray
Not only does this bug spray have an adorable badger on the label, but it also does an incredible job at protecting you and your family from disease-carrying insects like mosquitoes. The aluminum bottle is durable and lightweight, making it ideal for carrying it in a backpack or a purse. It's also recyclable. It uses ingredients like citronella, rosemary, and lemongrass.
Sallyeander No-Bite-Me Organic Bug Repellent & Anti Itch Cream
While this isn't a spray, it's still an excellent option for keeping off bugs. It's useful on black flies, mosquitoes, fleas, and ticks. Not only will it keep these bugs away, but it will also heal and protect bites that have already happened. With 16 essential oils in its ingredient list, this cream is gentle on the skin and is even safe for infants. However, it is only effective for four hours.
Lastly, another non-spray option is these towelettes, which are effective against mosquitoes, ticks, biting flies, no-see-ums, and more. They have been proven to work for up to six hours and are sealed in a leakproof package. These wipes use ingredients like soybean oil, spearmint oil, and geranium oil to keep away those pesky bugs. There is no harmful DEET in these wipes.
Don't let those bugs get to you; use one of these natural insect deterrents to keep your skin, health, and planet safe. However, many insects such as mosquitoes can carry deadly diseases. If you're traveling to locations where these illnesses are common and a threat, it might be a good idea to invest in a more robust solution to keep yourself and your family extra safe.
Editors' Recommendations