When you think of autumn, you may be envisioning pumpkins, sunflowers, cornucopias, and corn stalks — lots and lots of dried corn stalks! Corn is easily one of the staples of the autumn harvest, and its usefulness goes beyond the dinner table. Dried corn stalks make for great autumnal decor, and accessing them is relatively easy. If you've always wanted to try your hand at corn stalk decorations, keep reading ahead for some inspiration.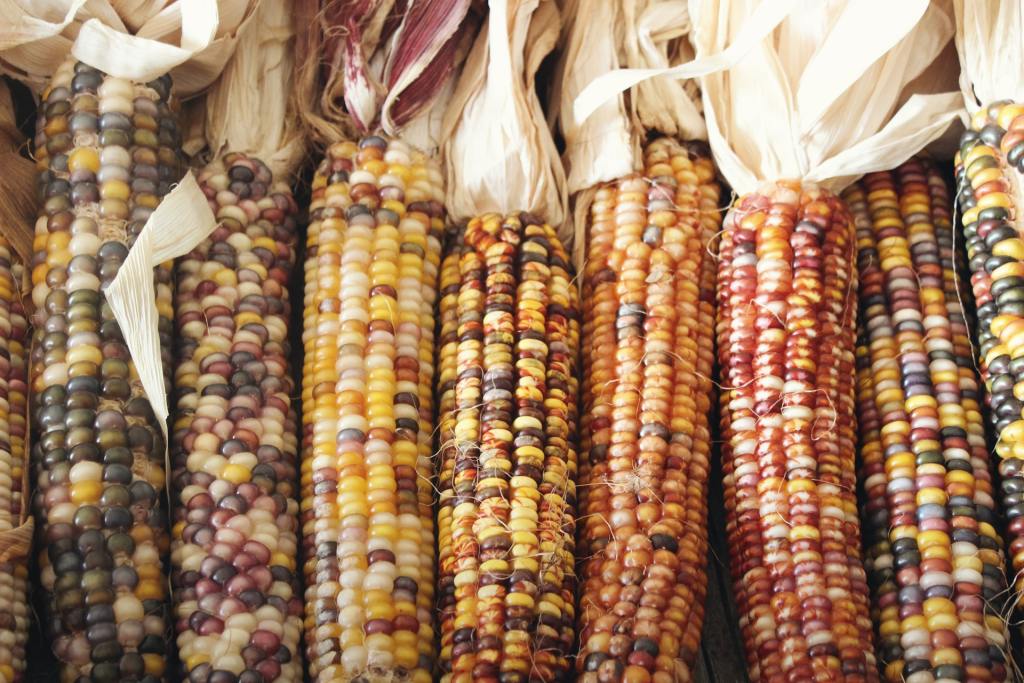 How to dry a corn stalk
Before you decorate with corn stalks, you need to dry them first. Luckily, getting your corn ready for decorating isn't too difficult. After harvesting your corn, cut the stalks close to the ground and hang them upside down in a dry place—your garage works well for this. However, drying your corn stalks outside can help them achieve that bleached, golden-autumn color sooner, though you should be mindful of curious critters, such as squirrels, nibbling on them. You can also buy ready-to-go stalks at your local big box garden center, but this DIY endeavor can be a fun project to try out for yourself if you have the stalk part on hand, either from your own harvest or from your haul at the farmers market.
Decorating with dried corn stalks
The possibilities are endless when it comes to giving your space a bit of autumnal flair with some dried corn stalk. Using dried corn stalks makes the most of the corn plant so that you don't need to go out of your way to buy fall decor—except for that great big pumpkin, of course! Ahead, we've gathered a few easy and low maintenance ways to go about making upcycled corn stalk decor.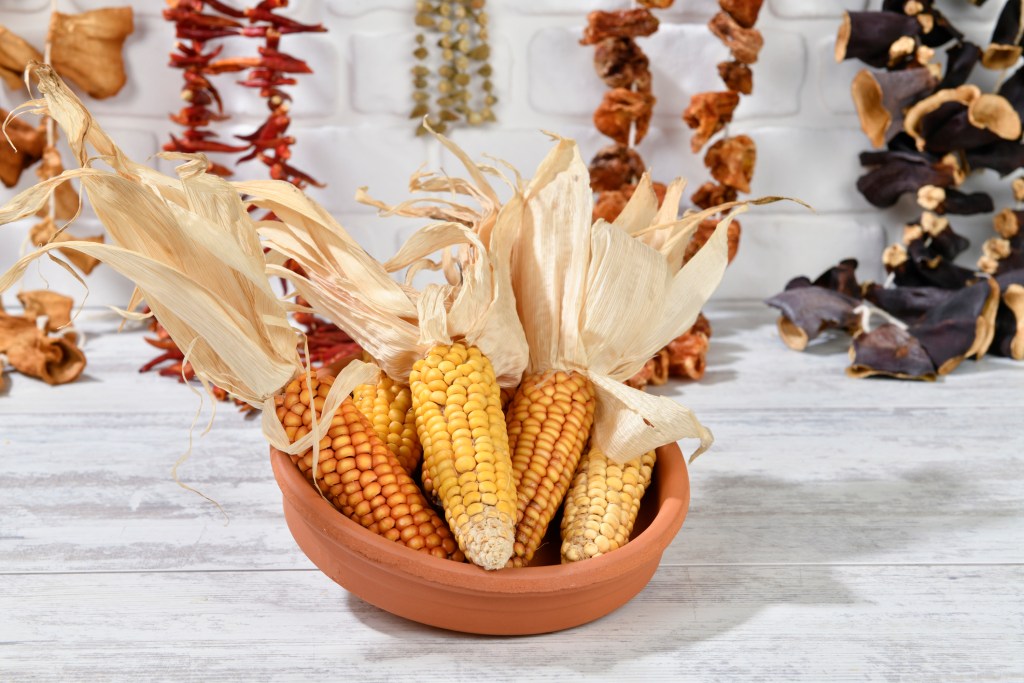 1. Display your dried corn stalks in a vase or tray
This is probably the most classic and chic way to display your dried corn stalks. It's really as simple as grabbing a handful of dried corn stalks and placing them in a vase or tray, whether you have a textured ceramic container for a rustic feel or a glass one for a more pared-down style. You can tie a ribbon around the stalks to keep them from looking unruly—a burlap, twine, or rust-colored ribbon can give you more of those autumn vibes.
2. Create a corn stalk wreath
A corn stalk wreath is one of the easiest ways to dress up dried corn stalks! You need about six corn stalks, a grapevine wreath, pruners, and floral wire. Cut and grab one inch bundles of corn stalks and slowly secure them onto a grapevine wreath with floral wire. You can add decorative mini pumpkins, twine, corn tassels, and other embellishments to give your wreath a more cozy and personal feel. For detailed instructions, see this step-by-step tutorial from the blog Delia Creates.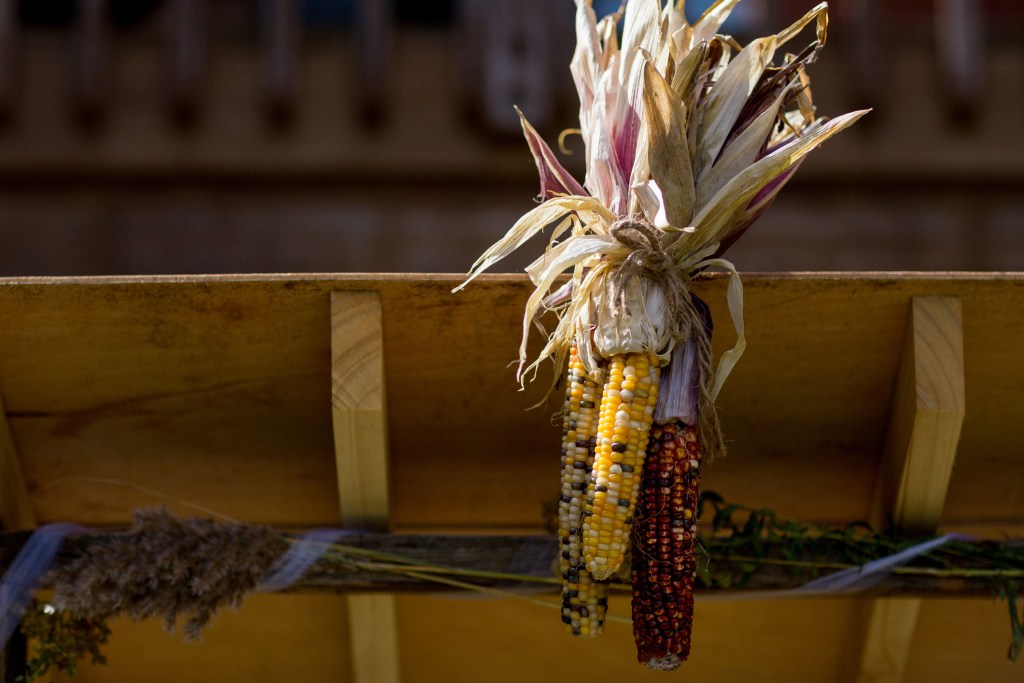 3. Furnish your porch or patio with corn stalks
This project can be broadly interpreted, but the idea is to use corn stalks to give the front area of your home that fall vibe. You can tie them into bundles, or wrap them around structures such as poles and stairs. They even look great pinned to hay bales next to a DIY scarecrow! As dried corn stalks are essentially dead foliage, they may appear messy or random on their own, so you definitely want to balance them out with things such as ribbons, pumpkins, sunflowers, and more to show that you're going for an autumn aesthetic.
4. Make a corn stalk garland
To create a garland, you can place some corn stalks on a string with floral wire, either letting them hang down or twisting them horizontally. Some people even leave the whole corn in to give the piece an autumnal feel. You can add leaves, corn tassels, berries, and more to conjure up an especially cozy look.
Nothing says autumn like corn stalks—they're easy to source and you can dry them without much fuss. Add a bundle here and there to give your space a warm and down-to-earth fall vibe. It's easy to pop them into a vase, wrap them around a wreath, stack them on your porch, or twist them into a garland. Add sunflowers, scarecrows, pumpkins, and other warm touches to capture the autumn spirit.
Editors' Recommendations