Having a holly jolly Christmas can mean livening up your houseplants to help them get into the holiday spirit as well! As you decorate for the holidays, don't forget your plants. For tips on how to make your plants festive for Christmas, we've come up with fun ways to extend the yuletide cheer to your favorite plants (that aren't Christmas trees).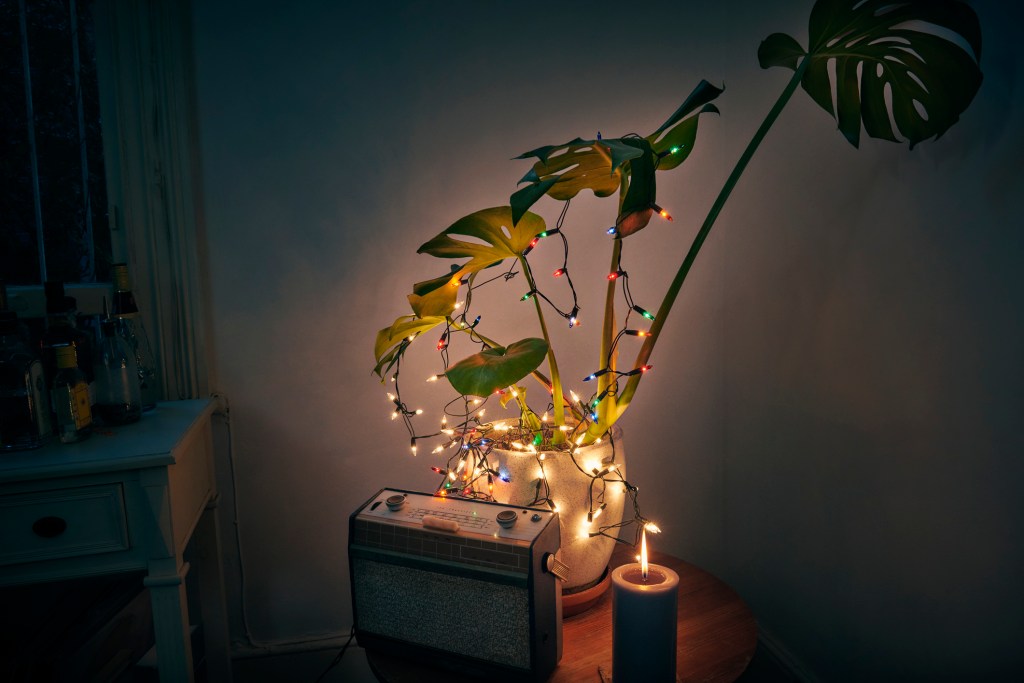 Add ornaments and lights to your houseplants
Here's a simple holiday plant idea: Furnish your houseplants with ornaments, tinsel, and string lights. If you're doing this in lieu of a Christmas tree, it'll very likely be much cheaper than furnishing a 6-foot-tall tree, as you can buy most of the mini decorations at your local dollar store! Money trees, corn plants, and rubber trees are just a few houseplants with strong central stems that can handle minor weight from lights and ornaments. If you want to avoid placing anything onto your plants, create holiday stakes with cut-out Santas, snowflakes, ornaments, and more.
Actual tree plants, such as lemon cyprus, also work perfectly since they look like mini Christmas trees. They're usually around 3 feet tall, so they'll give you that Christmas feel without breaking your budget or burdening you with an extensive cleanup after the holidays.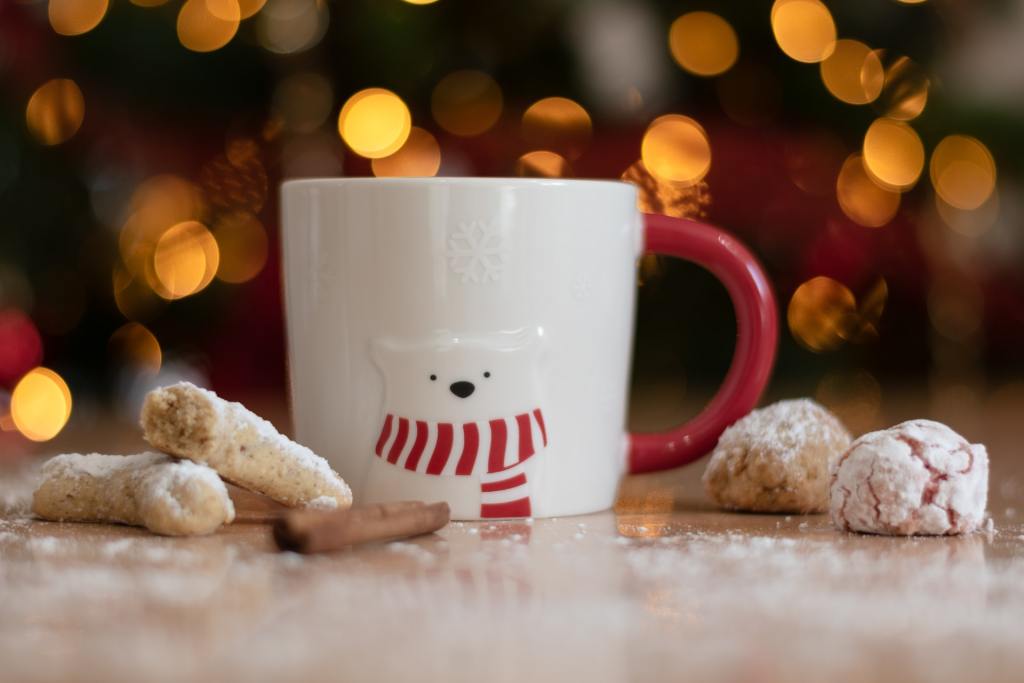 Use decorative mugs as planters
Along with bells, whistles, and ornaments, the holiday season also usually comes with new mugs in stores for everyone who wants to infuse festive cheer in a cup. If you have a holiday mug that you're not getting much use out of, or one with minor cracks, upcycle it as a planter. You can drill a hole directly into your mug, but using it as a cover pot is definitely easier — a large one can easily accommodate a 2 or 3-inch nursery planter.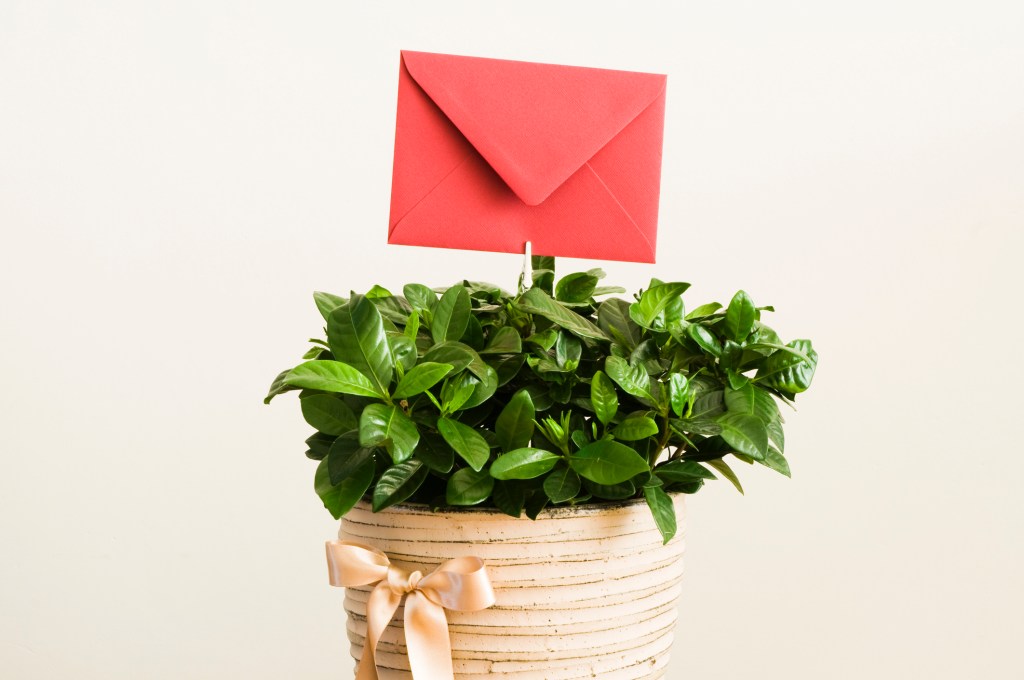 Wrap ribbons around your plants
It really doesn't get any easier than wrapping ribbons around your planters or branches for easy houseplant holiday decorations. For your ribbon, choose colors such as red, green, silver, and gold to give your plant Christmas vibes. Of course, holiday-specific and tartan patterns also work beautifully. For an even more low-maintenance project, stick a shiny adhesive bow onto your planter — you'll likely have these around for wrapping presents, anyway! Another fun tip: Cover your planter in actual wrapping paper, then place an adhesive bow onto it.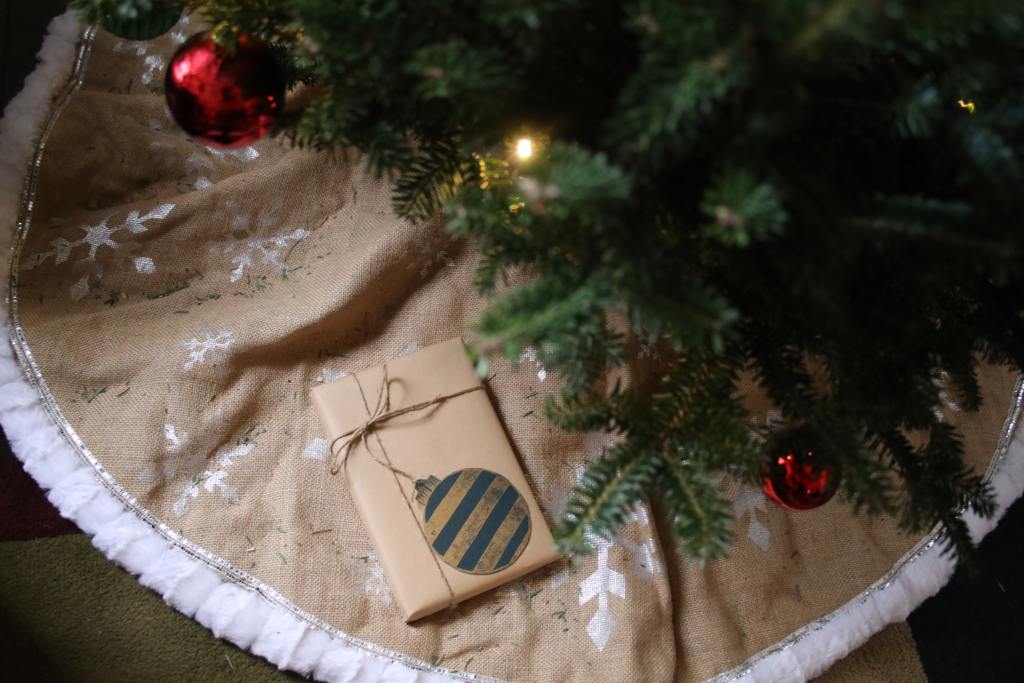 Add Christmas skirts to your planters
If you have a plant sitting in a pot that's at least 12 inches, you can definitely place a Christmas skirt beneath it to get that holiday vibe. Velvety, embroidered skirts are easy to source during the holidays in any home goods store or online. If you want to create one that's more custom to the planter that you have, you can also get crafty. Pick out a fabric to your liking (burgundy and white make for classic Christmas skirts), cut and seam along the outside, then iron on holiday-themed embroidered patches.
Place trailing plants on your mantle
Alongside your poinsettias and paperwhites, place a trailing plant on your mantle. Plants such as ivy, pothos, and philodendron can add a cozy, rustic feel to any space. They look especially inviting at the base of candle holders (just keep them away from flames!). You can attach ornaments to stems and nodes for a festive look as well — just make sure that your planter is heavy enough or securely attached to the mantle so that it doesn't tip over.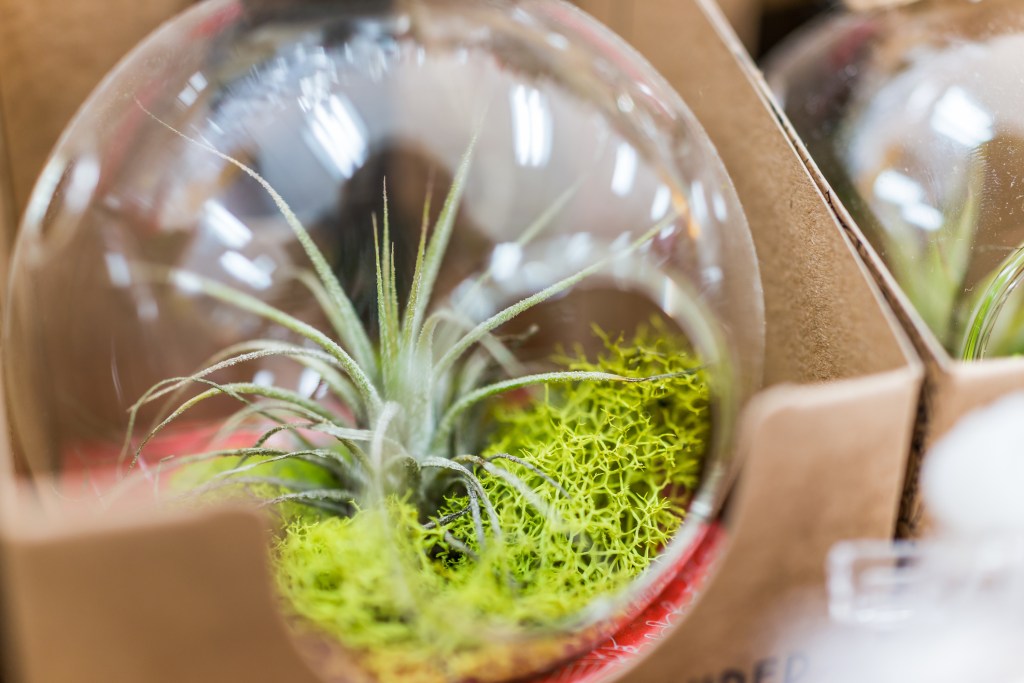 Make terrarium ornaments
Why not furnish your Christmas tree with even more plants? Grab sets of plastic or glass terrarium ornaments online or from a local craft store come the holidays. You can stick in an air plant to keep things simple. Alternatively, you can go all out with a soil base and mini plant cuttings. If space allows, add mini ornaments, gnomes, and other holiday-themed tchotchkes as well.
Mount your air plants onto a wreath
Air plants are extremely easy to care for in addition to coming in interesting shapes and colors for a vibrant wreath setup. Secure these low-maintenance beauties to a plain wreath with floral wire and add creative touches with ornaments, fake holly, pine cones, and more. Every so often, spritz your air plants as you would if they weren't on the wreath.
While houseplants can feel like separate entities from your Christmas decorations, they don't have to be. It's easy to incorporate holiday cheer into your home with plants. In some cases, you can skip the tree altogether if you don't have the space — toss the tinsel, lights, and ornaments onto your favorite houseplant to ring in the holidays!
Editors' Recommendations