There's always a lot of talk about the vegetables we grow in our gardens, but not as many people talk about the fruits that many of us grow! So many of our favorite fruits are just now becoming ready to eat in the fall. Among these are cranberries, kiwis, kumquats, persimmons, and pomegranates. There are a few recipes you probably know immediately when you hear the names of these fruits, and of course, you can eat all of these fresh as a yummy treat. However, we're here to talk about some of the lesser-known ways you can cook and enjoy these fantastic fruits.
How to cook with cranberries
We're all familiar with the cranberry sauce that many of us enjoy around the holidays, but let's talk about this stunning cranberry pie that's pretty enough to be a centerpiece at your next family dinner. There are cranberries in the crust, the filling, and beautiful frosted cranberries on top! Cranberries in desserts are a popular way to enjoy these bright red fruits; you can make cranberry-orange cinnamon rolls too for those chilly winter mornings.
With the holidays come holiday parties! With Thanksgiving and Christmas around the corner, you might want to try cranberries in alcoholic drinks, such as a whiskey-cranberry slush or a vodka cranberry punch with apple cider ice cubes. For an appetizer, there's this cream cheese log with sweet-and-spicy cranberry relish, and for an entree, you could try this cranberry-glazed pork tenderloin. And if you end up with too many cranberries in your garden, you can always dry them and put them on salads, in wraps, or eat them with nuts as a healthy snack.
How to cook with kiwis
Kiwis are a challenging fruit to grow, so when they're ready to be picked and enjoyed, you'll want to be sure you're prepared with some amazing recipes, so none of them go to waste. While, of course, you can eat these fuzzy fruits fresh, there's also a lot of smoothie recipes you can try. This apple kiwi green smoothie is the perfect snack, and it's vegan! But with the cooler weather on its way, you might want to try baking your kiwis in kiwi bread or with these healthy kiwi muffins. It's not very often you see kiwis cooked this way, but we think you'll like it, and it's a great way to use up a lot of fruit at once. If you prefer to eat them fresh, you could also try them in this golden kiwi and blueberry bruschetta, or keep the summer vibes for a little longer with this kiwi avocado salsa verde.
How to cook with kumquats
Although not as popular as some other fruits on this list, kumquats bring a unique and beautiful flavor to your cooking. They are excellent when eaten fresh; we doubt you'll be able to resist eating one right off the stem as you harvest them.
However, once you've had your fill of them fresh, you might want to look for ways to use them up or preserve them so they don't go to waste. One of the best ways to use up a lot of fruit is making marmalade or chutney. This kumquat and pineapple chutney is packed full of flavor and will be a show-stopping addition to any charcuterie board. Or you could make them a part of the main meal with this poached tuna with kumquats and jalapeno and then go all the way and serve this layered parsnip cake with candied kumquats for dessert!
How to cook with persimmons
A dark, burnt color of orange is almost always associated with fall. While this is primarily due to the popularity of pumpkins, we also like to think it's because of persimmons! Another fall fruit we don't think gets enough attention, persimmons are adorable little fruits that can be eaten fresh or preserved, or you could try cooking with them. We recommend this steamed persimmon pudding. With all the traditional flavors of the holiday season like ginger, brandy, pecans, and golden raisins, we think this will become a new family tradition when you serve it at the next holiday dinner.
If dessert isn't your style and you prefer savory dishes, then we think you'll love this persimmon and brie crostini. However, you'll have to be careful that you don't fill up on that and miss out on a pork with persimmons and mustard greens entree!
Sometimes kids have a hard time trying new foods. If they're hesitant about eating persimmons, try this seasonal fruit leather recipe that uses pineapple, mango, and persimmons to create a classic kid favorite.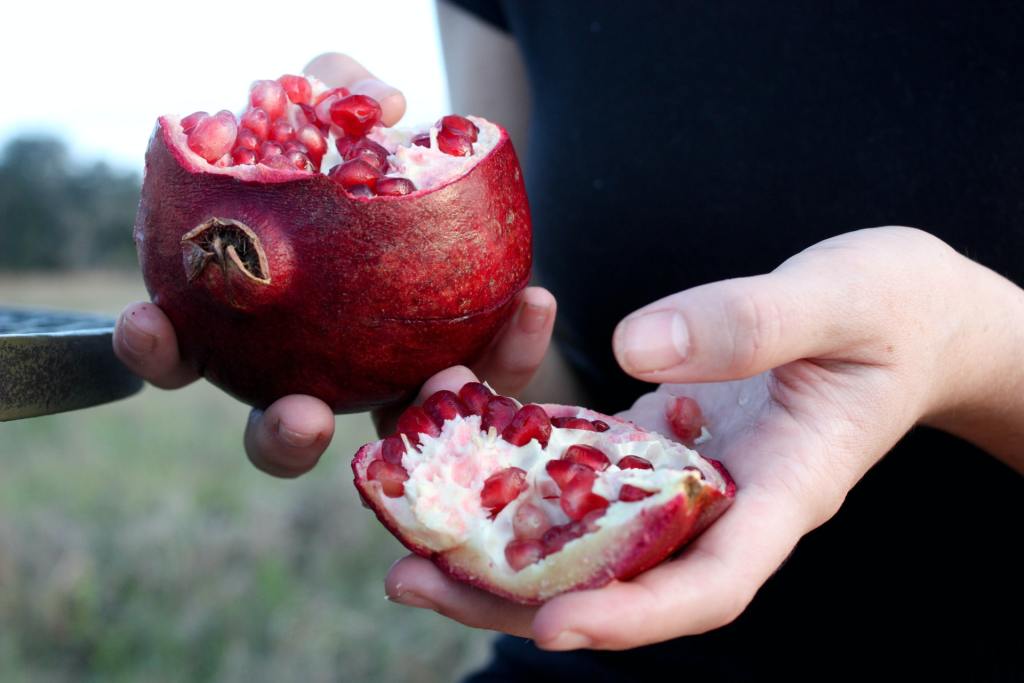 How to cook with pomegranates
It might be a pain to get all those tiny little seeds out, but it's so worth it once you throw a handful of fresh pomegranate into your mouth. This tart fruit is not only delicious, but is also stunning when you rip it open and see all those bright red seeds inside. If, however, you're looking for more ways to eat a pomegranate, you could try this greek yogurt cheesecake with pomegranate syrup. But if sweet isn't your thing, there's this pistachio and pomegranate meatball dish or this spiced chicken with spaghetti squash, pomegranate, and pistachios. Lastly, you could use some pomegranates and pumpkins with this roasted pumpkin with dukkha and pomegranate dish.
So while you might have only thought of eating these fruits fresh or baked into desserts, now we see just how versatile these fantastic fall fruits can be.
Editors' Recommendations