Sometimes the best part about starting a new hobby is getting to buy all the latest gear or tools you need. Gardening is no different, and since many of us have started gardening this year, you might be wondering what type of clothing you need to garden in? The truth is, you can garden in almost any kind of clothing. Veteran gardeners will admit to gardening in everything from pajamas to sundresses! However, it's nice to have protective gear and clothes that are made specifically for gardening. This way you have everything you need and can get the job done without worrying about your clothes.
If you need a total garden wardrobe, Carhartt might be the best place to start. Look around at almost any farm, and you'll see everyone wearing at least one item of Carhartt clothing. They sell everything from pants, shirts, hats, gloves, socks, belts, bags, boots, hoodies, jackets, and coats. Their gear is tough, long-lasting, and is designed to move with you while you work. Not only do they have clothes for summer chores, but they also have great winter gear that's sure to keep you warm and moving even in the coldest of months. When you garden, you get on your knees, and sometimes you work with plants that have thorns or other abrasive attributes; with Carhartt clothes, you can rest assured knowing you won't rip the fabric and your skin will stay protected.
Like Carhartt, Dickies is the go-to choice for many companies with employees that work outdoors and in demanding conditions. Their clothing is dependable and a bit more affordable than Carhartt's. They have almost everything from overalls to wallets and anything else you might need to jumpstart your gardening clothes collection, and their clothes have plenty of pockets for tools and other gadgets. They even have options for kids, and they almost always have a sale going on.
Probably one of the most important aspects of any outfit is proper footwear. Everything can be going great until your non-waterproof shoes get wet from the hose, or you step in dog poop on your walk out to the garden, and you're wearing house slippers. Avoid these accidents with some fantastic footwear by The Original Muck Boot Company. They sell a wide range of boots and shoes that are made specifically for farming, gardening, and homesteading. They have men, women, and kid sizes, and they have a variety of styles, types, shapes, and multipurpose shoes. There's something for every situation, and you're bound to find a pair of shoes that's perfect for you and your needs.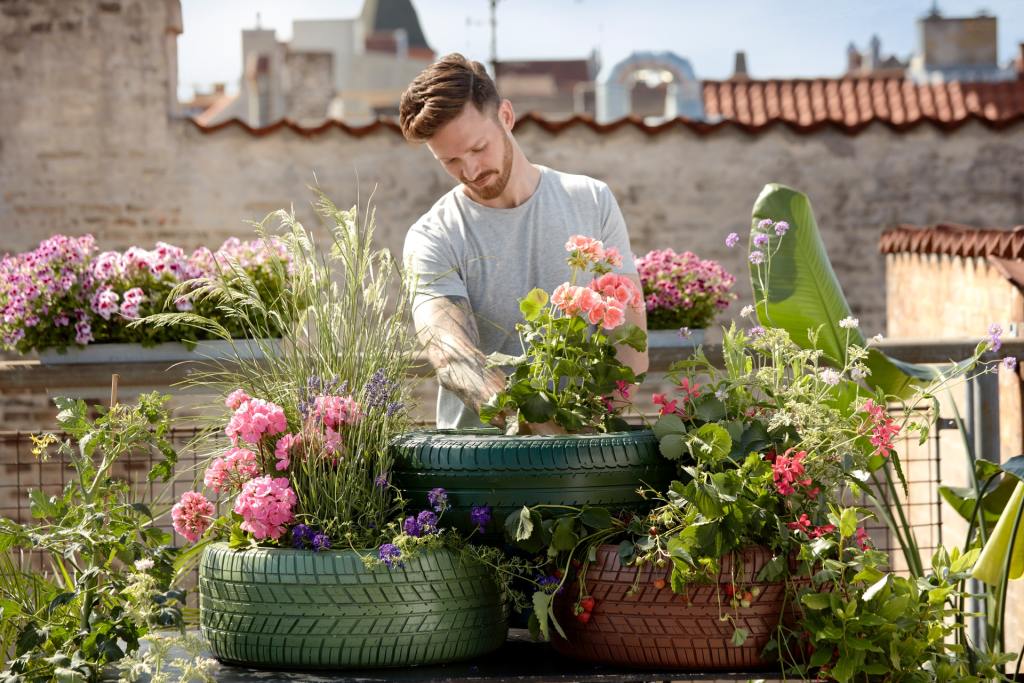 Imagine going to check on the garden, and suddenly there's way more ready to be harvested than you expected. You could use a cute basket, but those can get in the way and might get dirty when you have to set them on the ground. Every gardener needs a gardening apron, and this apron by The Roo Apron is specifically designed to suit every gardener's needs. With lots of pockets and one giant Kangaroo-inspired pocket in the front where you can store your harvest. The aprons have convenient little hooks to open the pocket and dump the contents onto your counter or harvest rack. The material is durable and easily washable and comes in either a roo or joey style. The roo style is a full bib-apron that covers the chest, and the joey apron goes around the waist. They're available in four colors—green, purple, red, and gray.
You might only consider REI to be a hiking and adventure store, but they have fabulous hats for all types of weather that, as a gardener, we're sure you're going to love. Often gardeners spend a whole day in the garden during the hottest times of the year. REI has fantastic, lightweight hats that will protect your head, ears, and neck from the sun while you work away in the garden. In addition, REI has a plethora of items ideal for outdoor activities. You're bound to find more products that your garden wardrobe can't live without.
At these stores, you'll be able to find the ideal clothing for whatever type of gardening you do, and you're sure to look good while doing it.
Editors' Recommendations