Traditional gardening often requires ample space and lighting for edible plants to truly thrive. But modern technology really has come a long way, and now, it's entirely possible to grow food indoors, even with environmental limitations. With the advent of sleek gardening machines, you can plant your favorite fruits and veggies virtually anywhere. Ahead, we go over what current high-tech gardens look like and review some of the best top-of-the-line ones out there.
What a high-tech garden looks like
What exactly does a high-tech garden look like? It's more often than not a machine with lights, pre-seeded grow pods, and some kind of self-watering and self-feeding mechanism. High-tech garden setups are perfect for plant enthusiasts of all stripes, but they're especially useful for novices. They take the guesswork out of gardening with features like automated lighting, watering, and feeding systems so that your plants get the right amount of everything. Plus, high-tech gardens are also often hydroponic, meaning that they rely on a nutrient solution rather than conventional soil. Hydroponics is often very efficient with space, so you don't need the square footage of a raised bed to grow delicious harvests.
Which high-tech indoor gardening system is right for you? It can be intimidating to find one that best suits your home since these setups tend to be so steep in price — you want one that actually works. With a whole world of high-tech gardens to choose from, we've gathered up three of our favorites.
At $200, the Smart Garden 9 offers some of the best cutting-edge technology that Click and Grow has to offer. With this garden setup, you can grow up to nine plants at any given time. The kit comes with lettuce, basil, and tomato plant pods—three of each, to be exact. The Click and Grow machine streamlines the planting process so that there's virtually no effort on your part. All you have to do is insert your plant pods and add water. The apparatus uses grow lights that turn on and off automatically and gives your plant nutrients through the prepackaged soil. The Pro edition of the Smart Garden 9, which costs around $60 more, is app-controlled.
If you're looking for something with a smaller price tag, consider looking into the $100 Smart Garden 3, which grows three plants instead of nine. You can also buy pre-seeded pods for different plants through Click and Grow's site. Take your pick from chives, arugula, chili peppers, and more—there are over 50 varieties to choose from!
Using a combination of hydroponics and aeroponics, the Indoor Vertical Garden from Gardyn Home is for those who are fully committed to high-tech gardening. With an $800 price tag, it's by no means an inexpensive investment. (Amazon occasionally has coupons where you can knock off around $50.) This system is about the size of a bookcase, but its size is very efficient with space—you can grow up to 30 plants with it. With this system, you can insert "yCubes" into your Gardyn setup, and the automated watering and lighting will help you nourish a healthy harvest in a few weeks. An app-connected assistant called Kelby also uses cameras and sensors to let you know when your plants need water, light, or fertilizer.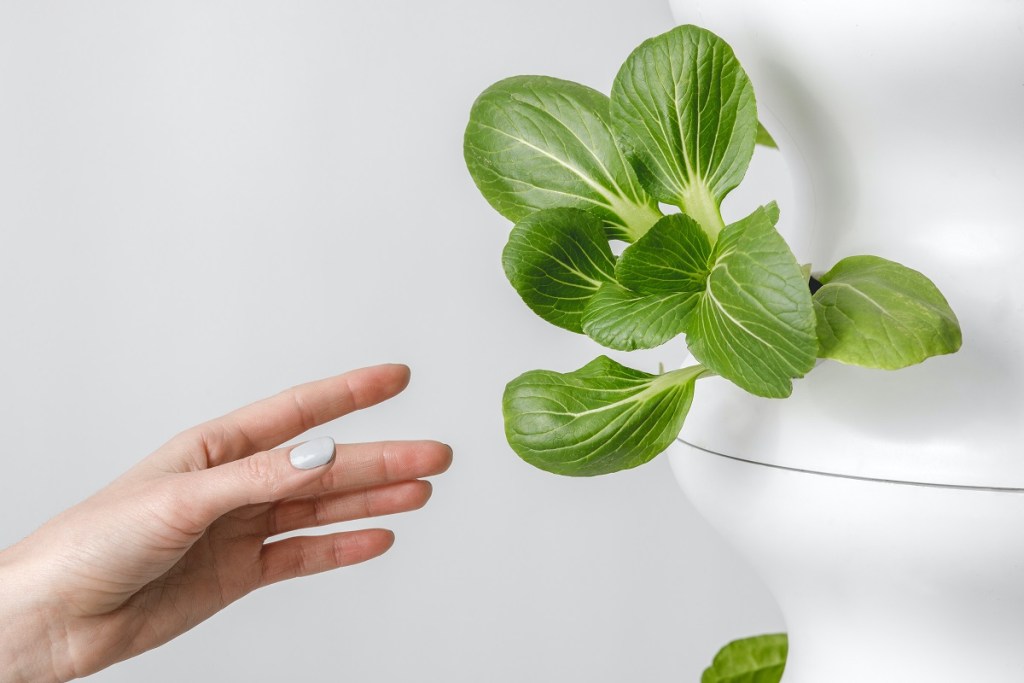 Stunning in its vase-like form and a beast when it comes to growing plants, the Farmstand is a standout high-tech garden. You can choose models that let you grow anywhere from 12 to 36 non-GMO plants. The Farmstand is self-watering and self-fertilizing, so all you have to do each week is add water and nutrients in addition to testing the pH. As it's made from ocean-bound plastic and uses 95% less water than traditional gardening, it's also one of the most eco-friendly setups you can install. Ideally, you should leave the apparatus outdoors for six hours or more a day, but you can have an entirely indoors setup if you pair the Farmstand with Lettuce Grow's Glow Rings. Starting at $348, the Farmstand is, again, an investment, and that price is subject to change if you add on the Glow Rings, which start at $200.
Want to create your own modest indoor farm? Cutting-edge technology can lend you a growing hand. High-tech indoor gardening systems such as the Smart Garden, Gardyn, and Farmstand are the future, and they'll help you effortlessly grow and gather a bountiful harvest in no time.
Editors' Recommendations