When building an outdoor kitchen, your end goal is always to have it look nice and be functional. But as you look around, you see many expensive bits and pieces. So, you may find yourself asking: Is building an outdoor kitchen on a budget possible? The answer is, of course! Although there are large ones with extravagant features, it's possible to build an affordable outdoor kitchen. Many people can't afford a full-blown outdoor kitchen for $15,000. That's why we've laid out a few tips and tricks you can take into account to cut back on some costs and still build a durable, beautiful outdoor kitchen.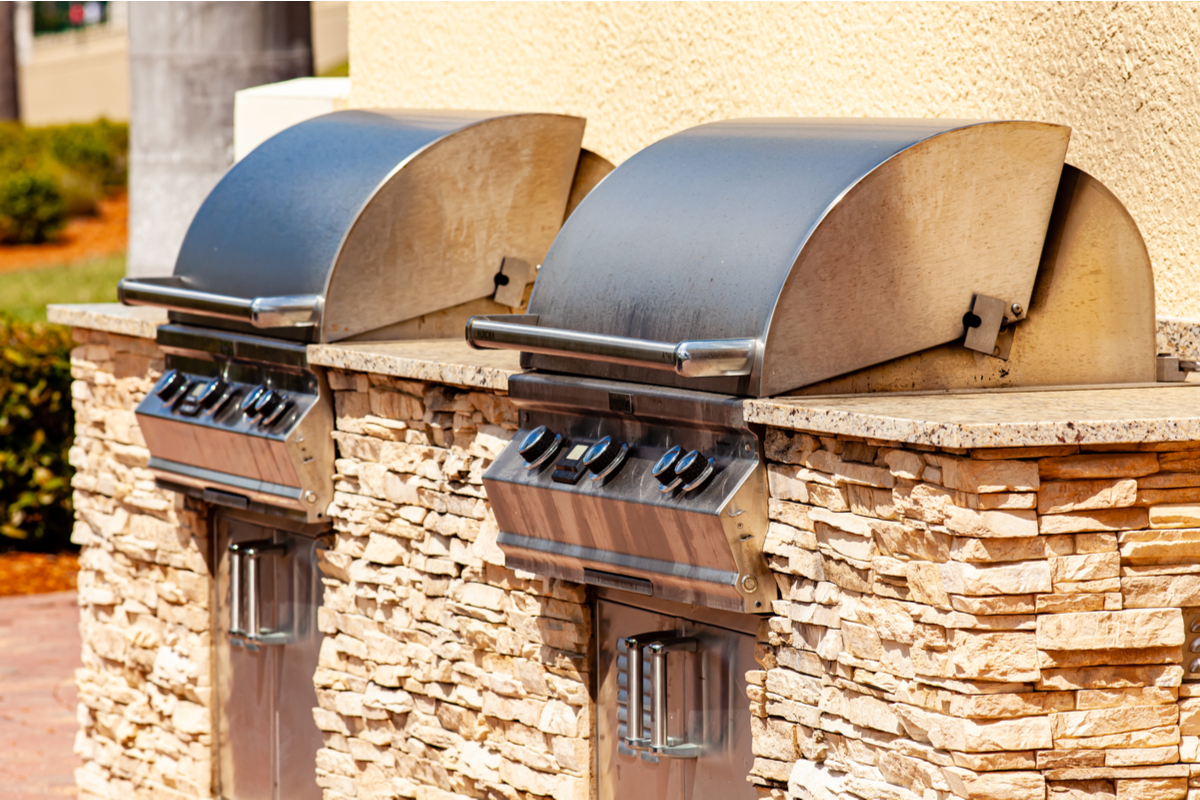 How to choose budget-friendly features
Building an outdoor kitchen on a budget often means picking inexpensive furniture and working with recycled materials, but that's not a bad thing! Even if it's inexpensive, outdoor furniture can come in beautiful sets that will have a decent life as long as you maintain and care for them well (and you may find particularly nice pieces at flea markets or garage sales). As far as building the base for your outdoor kitchen, there's plenty of reclaimed wood and recycled stone/brick that people no longer need, and using those materials will significantly lower your cost as opposed to buying new stone to lay down.
Furniture and seating
This will be the most comfortable part of your outdoor kitchen, so you'll want to find the comfiest inexpensive option you can. Stackable plastic chairs are affordable, and you can easily find cushions that have removable/washable cloth covers to use as padding. You'll want to bring the cushions inside when there's harsher weather, but the plastic chairs will store nicely under an overhang or in a shed.
The biggest cost saver when it comes to table and chairs will be veering away from a cohesive set (though there are affordable sets available). Although sets look nice, they're often more expensive when sold together simply because they match. You can go for a nicer table, cutting back on the costs of chairs buy purchasing an affordable option. You can also visit flea markets, garage sales, and thrift stores to find nice, lower-cost options of these items.
Choosing a grill
The grill will be another big cost saver, if not the biggest. When you're building an outdoor kitchen on a budget, you'll often want to go with a pre-built grill. You can still choose the type of fuel you want (charcoal, gas, or electric) but you won't have to worry about how the cost adds up when you start to select custom components. As far as fuel goes, charcoal or propane will be your most affordable option. These two don't require a gas or electric line to be run from your house to the grill, won't increase your monthly bills, and will allow you to place the grill where you see fit.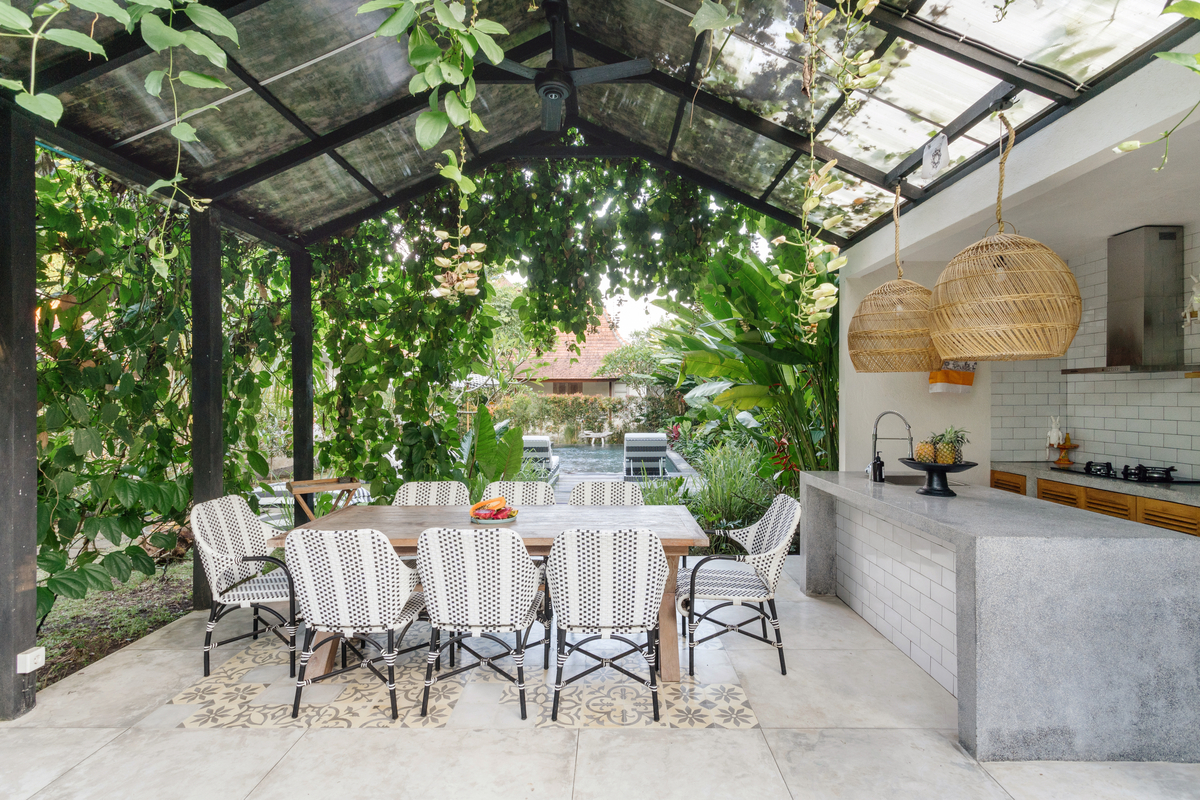 Other ways to cut down on costs
Building a kitchen will, of course, be a little pricey. If it was too affordable, you'd find yourself replacing everything year after year, which will cost you more money in the long run. By spending a little, you can save a lot as long as you maintain it.
Other ways to cut back when building an outdoor kitchen on a budget is to avoid anything that may require a professional, like an electrician or contractor (see above about selecting a charcoal or propane grill over electric or gas). You can also choose to go with a moveable island or rolling cart for drinks instead of installing counter spaces. Islands will give you additional surface area but don't require any installation costs. In fact, like the grills, you can even get some pre-made!
If you already have a level spot of land perfect for an outdoor kitchen, utilize it! By not carving out another space for this specific purpose, you'll save money on having to prep the land. Another bonus with recycled materials is that you and your friends/family may be able to install them yourselves — and they'll be happy being paid with food and love.
Keep it affordable, but not too affordable
The importance of a budget is to help you save on unnecessary costs and give yourself a spending limit. Whether your budget is $3,000 or $6,000, you'll want to make sure that the pieces you pick aren't always the most affordable on the market. Lower costs chairs and tables will do fine as long as you maintain them (after all, you're just sitting on the chairs), but you don't want to be replacing your grill or sink every single year because the furnishings don't hold up.
To that effect, maintenance will be key. Your outdoor kitchen is, well, outside, and thus exposed to whatever elements mother nature throws your way. Make sure you invest in a grill cover and move your furniture into the sun so it can dry whenever it needs. Proper care will help ensure longevity and will save you more money in the long run while allowing you to enjoy your outdoor kitchen to its fullest.
Editors' Recommendations