Have you ever been to a pool that didn't have much furniture next to it? No lounge chairs, no tables, just ground space. First of all, it's not that attractive, and secondly, it's not too comfortable. Think about it: parents often want to sit next to the pool to watch their kids without actually having to get in themselves. Others just want to sit and catch some sun without laying out on hard concrete or tiles.
It's hard to do any of that if there isn't any nice poolside furniture. Many make the mistake of assuming that all patio furniture can pull double duty. However, that's not entirely the case. Both obviously need to be able to withstand the elements and be made of durable materials. Poolside furniture should also be able to handle getting wet regularly and shouldn't get sun damaged too easily.
But, we're getting ahead of ourselves. In the following article, we'll discuss what you should consider before purchasing poolside furniture and how to choose the pieces that are right for you and your pool.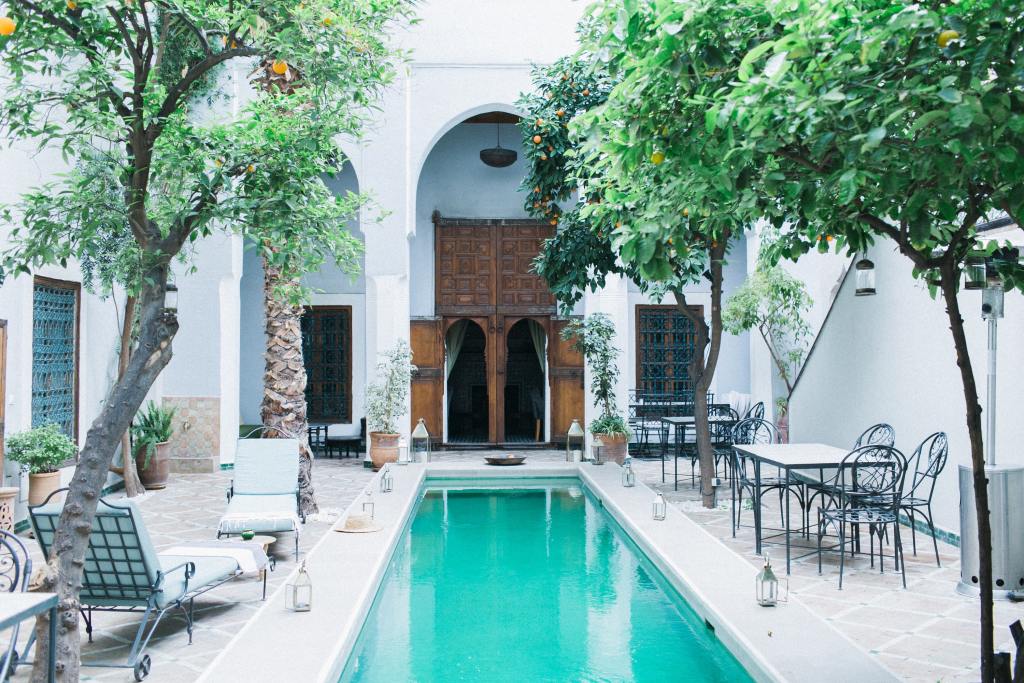 Make a list of what you want around your pool
Listen, not everyone will want or need the same kinds of furniture sitting around their pool. Various types lend themselves to different feelings and vibes. It all depends on personal preferences. With that said, several pieces of furniture are typical for most pools.
For example, you'll see variations on each of these sitting near or around most in-ground swimming pools:
Chaise lounges
Bistro sets
Outdoor sofas & sectionals
Hammocks
Adirondack chairs (wooden beach chairs)
Think about what you want, the overall feeling you want to invoke, and the comfort level you're aiming for.
Choose the best furniture for seating
Obviously, a chaise lounge, sunning bed, or hammock can be great for an individual. Maybe you have a few of these sitting around the pool—no problem. However, if you're the type of person who likes hosting pool parties with friends or family, you'll want to make sure you have the appropriate furniture to keep everyone comfortable and chatty.
For that to work well, you may want to purchase an outdoor sectional with weather-resistant, waterproof upholstery. If you want to include decorative throw pillows, they should be made from the same element-resistant materials. Bonus tip: Check out poolside sofas that have matching storage ottomans! It's never a bad idea to have extra storage.
Go for easy-care outdoor furniture
When choosing the best poolside furniture, you should also put some serious thought into how much maintenance it'll require. You want to pass the majority of your time enjoying your pool, not cleaning and repairing pool furniture. Right? Therefore, you need to look for easy-care furniture pieces that you're not going to have to worry too much about.
Remember that wooden beach chairs made from teak, cedar, and some kinds of wicker do pretty well even when exposed to outdoor elements for long periods. Many furniture pieces made from metal work well too, although be careful, as they can get hot.
Decorate it well
No matter what sort of poolside furniture you choose to purchase and place around your pool, it can get boring real fast unless you spice things up with a bit of decor. Decorating your outdoor sofas can be as easy as choosing throw pillows with bold shades. Another option is to take a bistro set and give it a lively paint job. Whatever colors you use, try to ensure that they complement other colors in the pool's general surroundings.
Add outdoor rugs for color and comfort
You might also wish to consider adding some texture to your poolside area. Theoretically, you can create a living room vibe by placing an all-weather rug in front of your outdoor sectional. New advancements in technology allow you to get a rug that dries super quickly. They're rich in texture and feel great under bare feet. Simply choose a pattern and color that complements your overall color scheme.
Remember, your pool can be the ultimate party space for fun in the sun. Friends and family alike can gather throughout the summer. By adding attractive poolside furniture, you can make the whole area comfortable for everyone. Some people make choosing that furniture harder than it has to be. Don't let that be you.
You just have to understand a few things about outdoor furniture in general and know what style you prefer. Plus, many people don't realize this, but picking out great furniture to put around your pool is another way to increase your property value.
Editors' Recommendations