Urban patios, though often small, are great spaces for lively gatherings. Whether focusing strictly on urban patio ideas or incorporating some deck garden ideas, you'll be able to find something that works for you that's not only unique, but something you can make your own. Often it's more about considering the elements and molding them to fit with what you have instead of recreating something step by step. Consider these ideas and see if there are any elements you can incorporate and make your own.
Create an urban patio garden
Any patio can be turned into a garden, so don't let the size limit you! It will determine how many plants you can comfortably grow, but there's always a way to set it up so that it's comfortable, inviting, and beautiful. The two main things to keep in mind when designing your deck garden are mobility and comfort. Can you easily move around? Do you feel crowded when you sit down, even when it's just you? Using plant stands, deck boxes, and hanging planters will help make the space more dynamic while allowing you room to walk around and sit.
In a similar vein, it would be best to use small individual containers as opposed to huge boxes. The individual containers can be moved around with ease and allow you to rearrange until you find a design you like, whereas large boxes can often only go in one or two spots and don't allow the flexibility desired for an urban patio garden.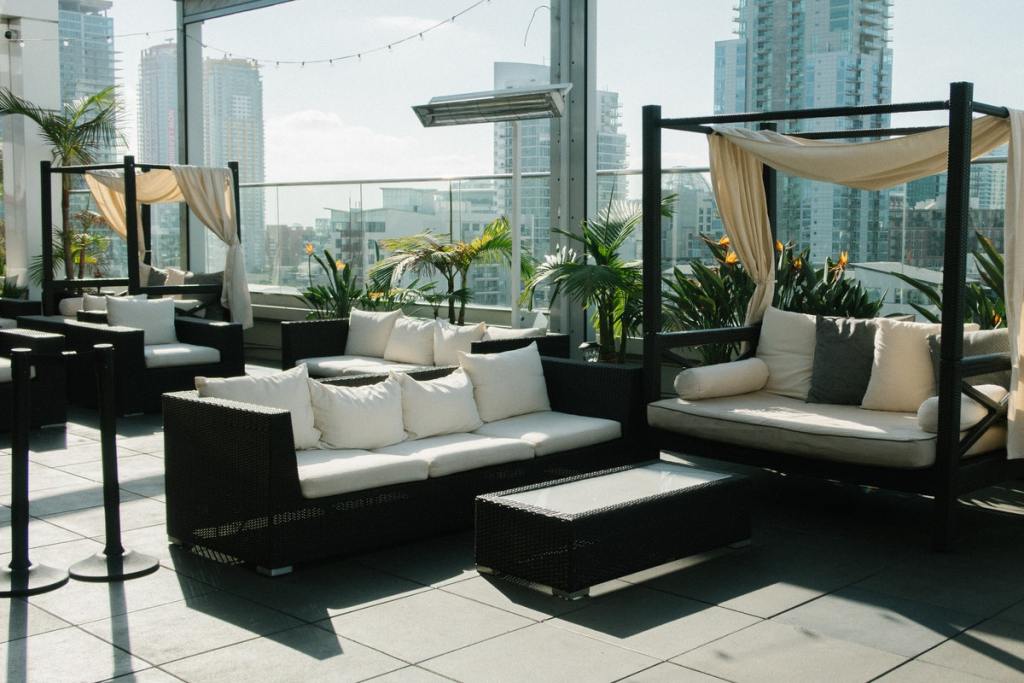 Keep it clutter free
If you're planning on having a seating area, consider benches and tables that have additional built-in storage. You can keep blankets, tools, pillows, etc., inside them and out of the way, so the space looks neat and tidy when not in use (but the blankets will be there on chilly summer nights). More importantly, pick furniture that's ideal for your space. You wouldn't want to hang out on a patio that felt too crowded or bulky.
If you plan on having gatherings on your patio, it's a good idea to have additional furniture that can be easily stored. This will allow you flexibility with what you keep on your patio without hindering any enjoyment you get out of it. You can have one or two chairs that are a permanent part of your design, then keep a few foldable/stackable ones stored away that you can bring out as needed. Not having tons of chairs out there all the time is a great way to prevent the space from feeling crowded.
Make use of outdoor lighting
As far as urban patio ideas that add atmosphere, outdoor lighting is a great way to go! It adds dimension to your space and can help keep the party alive at night. String lights, rail lights, post lights, floor lights, etc., can all be used depending on your space and preferences, but it will look cleanest if you mix and match only two or three different types of lighting.
Hanging string lights
If you're tight on space, hanging string lights is an ideal option. As long as your living situation allows, you can hang them along the top of your patio, or even along the rails, and keep the lighting off of the ground and out of the way. The best part is that if you want to mix and match but don't have much space to work with, you can opt to use hanging lights and fairy lights. The mix of larger and smaller bulbs, if done right, can add to the space.
Lanterns
Another low-hassle, ambient option is lanterns. They can be hanging lanterns, floor lanterns, or table lanterns, depending on what you can fit in your space and the look you're going for. Lanterns will mix well with string lights but stand beautifully on their own. There are some that are battery operated, or you can take it a step further and buy ones that hold LED flameless candles. They look like candles and have the appearance of being lit, but they're safe and don't pose a fire hazard if you accidentally forget to turn them off.
There are many urban patio ideas and deck garden ideas out there to inspire you! Some show how to make use of the vertical space (like shelves, hanging planters, even vertical gardens if your space allows) while others will help you find the best kind of seating for your style. Try not to lock yourself into one solid idea; the patio design you love the most will be the one that's unique to you.
Editors' Recommendations