In urban spaces, patios can sometimes be the most outdoor space you have. So why not make the most of it? No matter where you live, you'll be able to create a chic patio. Urban patios often make use of smaller spaces with creative solutions. Be it storage, furniture, or even utilizing the ground space, these urban patio ideas will help you find creative solutions to decorating different-sized areas.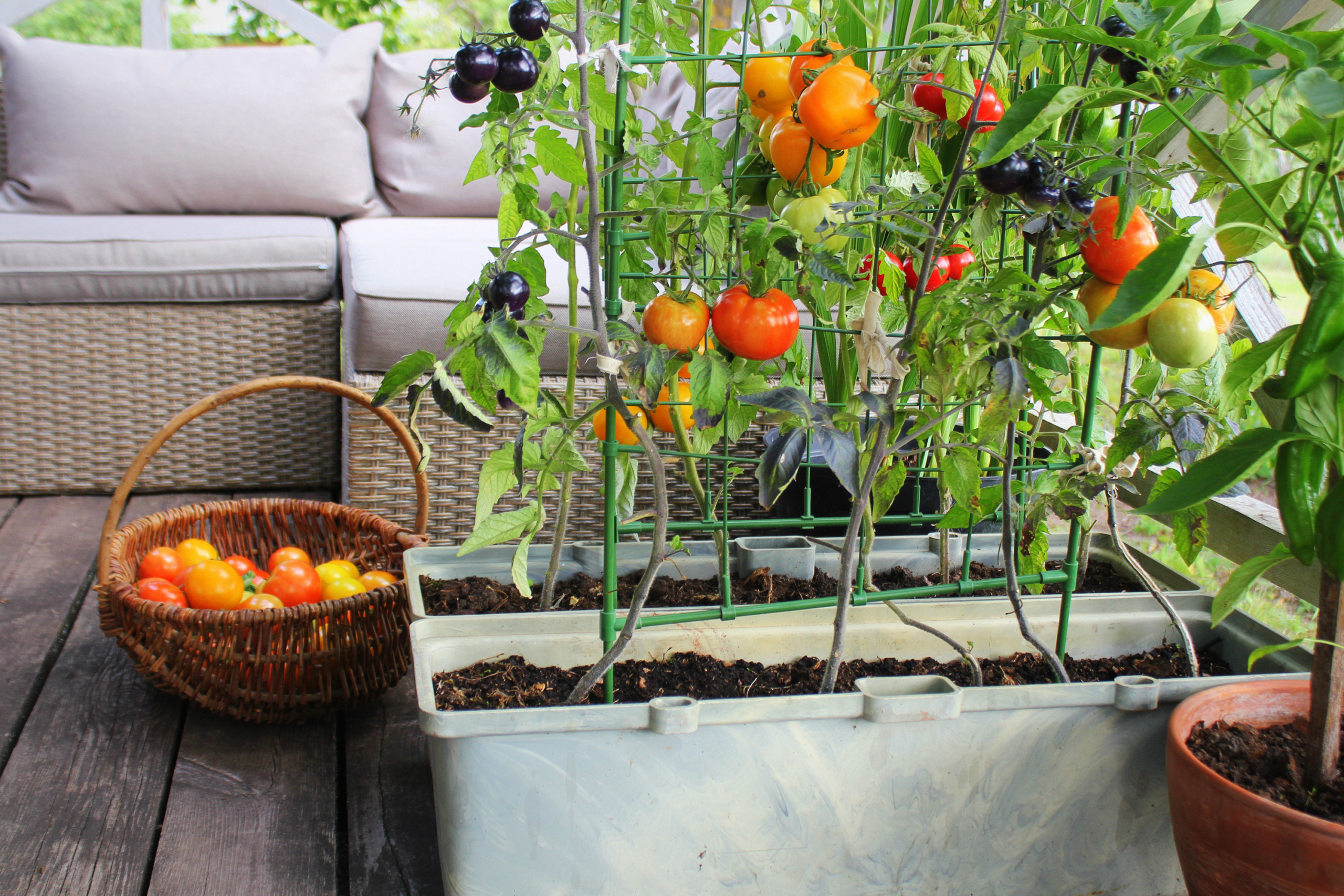 The urban patio garden
Having a patio garden is a great way to decorate your space, especially in an urban setting! This is a great outdoor and indoor patio idea, and a perfect way to bring life to your home. Your urban patio garden can range from luscious greenery to a homegrown garden with herbs and vegetables. The main thing to keep in mind is that you want to preserve mobility and movement. Because patios are often on the smaller side, you don't want to clutter it with too many immovable plants — and you will still want some form of seating, ideally a thin glass or metal so that they don't take up too much space or look too bulky.
In order to ensure mobility in your urban patio garden, individual container plants are often the best way to go. You can set them on any safe ledges you might have, nestle them into corners, and arrange them on small shelves in a way that garden boxes don't allow you to do. If you have railings on your patio, you can even opt to use railing boxes to grow plants and take them off the ground and out of the way entirely. And, if you have the space, you can even put some containers in movable wagons and carts that you can shift around or even move inside as needed.
You can also make use of the vertical space your patio has to offer with things like trellises and walls for growing plants. There are vertical planters you can use, and you can even create a space with something like an upright pallet for ivy or other vine plants to string themselves on it. Just be mindful of the amount of light your patio receives when you're picking out plants for your garden. If you have a decent amount of shade, you'll want to opt for plants that grow and thrive better in less lighting. The more sunlight you get, the more variety of plants you can grow and use to curate your outdoor patio garden.
Built-in storage and furniture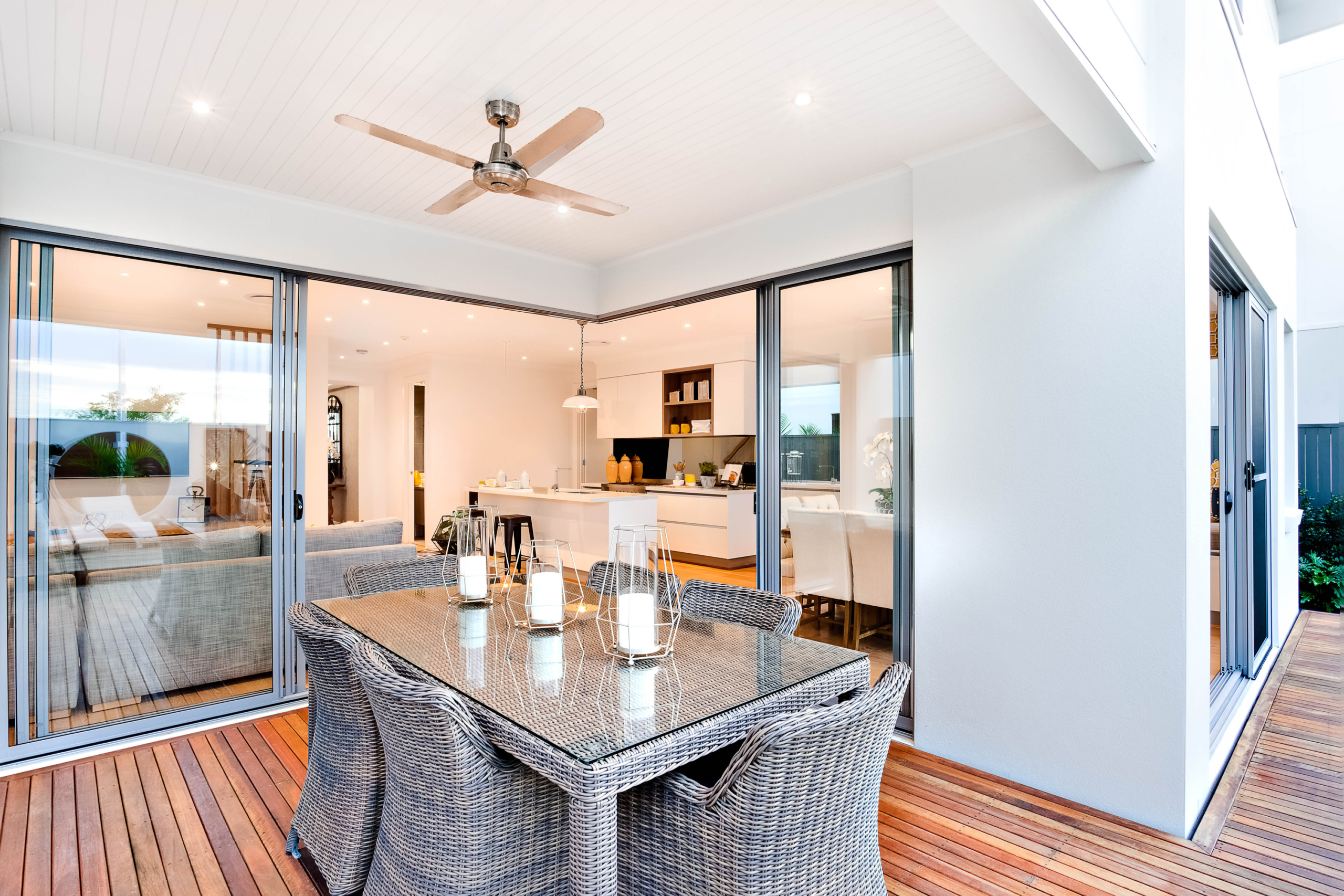 If you choose to go with a classic, sleek patio design, you'll be able to make the most of your small space with built-in storage. Many chic urban patios feature things like benches, ottomans, and side tables that have shelving and even hidden storage. You can use these to hide away throw pillows, blankets, or anything that clutters the space if it isn't actively being used. It will come especially in handy on cooler days or days when the weather isn't as good and you don't want your outdoor decor to get ruined.
There are benches with hidden storage under the lid and some that have shelves underneath or on the side. Side tables with a bottom shelf also make good homes for plant accents, if you want a bit of greenery without committing to a full urban patio garden. And if you have a bit of wiggle room in your budget, you can even build your own piece of furniture with built-in storage that fits your space perfectly. It's a nice way to add some customization to your chic patio without going too overboard on decor.
Decorating the ground
One of the best touches to complete a chic urban patio design is to add a touch of fun to the ground. You can't fully customize the patio base, but there are ways you can spruce it up and complete the look! If you're able to, and you own the space, try painting your deck a vibrant color that fits with the theme of your patio. It can add a filling touch to the design without spending too much money on redoing the whole thing.
Another option is to use an outdoor rug. If you are unable to customize your patio by painting it (or if you don't have the right surface to paint), an outdoor rug can be a bold accent. You can pick a design that fits your personality and the patio, and you have the freedom to switch it out and replace it as-desired without having to worry about sanding, staining, repainting, or anything of the like.
And especially if you're creating an urban patio garden, or if you just want a more natural feel to your patio, you can lay down some faux grass. There may be back-and-forth on fake plants, but the fact of the matter is that they still add nice accents to the space, and faux grass will allow you to make your urban patio feel just a bit more closer to nature.
The most important thing if you're stuck is to look for inspiration! There are so many chic urban patio ideas and designs, and you can browse around to find what speaks to you and what features you want to incorporate in your space.
Editors' Recommendations