Many people associate garden-fresh vegetables and fruits with the fall or warmer-weather months. But if you have a greenhouse or access to a greenhouse, you don't have to halt production just because winter has arrived.
Are greenhouses suitable for growing vegetables when thermometers drop? You bet. A vegetable greenhouse can give back a significant yield in the winter, especially if you know which vegetables do well in this environment. It may take a little extra knowledge and focus, but most experienced gardeners should be able to transition to the winter vegetable greenhouse without any major headaches.
To get you going, start these vegetables in the greenhouse now for a delicious harvest down the road.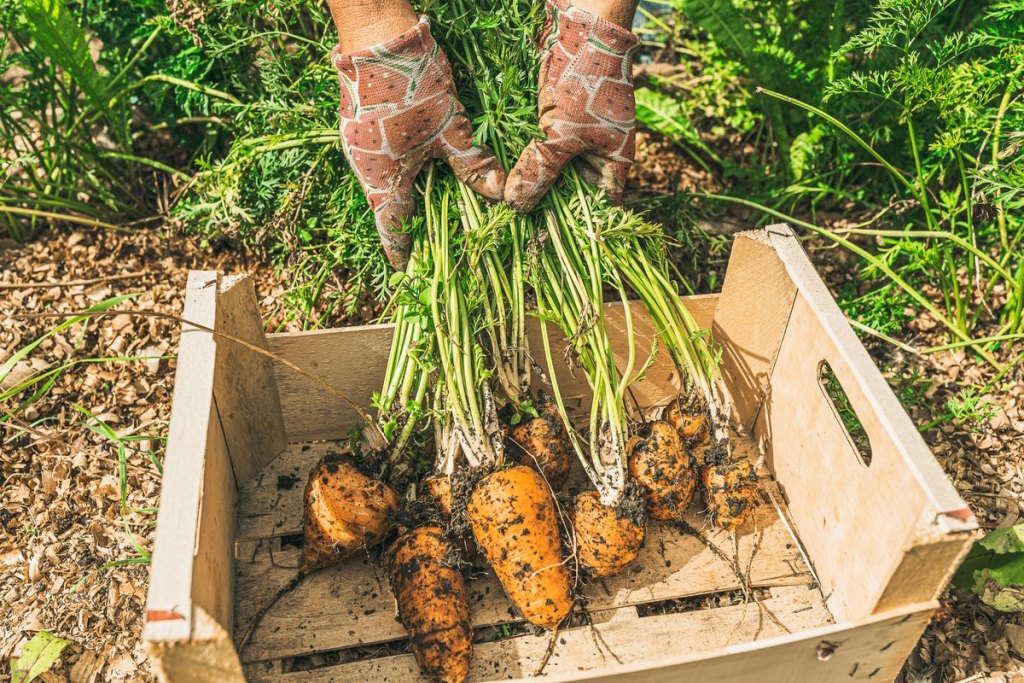 Before we get started, a few caveats: First, you may want to learn more about what grows well in your particular climate. Although winter vegetables are pretty hardy customers, not all winters are created equal. Check seed catalogs, local businesses, or other resources to learn more about what works for you.
Carrots
It doesn't get much hardier than the carrot. Carrots can resist frost; they were built to thrive in cooler weather.
Plant seeds in loose, well-aerated soil (forget the manure, which can over nourish the seeds). They do best at temperatures between 55 and 75 degrees Fahrenheit — conveniently, the typical temperature range for a greenhouse not heated by artificial sources. Plant seeds in a large planter or another container, about six inches apart. Eliminate weaker seedlings as they grow. Water no more than an inch a week, achieving moist but not soggy soil.
Carrots are normally ready to harvest about two months after sowing.
For some extra fun, try growing an heirloom carrot variety, which is just as good in cold weather as their traditional counterparts.
Beets
Beets are a versatile root vegetable that are good roasted, pickled, or anything in between.
Start prepping for your beet crop in late autumn by laying down straw or leaf mulch over planting before the soil freezes. Beets like fertilizers, including compost and manure, so feel free to add some to the soil before sowing.
Dampen seeds just before planting, plant rows roughly four inches apart, and cover seeds with about a half-inch of soil. The soil must be at least eight inches deep for large, healthy roots to grow. Keep soil moist but not too wet.
Your beets will be ready to harvest in roughly 40 to 60 days.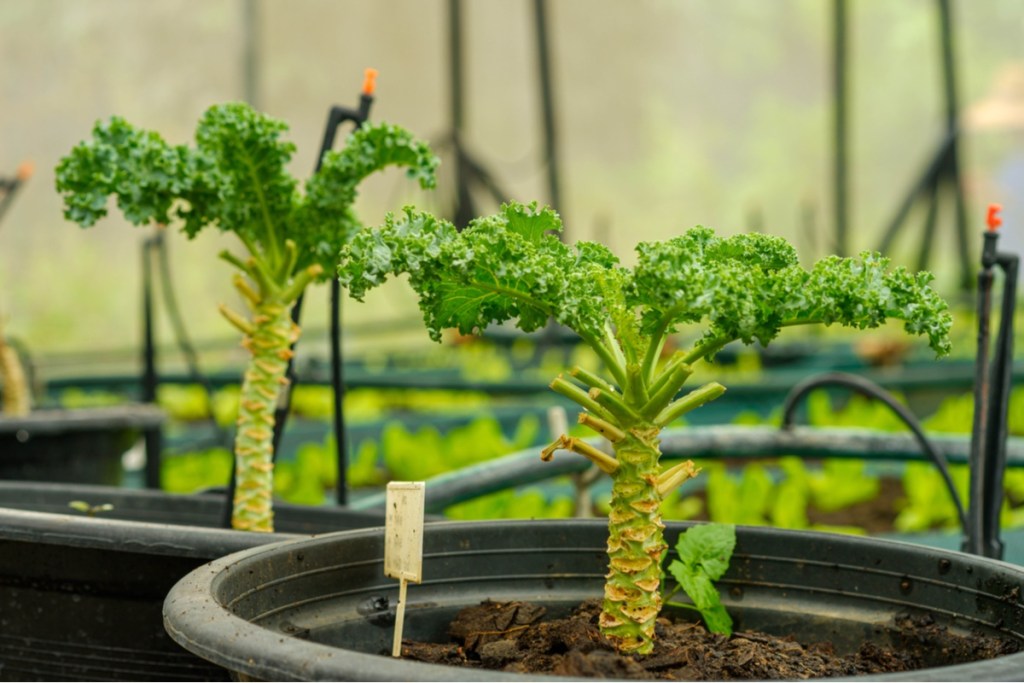 Kale
Kale is widely viewed as one of the world's great superfoods, and its tough-leafed exterior makes it one of the hardiest and most winter-friendly vegetables out there.
Plant seeds about a quarter- to a half-inch deep in the soil. Kale thrives in direct sunlight, ideally about six hours of full light per day. Kale also loves water, preferring about one to 1.5 inches of watering per week. Mulch is important to keep weeds at bay and prevent erosion. It also provides extra nutrients.
Other greens like arugula, spinach, endive, and certain types of lettuce also can work in the winter.
Radishes
This root vegetable is famously easy to grow, and that certainly goes for a winter vegetable greenhouse. This one could be a great option for inexperienced gardeners or families with young children.
Use loose, easy-draining soil that's free of debris like loose stones or wood chips. This is the hardiest of crops, but exposure to direct sunlight will ensure a healthier plant. Keep soil moist, and you can see your radish tops emerging from the ground in as few as five days.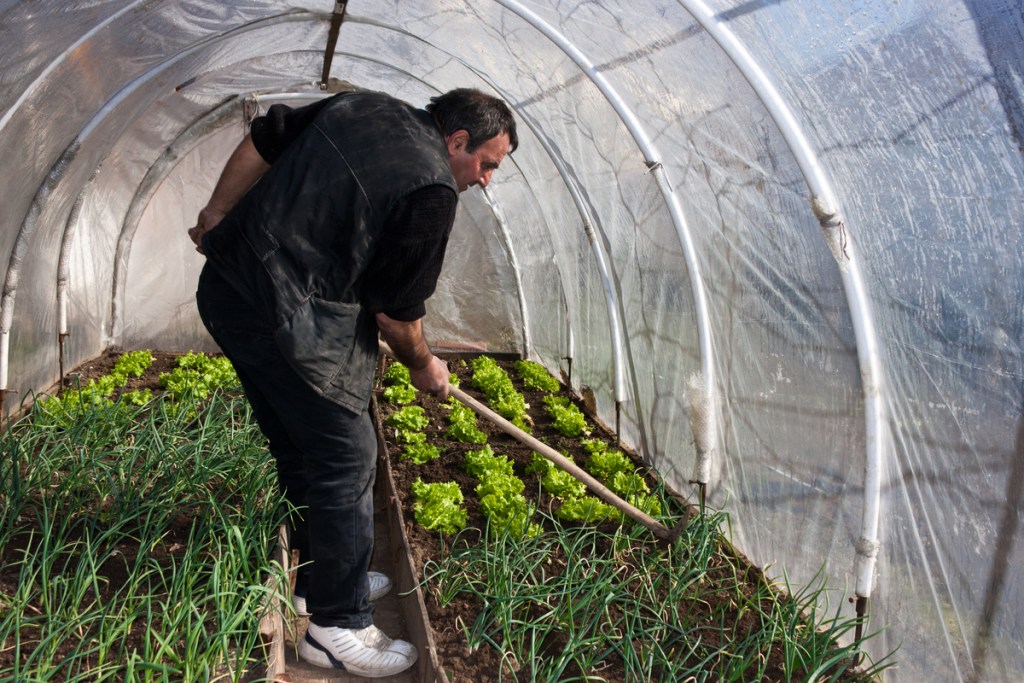 Green onions
Green onions are a versatile veggie that's a snap to grow in a winter vegetable greenhouse, as their natural temperature preference nicely overlaps that of an unheated greenhouse.
Plant onions half an inch deep in six-inch-deep flats or another container, using sterile potting soil mix. You'll want to create a flat, smooth seedbed before you plant. Onions should be about an inch apart, with rows about six inches apart. A floating row cover will make for healthier plants. Keep the soil moist but not too wet, and remove any small flowers that may peek out from the soil. They should be ready to harvest in about 30 days.
A winter vegetable greenhouse can be a source of fun — not to mention vegetables — for both experienced and novice gardeners. You may have to say goodbye to those local strawberries for a while, but sautéed kale is healthier anyway.
The real point for many gardeners, though, may be to simply keep busy during the winter; making full use of their greenhouse is an excellent way to do that.
Editors' Recommendations