To brighten up your lush garden landscape with blooms that thrive late into the growing season, you can't go wrong with dahlias. These cheerful statement makers require a careful eye when it comes to watering, but they can truly thrive with a bit of maintenance.
And while dahlia flower care can be moderately challenging, planting these flowers is actually quite easy. If you're wondering how to go from humble tubers to vibrant blooms, we've got you covered with our dahlia guide ahead.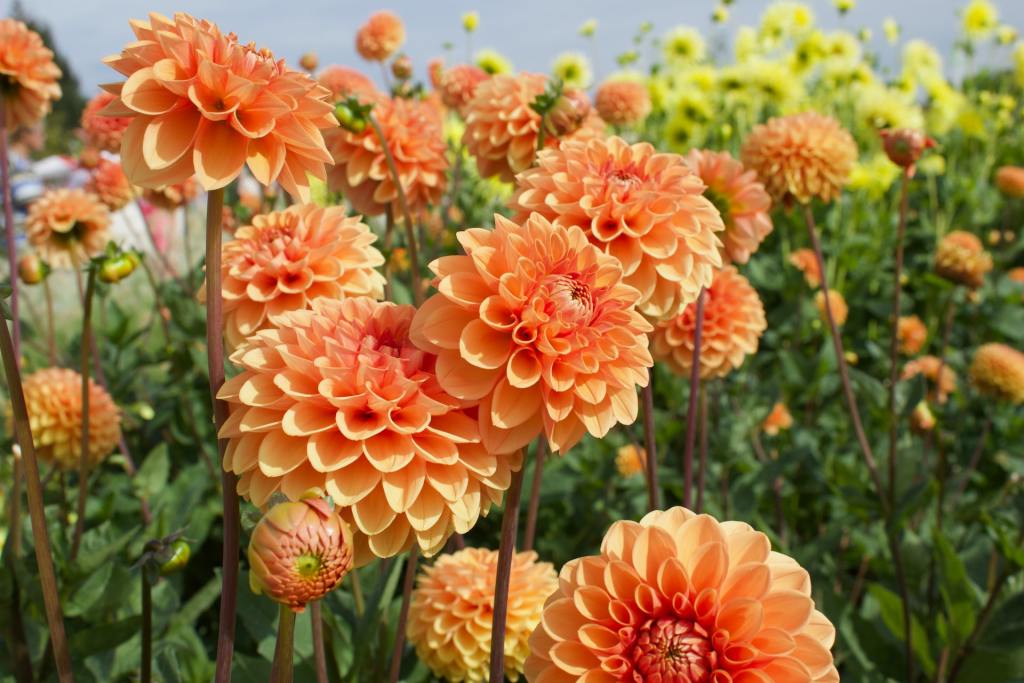 What are dahlias?
Hailing from Central America, the Dahlia genus includes roughly 40 flowering plants that belong to the Asteraceae family, which also includes beauties, such as sunflowers and chrysanthemums — in fact, dahlias are very similar to chrysanthemums, except they tend to be smaller. They feature showy flower heads in all sorts of colors, including pink, orange, red, purple, white, and yellow. You'll also find quite a variety of sizes — flowers can be anywhere between 2 and 15 inches wide.
Dahlias typically produce blooms throughout the summer and are perennial in climate zones 8 to 11, where they can stay out in the garden all year round. Naturally favoring warmer climates, they're very frost tender and won't tolerate freezing temperatures.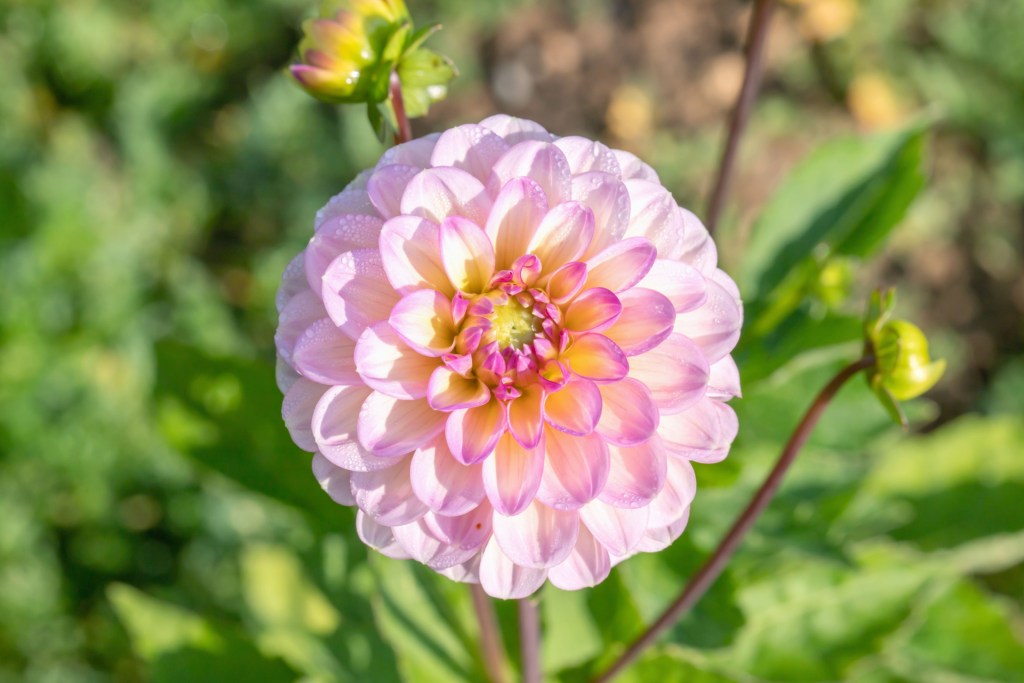 Different varieties of dahlias
With so many dahlia flower varieties out there, it can be hard to choose when you're trying to make a decision at the garden center. Dahlias come in all kinds of shapes — you can have everything from dinner plate varieties with cupped petals or pompom ones with spherical flower heads. Here are a few special types to keep on your radar as you shop for dahlias.
Anemone dahlias: Anemone dahlias feature tubular florets in the center and at least one layer of flat ray petals.

Cactus dahlias: Cactus dahlias have long, pointy rays that can be straight or curved.

Pompom or ball dahlias: Featuring full double blooms, ball dahlias have a spherical shape with rolled florets that can have flat or rounded tips.

Collarette dahlias: Collarette dahlias have an outer ring of flat, overlapping florets and an interior "collar" of smaller florets with an inner disc.

Waterlily dahlias: Waterlily dahlias have fully double blooms and feature slightly cupped florets.

Dinner plate dahlias: Dinner plate dahlias refer to dahlias with large blooms that measure 8 or more inches in diameter.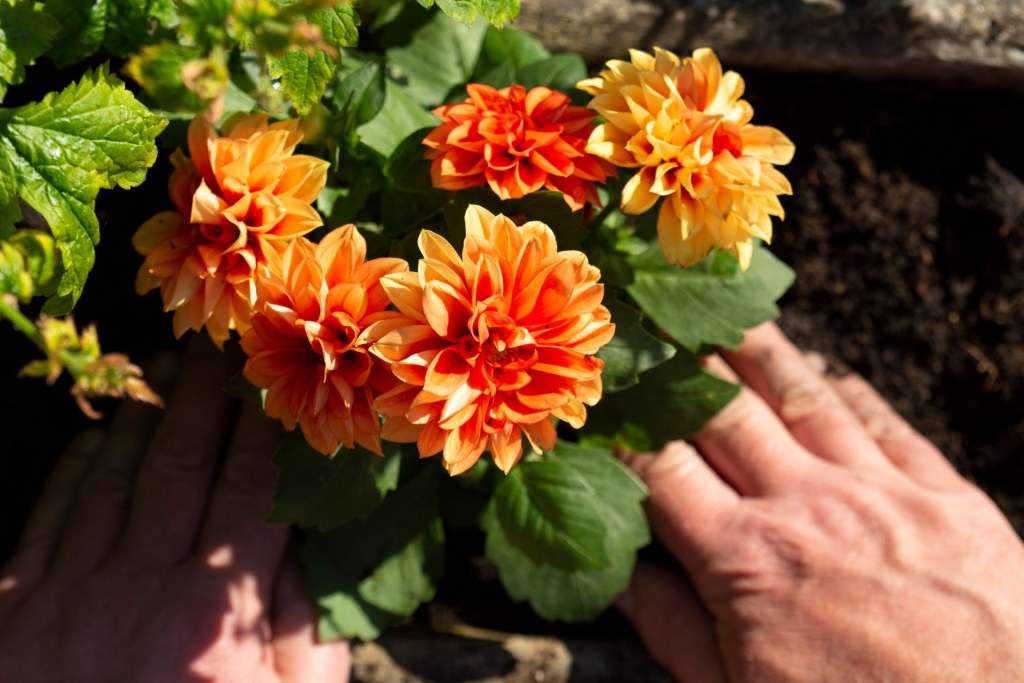 When to plant dahlias
The best time to plant dahlias is during spring after the last frost, when the soil is warm enough to accommodate your flowers. While you can get ready-to-go flowers at your local nursery, it's quite easy to start dahlias before they bloom.
Dahlias can grow well from tubers, although you can grow them from seed, too — you'll just need to be in it for the long haul, as it takes anywhere from 100 to 120 days for flowers to grow from seeds. With tubers, dahlias sprout in about six to eight weeks, so plan your planting schedule accordingly. Here's how to start your dahlias from tubers:
Step 1: Make sure the last frost has passed.
Step 2: Find a location that receives partial or full sun.
Step 3: With a trowel to dig dirt, plant your dahlias tubers directly in the ground, in a pot, or in a raised bed of your choice.
If you are growing tubers, keep the eye on the tuber facing upward and place it 4 to 6 inches in the ground. Make sure you use well-draining soil.
Step 4: Plant stakes in the ground to support your plant when it flowers, as dahlias are top-heavy plants.
Implementing stakes (such as bamboo stakes or tomato cages) when you plant your tubers prevents you from damaging established flowers.
Step 5: Keep your plants 2 feet apart.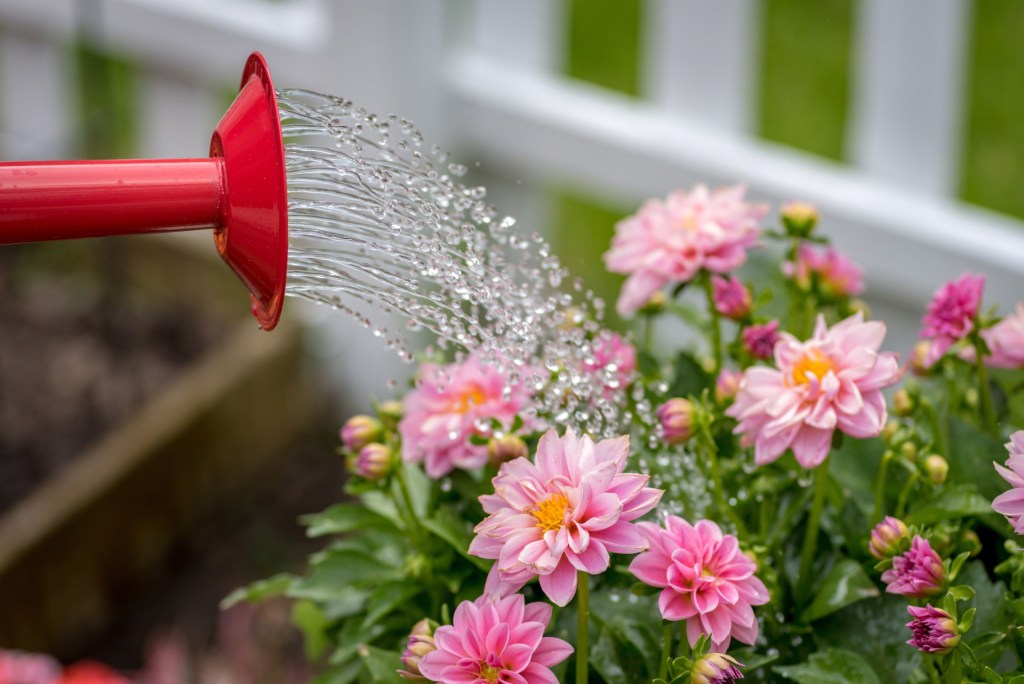 How to care for dahlias
When it comes to care requirements, dahlias share many similarities with chrysanthemums — they appreciate moist soil and partial shade to thrive. For their gorgeous blooms, they also need sufficient fertilizing and watering throughout the growing season. Here's how to keep your flowers gorgeous and healthy until the next frost.
Step 1: Place your dahlias in a location that gets 6 to 8 hours of full sun a day.
On hot summer days, give your flowers afternoon shade or cover them with a shade cloth.
Step 2: Water your dahlias deeply when the soil dries out — this could be as often as one to three times a week.
You want the water to soak your dahlia's tuber root system, but you don't want your soil to be soggy. Many gardeners prefer using a soaker hose or drip irrigation system for their dahlias.
Step 3: Fertilize your soil about 30 days after planting and continue with a monthly cadence throughout the growing season.
Use a low-nitrogen fertilizer formula (such as a 2-4-4 or 3-9-4 formula) to encourage blooms or stick with an animal feed like cow manure.
Step 4: Hand weed any unwanted plants in their space.
To prevent weeds, you can also use organic mulch to dress your soil.
Step 5: Around the first frost, you can dig up your dahlia tubers and overwinter them somewhere that's frost-free.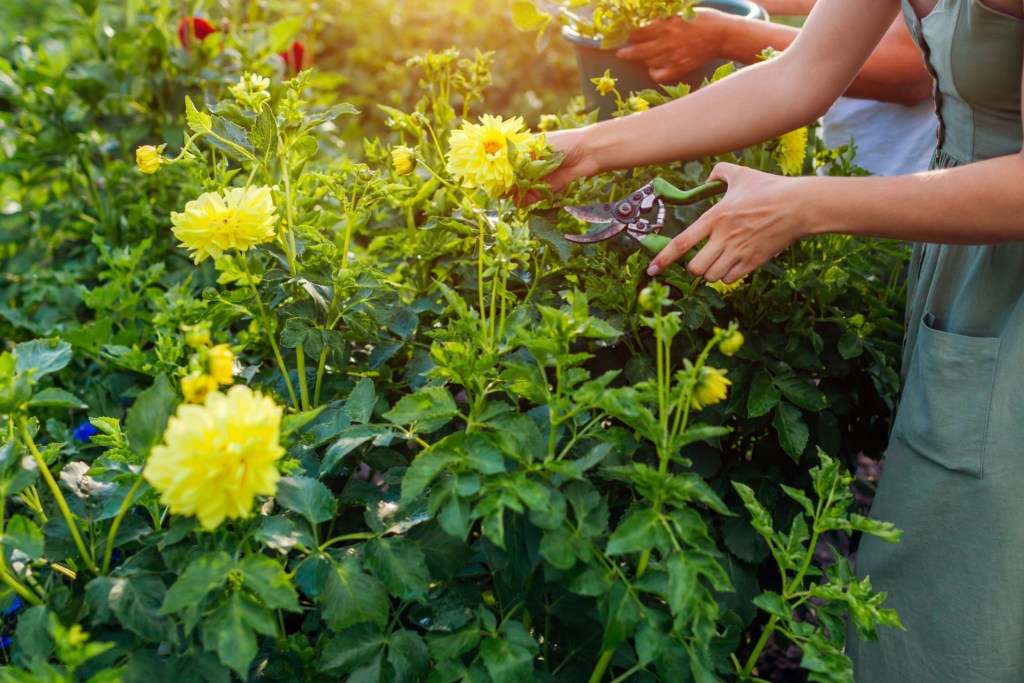 How do you deadhead dahlias?
With sufficient watering, you will find dahlias blooming from midsummer through fall. As they flower, you can prune and deadhead them to enjoy full-looking flowers. But how do you go about pruning and deadheading your flowers? We've got the answers ahead.
Step 1: Promote side branching and fuller dahlia plants by pruning your dahlias once they develop three sets of leaves and reach about a foot tall.
To prune, pinch the center shoot with clean shears or pruners.
Step 2: Identify spent blooms and deadhead them by cutting off faded flower heads where they meet the stem.
You can also trim off any dead foliage while deadheading, too.
Step 3: To enjoy cut dahlias for your floral arrangements, cut for flowers when the blooms are about 3/4 open.
To promote a stronger plant, cut down to a branching part of your dahlia plant.
Enjoy lush, eye-catching blooms late into the growing season when you plant dahlias during spring or early summer. After planting your tubers, all you have to do is keep an eye out for fertilizing, watering, and deadheading for head-turning flowers. To bring the blossoming beauty into your home, you can even cut your dahlias for stunning flower bouquets to display.
Editors' Recommendations