Giving indoor plants new homes is such a thrill for plant lovers! It's wondrous going to the nurseries and greenhouses, picking out just the right plant with the perfect (to us) leaves, and going home, excited to introduce our new friend to the rest of the gang. Even for the most experienced houseplant owners, though, acclimating the new plant can sometimes be a struggle if it's a kind you've never had before. Don't worry, we've got you covered.
Bringing home a new plant
Bringing an indoor plant to a new home can look different depending on the size and type of a plant, as well as the weather conditions for that day. Most nurseries will likely have the means to provide protective material for your plants; however, if you're planning to bring home something larger with more leaves, you should go prepared with a cloth or tarp that you can wrap around the branches and stems to protect them.
If the plant doesn't fit in your car, talk to the nursery about an alternative method to transport it to your house. Strapping plants to the top of cars is never a good idea.
Once you're home, you'll want to put the new plant in a location where it gets the desired amount of sun and just the right temperature. Before you repot it right away, keep in mind that there are different schools of thought on this. Some nurseries and professionals will say that repotting as soon as possible is better because it will only mildly prolong the stress your plant is already experiencing. Others recommend waiting at least two weeks to let the plant settle in the new space before adding more stress.
It boils down to what you're comfortable with and the level of risk you're willing to take with your new plant. Most plants can survive for at least a few months in their nursery pots. So, if this new plant is one you've wanted for a while, you may weigh the risk in favor of waiting to repot it. But if you're eager to get your new green friend in that beautiful pot you just purchased, you may choose to repot right away. Regardless, repotting is always a risk due to the stress put on the plant.
What if you ordered the plant online?
Buying plants online has its own risks. Warmer months are better for purchasing due to possible delays in shipping — your plant won't be left in freezing conditions if it gets stuck at a warehouse — and the shipping process itself can cause damage to the leaves and stems. Other times, the shipping process can go smoothly and you'll have a beautiful plant arrive at your doorstep. You may want to consider paying extra for expedited shipping so your plant spends as little time as possible boxed up.
Provide general maintenance
If your new plant arrives home with damaged leaves, make sure to remove them as soon as possible. You never want to remove too many of the leaves at once, so be mindful of how many you're snipping off or pruning back. Even though your plant will have less leaves for a while, it will be able to direct its energy to the healthier ones as opposed to the ones that have no chance of coming back to life.
If your plant presents with dry or droopy leaves, give it a little water once you confirm the soil is dry. Since nursery pots have holes in the bottom, you can even opt to place the pot in a few inches of water as opposed to watering from the top down. This will give the roots a chance to soak up some of the water and minimize the risk of water sitting on the leaves and causing more damage.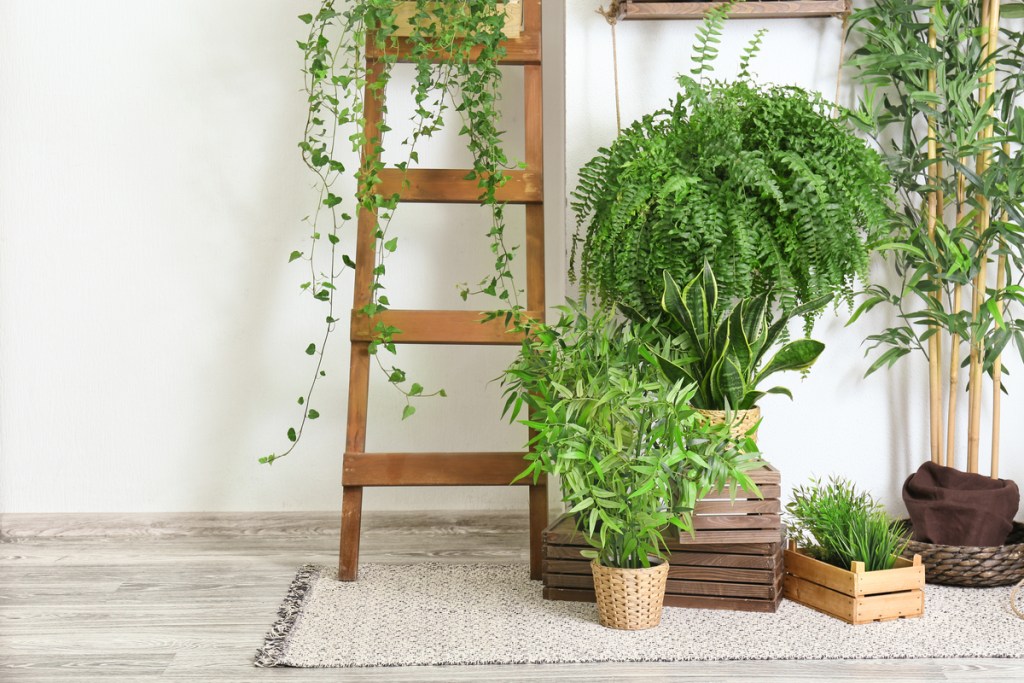 Choosing the best location
Locations will differ from plant to plant depending on their individual light needs, so pay attention to the kind of plants you purchase. You want to make sure that you not only have space for them, but that the space is one they will enjoy. Some plants prefer a south-facing window vs. an east-facing one, which can be hard to achieve if you're in an apartment and only have windows on one wall.
If there's a plant you really want but you can't meet the light requirements, there's a solution for that: grow lights. Artificial grow lights are designed to mimic natural light and provide the plant with the amount it needs. Research your plant's needs ahead of time and purchase what's necessary so you'll be ready when you bring it home.
Is the care different if you move?
In short, not really. Plants should be placed in similar lighting and temperature to what they enjoyed at your previous home. If your new home can't provide that, you can either rehome your plants or purchase grow lights to keep them happy.
If you are following a recommended guideline for moving plants from home to home, you should have watered regularly up until a couple days before the move. This means your plants should be nice and happy, so you won't need to water most of them right away. That said, check on them daily! They might surprise you with how much they drink, especially if you're moving in a warmer month vs. a cooler one.
Most importantly: be patient. Bringing an indoor plant to a new home is never easy, and your plants will be a bit stressed. Leaves may drop, flowers may wilt, but you should continue to provide their desired care. You'll be surprised how many bounce back when you don't give up on them right away.
Editors' Recommendations