Smart gardens are perhaps one of the neatest inventions in indoor gardening. Most feature water/moisture level indicators, an automated grow light, and automatic reminders for when to fertilize your plant. All their specifications make them great not only for experienced gardeners, but also for new indoor gardeners who aren't sure they can keep a plant alive or for those who have tried and always seem to forget to give them water. (Not to mention they make a great gift for your gardening friends!)There are a few different options out there for indoor smart gardens; let's go over some.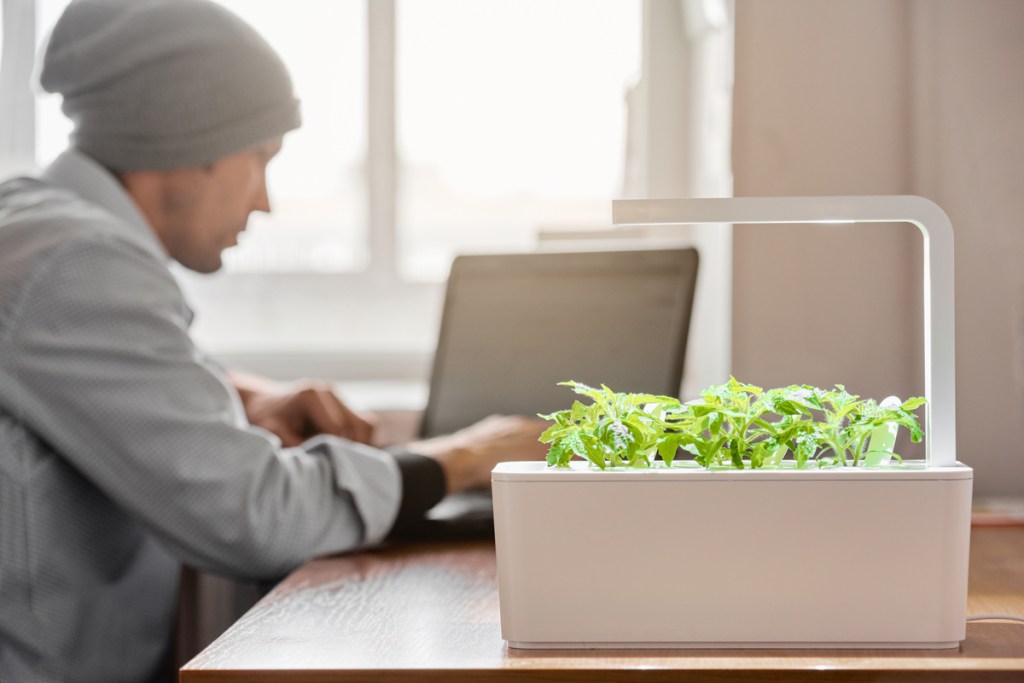 The good indoor smart garden: AeroGarden Sprout
The AeroGarden Sprout is on the affordable end of smart gardens and still does a fabulous job. It's a good option for beginners and can grow up to three plants at a time that have space to reach about 10 inches tall. It's touch-sensitive and operates with an easy-to-use control panel. You can grow herbs, tomatoes, lettuce, and more in the AeroGarden Sprout, and although the plants don't get terribly tall, you'll still be able to have fresh ingredients with ease.
The built-in grow light hood has 60 LED bulbs to provide the full spectrum of sunlight a plant needs to grow healthy and strong. Plants in the AeroGarden Sprout often grow faster than those in soil, and you'll be reminded when it's time to water your plants and give them some liquid fertilizer. The set up only takes minutes, which removes the endeavor of setting up an outdoor garden that not everyone has time for.
With a sleek, modern look, this AeroGarden Sprout will fit in with any home's style. And it's not too big, so you won't need to worry about setting aside a lot of space.
The better indoor smart garden: Plantui Smart Garden 3
At a mid-range price for a smart garden, Plantui's Smart Garden 3 is a better choice for more experienced gardeners. It offers a few similarities to the AeroGarden Sprout, like being automatic and simple to use. The design of the Plantui Smart Garden 3, however, is less angular and more round, which allows it to fit in a wide range of spaces. You can grow three different plants or all of one kind, and it comes with a package of basil plant capsules and some of Plantui's plant nutrients
With a Plantui Smart Garden 3, you'll get a device that provides your plants with just the right amount of water and light when they need it. The technology has been optimized for successful growing, and you can always purchase their Smart Garden 6 if you want a little more room to grow plants.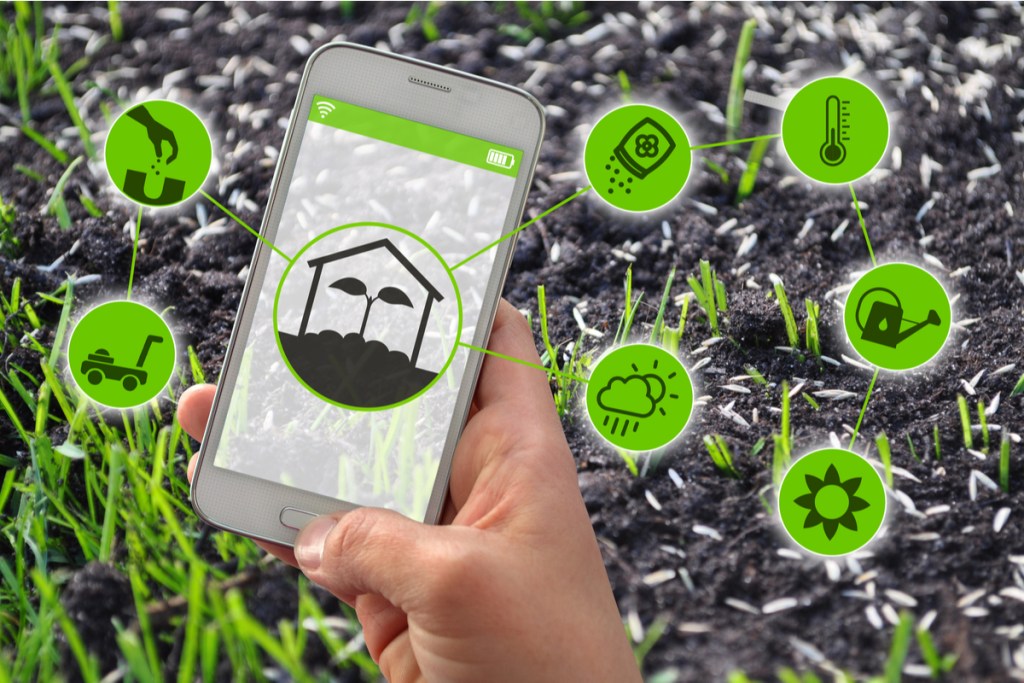 The best indoor smart garden: Edn SmallGarden
At one of the highest price points, we find the Edn SmallGarden. It's possibly one of the best options you can get as far as smart gardens go—so long as you have an Apple device with iOS 13 or higher. Why? Because this smart garden can easily be controlled and monitored right from your phone! With an app you can download from Apple's App Store, you'll be able to check on your plants anytime, anywhere, as long as you have a connection.
The Edn SmallGarden makes indoor gardening almost effortless. Like the others, you can grow both herbs and veggies in it. The garden itself is built entirely from sustainable materials, which means you're helping the environment all while giving yourself the means to grow fresh ingredients year-round with little to no hassle. It has an option for automated LED lighting, so you can set a schedule for the lighting that's personalized to your plants and your home's environments. For example, you can place the SmallGarden in a spot that gets a lot of early morning sun and then set the lights to come on in the afternoon when there's more shade.
Not only is the app useful for monitoring, it also notifies you when your plants need water and has advice to help you grow successfully from seed to harvest. It's one of the soilless smart gardens, so all you need to do is drop the seed pods in and add water.
Edn's SmallGarden comes with ten basil seed pods to get you started, and it requires at least a 2.4GHz WiFi network to work properly.
Price: $199.95
Buy the Edn SmallGarden here.
Smart gardens bring indoor gardening to a whole new level. They're a bit of an investment, no matter which you choose, so if you aren't sure you'll like it or have space for it, start with the most affordable one and see how it goes! The AeroGarden Sprout is a solid choice for beginners and those who don't need anything too fancy while the Edn SmallGarden makes indoor gardening almost a passive experience. With smart gardens, we may never have to worry about our plants again.
Editors' Recommendations