Built-in barbecue grills come with their own pros and cons, the biggest con being that the grill is often immovable. If you're considering a built-in grill but aren't sure you'll be in your space much longer, it may not be the option for you; however, if you're settled down and want to peruse options (even on a budget!), here are some basics of built-in grills.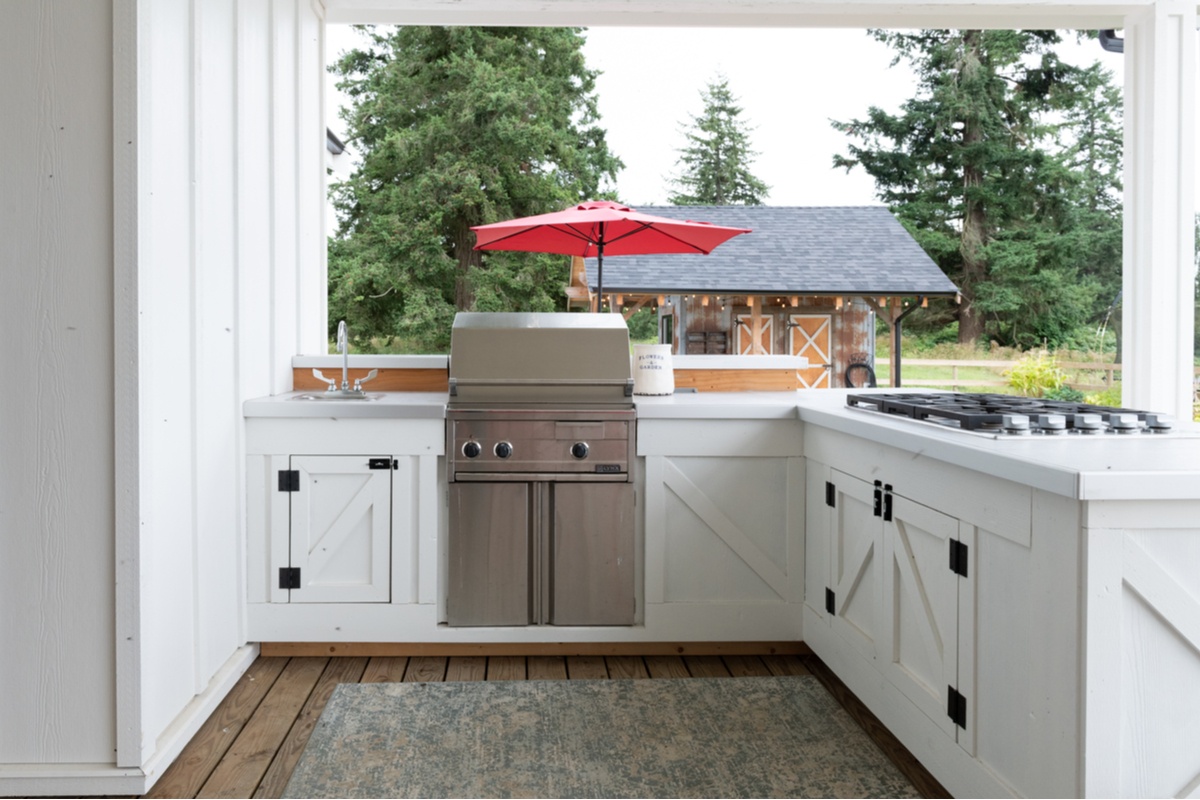 The different built-in grills
Built-in barbecue grills come in three different types: Gas, electric, and charcoal. You should, of course, consider which type of grill you prefer to use. But keep in mind that some options may end up being more costly or more difficult to set up.
Built-in gas grills
Under this umbrella you'll find built-in natural gas grills and built-in propane grills. Propane grills offer a sense of convenience as they run off a small tank that you can switch out and refill with ease. They're easier to install, allowing you to have more flexibility in where you choose to put it. Built-in natural gas grills will require you to run a gas line to the grill in order to function, so you'll want to take that into consideration when choosing this type of grill. Running a line will cost more money and require you to pick a spot for the grill where the line can go.
Propane and natural gas grills easily maintain a consistent temperature for even cooking, and some have additional side burners you can utilize. If you host larger gatherings, this may be an ideal grill for you because they can cook a good amount of food faster than their charcoal counterpart.
Built-in electric grills
Electric grills have almost everything stacked against them. Some people prefer to use them as they can quickly come to temperature; however, for a built-in outdoor barbecue grill, they aren't as ideal. They have an added cost of requiring electricity lines to be run from your house and could significantly increase your electric bill depending on how much you use it. One of the appeals of a charcoal grill is the smoky flavor that the meat absorbs. Although that doesn't happen as much with gas grills, you may find the flavor of meat cooked on electric grills even less appealing since it's only being cooked by electricity.
Built-in charcoal grills
Charcoal grills are easily the most popular among people who grill due to the fact that the charcoal adds a smoky flavor to the meat. They don't require any additional lines to be put in and there are a few different types of fuel (beyond charcoal briquettes) that you can choose to cook with. The fuel you choose will affect the flavor, so it gives you something to play around with! The biggest downside is perhaps that charcoal grills take a long time to come to temperature and cook; however, as long as you're familiar with the grill and the fuel type, this is easily worked around if you plan well.
How to choose the best one for your space
Making the choice between gas, electric, and charcoal can be difficult. This will boil down to what you can afford and how much work you want to put into it (i.e., taking the time to run lines or work with a grill that has refillable fuel). You may not have the money to run gas or electric lines to your house, or maybe you want more flexibility with the placement of the grill. Charcoal and propane would offer you the ability to place the grill exactly where you want it instead of how to work around where the lines can go.
You'll also want to take into consideration what you want out of the grill — this is a standard thing to think about no matter what type of grill you choose. If you don't mind not having a smoky flavor and just want something that cooks fast, propane or electric may be the way to go; however, if you don't mind the low-and-slow style of cooking that charcoal offers (because, let's face it, it does add flavor to the meat), then the charcoal route is for you. Charcoal grills also offer more flexibility in the type of fuel you use, so you have a few options to work with.
What to do if you're on a budget
The best thing to do on a budget is choose a grill that doesn't have additional installation costs (like running gas or electric lines from your house) and is pre-built. Pre-built outdoor grills can easily be installed and will avoid the increased cost of choosing custom selections for your grill, and there are still tons of options. You can look at both propane and charcoal selections, only having to worry about what type of fuel you want to use. From there, you can pick what's in your budget and be on your way.
Like all outdoor furniture, built-in barbecue grills require maintenance and care. Make sure you purchase a cover to keep moisture out so it doesn't damage the interior. Investing in the care of your purchase will keep you from having an added expense of replacing it sooner than you would have wanted. With the right care, your built-in grill will last you a long time.
Editors' Recommendations