If you have kids, you may have started teaching them about gardening to help them learn more about the environment and where their food comes from. No matter how much your children know about gardening, there are fun and simple patio vegetable garden ideas they'll enjoy trying. These projects are original, fun to learn, produce results quickly, and they can be done indoors and outdoors.
The best part? Once these projects are finished, the kids can eat the fruits of their labor, learning how their food gets onto their plate. They will have a much better understanding and appreciation for everything they eat going forward. Plus, they'll learn about how much work goes into growing food including digging holes, planting seeds, then watching them sprout. Here are six ideas to make a vegetable container garden.
Growing celery in a dish
If you want to start kids off with something easy, but also satisfying, then growing celery in a dish should be your first project. The process is incredibly simple. To begin, buy a few stalks of celery and cut off the bottoms. We suggest buying organic celery because, according to the Environmental Working Group, celery ranks in the top 12 vegetables that have the most pesticide residue. While conventional celery will certainly work, it won't be as clean. Once you have cut off the bottoms, place them in a small amount of water in a small dish. Within one or two days, your kids will see growth. Once the celery roots, you can plant the it at the bottom of a bigger container or in your garden and grow the new stalks.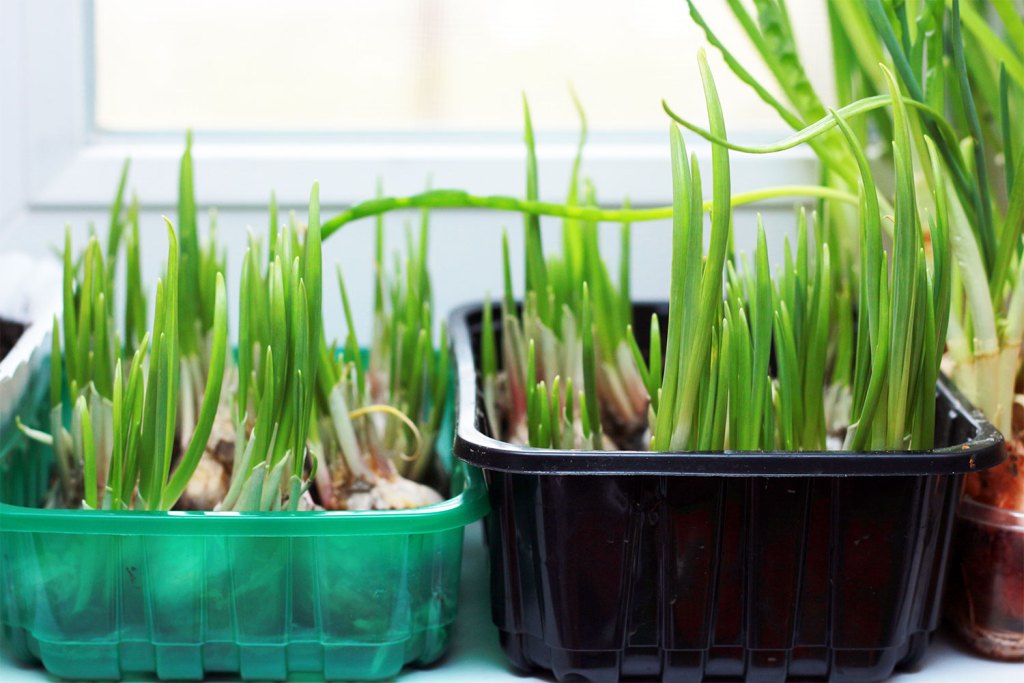 Growing garlic in a can
Who doesn't love garlic and who doesn't have a spare can lying around? Another kid-friendly project is growing garlic greens inside of a can. Not only will the kids love seeing the growth, but the parents will love having extra garlic around for dinner. When the garlic is fully grown, it resembles long scallions. Garlic can require a little patience when growing, but it is worth the wait. Make sure to give the garlic six hours of direct sunlight every day and fertilize every few weeks.
Growing a garden in an eggshell
What's better than using a man-made container to grow nature? Using nature to grow nature. This eggshell garden project is a little tough for very young children so you may need to help them. Hold an eggshell and use a needle to poke a hole at the bottom. Place a paper towel — or anything that is porous as long as it covers the hole — at the bottom. Your kids can then paint, draw faces or shapes, and even name them. We are fond of shells with stripes on them.
After that, fill the eggshell roughly three-quarters full with potting soil. Plant oat or wheat grass seeds, then cover with more soil. Spray water at the soil regularly and watch as the grass grows quickly.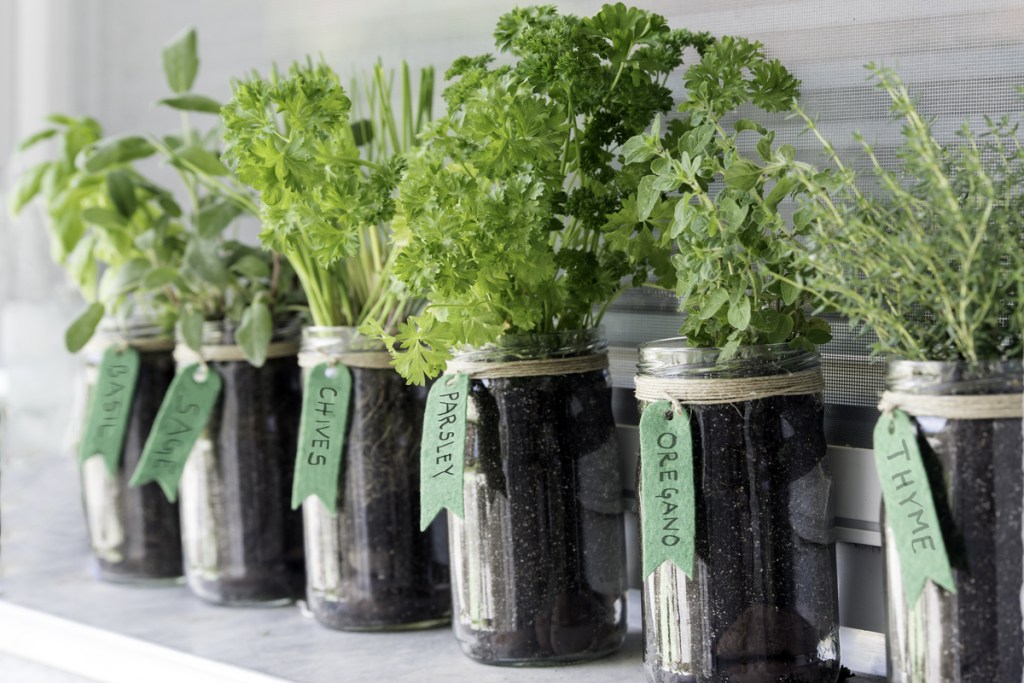 Grow a garden in a Mason jar
Mason jars have come back in style in recent years. From Pinterest boards to the latest Instagram influencers, everyone is getting in on the style and versatility of Mason jars. They are also inexpensive meaning they can be bought in bulk as drinking glasses and food storage. For our purposes, we will turn them into terrariums. Simply find a tiny plant you want to grow, leave it in the small pot it came in, place it on the lid of the Mason jar, turn the glass over, and screw it shut; it could not be easier.
Keep terrariums out of direct sunlight. The small space can rise in temperature very quickly. When watering, use a spray bottle to ensure that you do not over water. Finally, clean the glass once in awhile. If the glass is too dirty or foggy, it can be difficult for light to reach your plants.
Flowers in a juice box
It may seem strange, but many grasses and flowers can be grown inside of a juice box, from plant pansies to violas. Keep in mind that they won't live as long because the container is so small, but, if you are vigilant, this can be a fun project that lasts a few weeks. Growing inside of a juice box can also be fun because the plants grow so quickly.
Tip: Poke small holes into the bottom of the juice box, run string through the holes, then place the juice box in a dish of water. You now have a self-watering planter.

Use a toy as a garden
Almost every parent would say their child has too many toys. You can take one of them and turn it into a garden. For example, a kiddie pool makes a great raised bed while trucks, wagons, and any other toy that can hold enough potting soil can great beautiful greenery. Make sure that, whatever toy you choose, you add drainage holes so excess water can flow out. Also, the more soil your toy can hold, the more your child can plant.
Final thoughts
You don't need to grow a full-sized garden to help your child appreciate nature and where their food comes from. From toy trucks to juice boxes to Mason jars, there are many options that allow plants to grow in a small way for a fun project that you and your child can work on together.
Editors' Recommendations