Now that summer is here, many people are creating outdoor living spaces not just on the patio, but within landscapes and gardens as well in a backyard. Garden parties have never been easier to plan and throw outside. They are an enjoyable time for everyone involved; who doesn't live sitting outside with friends in the midst of a beautiful summer? What better time throw your own garden party than over Independence Day weekend. Follow these pointers for a garden that will have your neighborhood talking about it until next year's 4th of July party.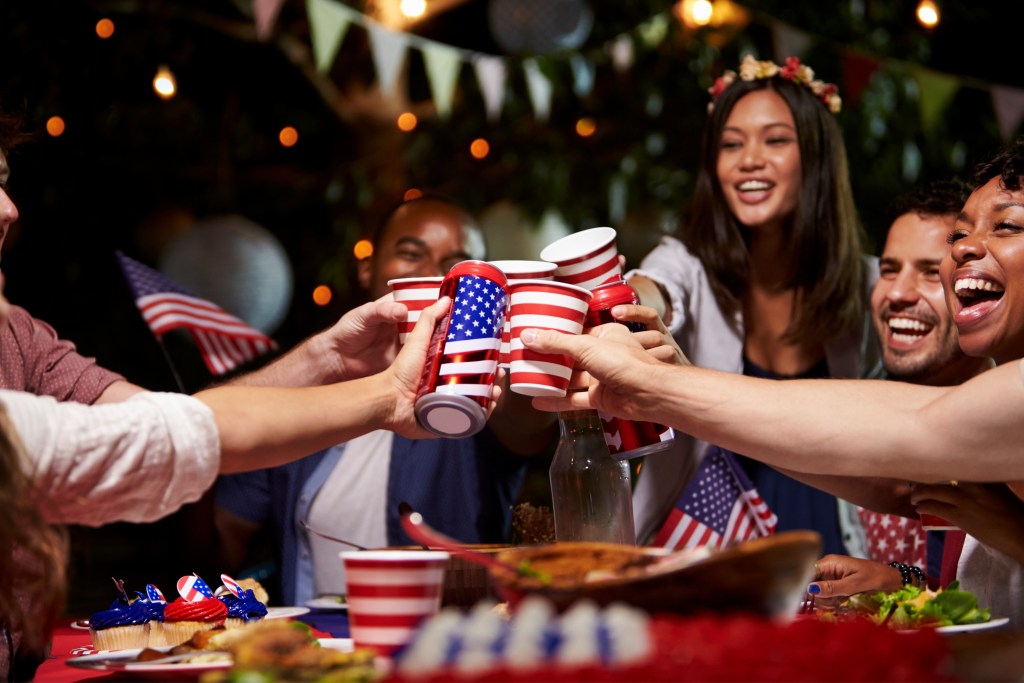 Throwing an Independence Day garden party
Here are the best ideas for celebrating America's independence in your garden:
Plants and decorations
If there's one tip you listen to, it should be this: don't overdo it on the decorations. While it's really fun to create decorations and add them to your party, less is more when it comes to garden parties. Instead of lots of decorations, use the landscape to your advantage. Group potted, patriotic-colored plants together by color around the backyard. You can even buy inexpensive colored pots in red, white, and blue and mix and match them with the colored plants. For an extra touch, add flags to some of the arrangements. Also, make sure to take advantage of stars and striped plates, tablecloths, and napkins, although don't group similar patterns together; solid colors are your friend. For a warm glow as night comes, candles with American flags taped to the front can help create a comfy atmosphere.
Drape red, white, and blue streamers through the branches of surrounding trees. Just don't use too many, as you don't want to mask the natural beauty of the trees. You could even go the extra mile and set up a white sheet across bushes or two trees and project movies onto it for guests to watch during the night. Some of the best Independence Day movies include "Born on the 4th of July," "Apollo 13," "Lincoln," "Miracle," and "Gettysburg."
Food
Hot dogs and cheeseburgers are classics for a reason, especially if your garden party will have lots of children. However, you can elevate the food for adults by cooking T-bone or ribeye steaks. Coleslaw, deviled eggs, and salads make for good sides that aren't mac and cheese. Make sure to add anything you have from your garden as well to continue combining the party and your natural environment. For dessert, blueberries, strawberries, and white cake on a skewer can offer a delicious, theme-focused treat. If you want to go big, create a three-tier cake with red, white, and blue layers and white frosting. Lastly, serve berry-flavored juices and mixed drinks in clear bottles.
Games
While your friends and family can sit around eating food and conversing, your Independence Day garden party will be a lot more fun with some games that both adults and kids can play. A badminton net is always a hit, but you can also take advantage of a pool (if you have one) with a volleyball net. Other classic games include kan jam, cornhole, and horseshoes, if you have the space.
Final thoughts
Independence Day is the one holiday that almost everyone looks forward to. The sun, the food, seeing friends and family, and celebrating the birth of America are things that everyone can get behind. There are numerous decorations, games, and food ideas to bring to the table that not only scream "Red, White, and Blue" but also incorporate your garden and landscapes into the celebration. By following these tips, you'll throw a party that gets talked about for years to come.
Editors' Recommendations