The weather is beautiful, the birds are chirping, and a stunning sunset is on the way. The only thing that could make this picture more perfect is a delicious meal out on your deck. If an outdoor kitchen is on your wish list, you don't have to hold out for a restaurant-level space. The beauty of a place to cook is that it doesn't need dozens of fancy features. What makes a meal truly great is the people you share it with. Let's get specific about a minimal approach to crafting your own outdoor kitchen.
What every outdoor kitchen needs
To start, you should distinguish a minimal approach. Minimal does not have to mean small, but rather, simple. Think about the primary intended uses for your outdoor kitchen. Are you going to prepare a lot of salads? Grill up steaks? Serve wine and charcuterie boards? Now, make a list. The basic outdoor kitchen should contain the following: A grill, mini-fridge, counter space for serving and preparing, and a dining table with chairs. That is it.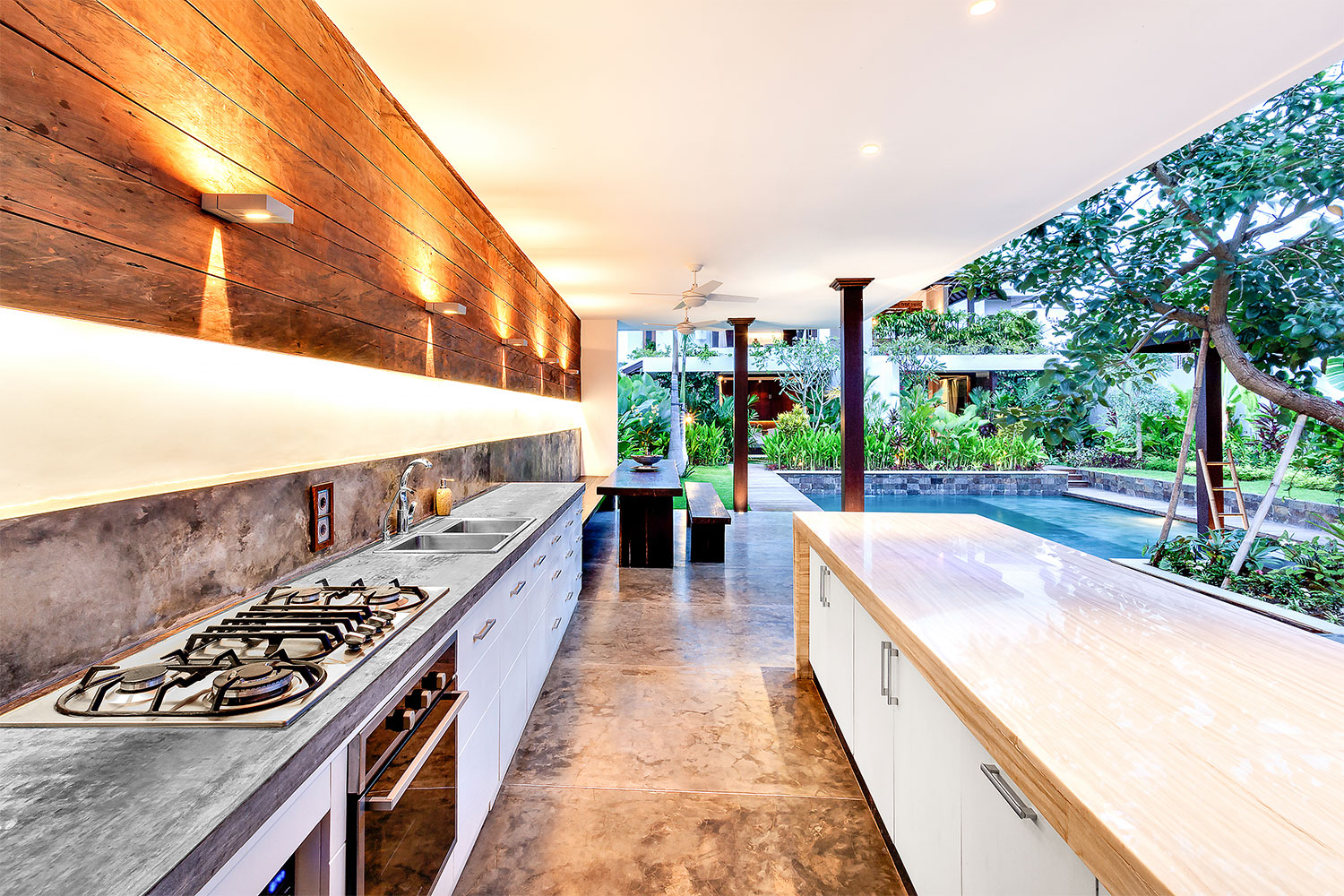 From this springboard, a world of possibilities opens up in regard to the layout and design. A minimal aesthetic commonly utilizes clean lines and basic shapes. If size is a concern, you can include these foundational pieces within just a few square feet. Just make sure your placement allows for movement. Can more than one person stand in front of the grill? If you're cooking, can a guest come over and get a drink from the fridge? Get your ideas down on paper to make sure you've addressed all possible concerns.
How do you build an affordable outdoor kitchen?
When trying to keep costs low, consider the three following areas: Materials, utility, and function. Starting with materials, you ought to know that the priciest and fanciest marble is not a mandatory purchase. There are plenty of materials that are reliable and attractive without costing an arm and a leg. Poured concrete can serve as a fantastic countertop, not to mention resilient and minimal in appearance. Concrete is very budget friendly and something you can even pour yourself.
Labor costs are where a budget can be quickly exhausted. Avoid combustible materials like plywood. Utility will factor into each decision, as well. A pop-up table extension or cutting board may not look as expensive but will satisfy your needs. Function can apply to the layout of your space just as much as the number of appliances or additions you incorporate. With intentional planning, basic materials, and lower labor costs, you can save thousands of dollars building an outdoor kitchen.
The things you want but probably don't need right away
The great thing about an outdoor kitchen is that you can upgrade it gradually over time. Even if you have a lengthy wish list, there are a few items to initially press pause on. Custom lighting isn't essential. Porch lights or even candlelight will work just fine. An ice maker is a luxury but not one that your indoor freezer can't address in the interim. If a bar is part of your outdoor dining plans, don't rush to purchase a wine fridge or a beer tap. Not only are those things "extra," but they can require upkeep and maintenance. Many outdoor kitchens feature a flashy pizza oven. Those may be a lot of fun but will not make or break your cooking abilities.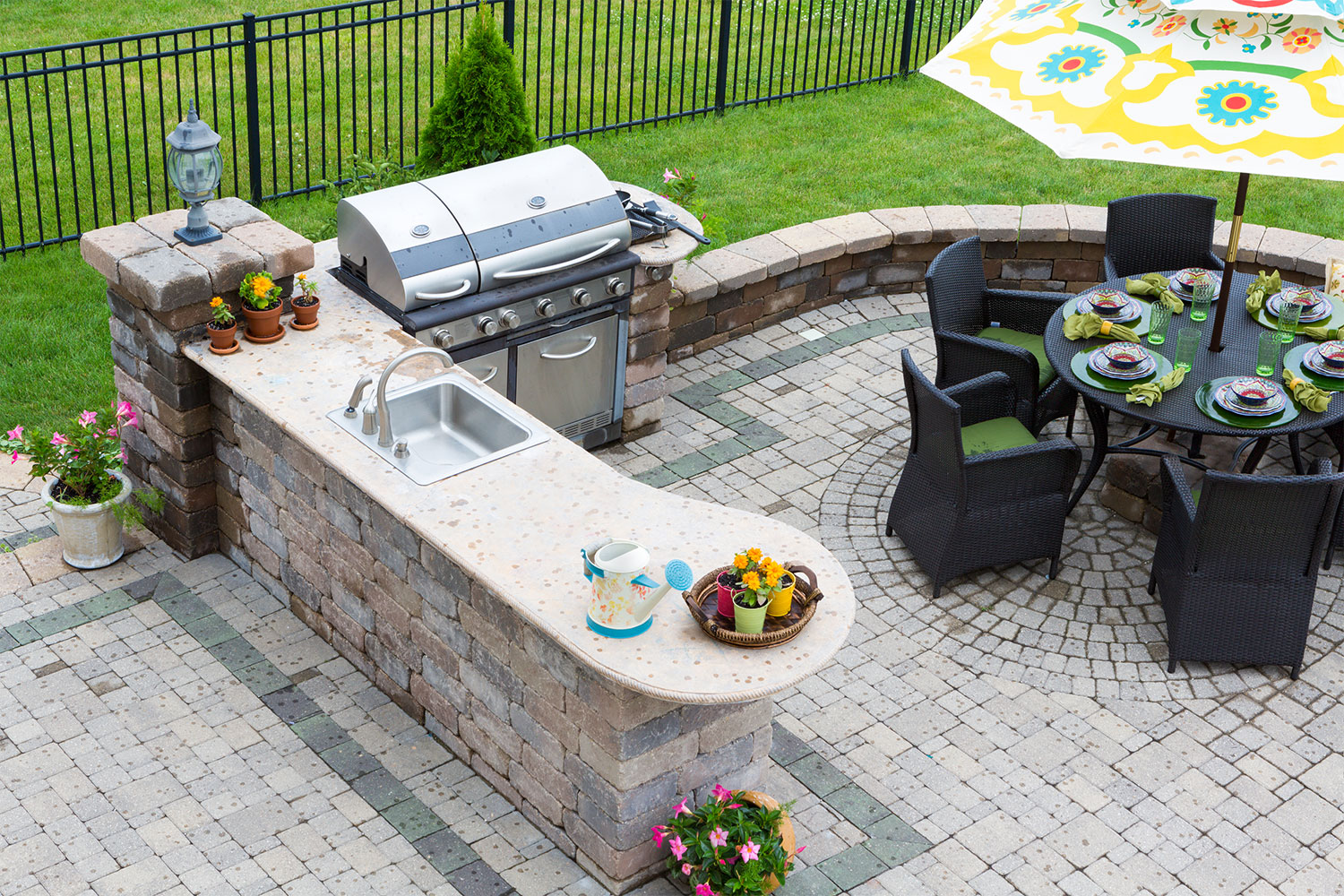 These simple outdoor kitchen ideas are a wonderful way to jumpstart your backyard dining experience. Remember that a minimal approach doesn't have to mean small but allows you to begin with the basics. You only need counter space, a fridge, and a grill to start whipping up culinary masterpieces for your friends and family. The more you can build yourself, the more money you save on labor costs.
As you design and plan, don't opt immediately for the most luxurious textiles and materials. On the other hand, be careful with shoddy elements like plywood. Extra little odds and ends like pizza ovens and custom light fixtures can always be added later. With these tips, you'll enjoy the next sunset with a meal and maybe a glass of wine to wash it down.
Editors' Recommendations