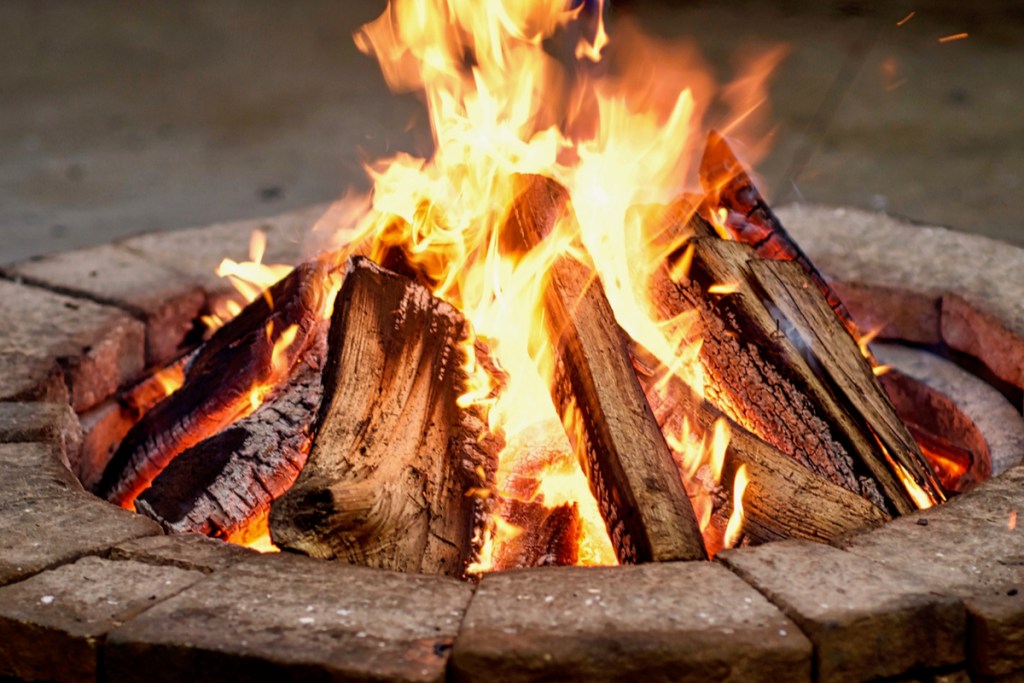 When the seasons change, the air becomes crisp, and the mercury starts to fall, certain cravings start to well up. For some it's football, or cozy clothes, or pumpkin spice. But let's talk a minute about fire. Nothing else has the ability to bring people together and capture attention quite the way that a cheerful flame does. If you're not so sure, try this experiment. Set up a fire pit on your driveway and, right around sunset, fire it up. Chances are, you'll have visitors before long. As long as it's not the fire department or your HOA authorities, it should make for some good conversation.
Whether you're a long time believer in the power of a fire pit and need to replace one after years of faithful service, or you're just looking for a good reason to be outdoors in the pleasant fall evenings, we've got a few suggestions. You could go with an easy to use gas burner, and forgo the smoke and ash, but then you would also miss out on the smell. We believe that a little bit of seasoned hickory, oak, or maple aroma is an essential part of the deeper fire pit experience. So, we've assembled this list of outstanding wood-burning fire pits based on durability, ease of use, styling, and price point.
If you love the atmosphere of the backyard fire pit, but want a few extra safety features, the sturdy and stylish Timberline Woodburning Fire Pit could be an excellent choice. A domed mesh spark guard with reinforced support bands protects your yard and fire-gazing guests from flying embers, while the built-in guardrail helps to ensure that no one touches the hot fire bowl.
This steel fire pit features a fun forest silhouette cutout design backed by steel mesh around the perimeter of the bowl. A durable, weather-resistant black matte finish and bottom drain hole protects the metal from rust. For the campfire cooks, this fire pit also includes a removable cooking grate and fire poker. Home assembly is required.
Dimensions: 30 inches wide x 23 inches high
Weight: 25 pounds
For those who love the beauty and warmth of a fire on a cool evening, this simple, low profile fire pit bowl lets the flame steal the show. This wide mouth fire bowl features durable cast iron construction, a sturdy base, and a simple design that compliments any outdoor space. The low profile and compact size make it an excellent choice for intimate spaces. The right size for nearly any occasion, it's small enough for an enjoyable date night but large enough for entertaining. Made of painted cast iron, this fire bowl will develop a rusty patina with age.
Dimensions: 31 inches wide x 11 inches high
Weight: 80.2 pounds
Ever notice the way campfire smoke always seems to follow you as you repeatedly change seats trying to avoid it? Do you, your family, and friends love fire time but hate all the smoke? The Solo Stove Yukon was built for entertaining without all the watery eyes. It offers a generous flame size with less ash and much less smoke than other fire pits, thanks to Solo Stove's signature 360 Airflow Design. Plus, it is made of durable 304 stainless steel to resist weathering.
The Yukon's huge flames will surprise and amaze you and your guests. They're made possible by the secondary burn of superheated gases and particulates coming from the burning wood. In other fire pits, these elements would simply become smoke, but the Yukon eliminates these impurities and puts on a bigger show with less effort and improved air quality. When the fire pit cools, just turn it over to empty the remaining ashes.
Dimensions: 27 inches wide x 17 inches tall
Weight: 38 pounds
The best fires always warm twice: First when you cut the firewood, then while you relax next to blaze. These are the times to share with friends and family, and they deserve something better than a pile of rocks or a cheap, flimsy metal fire ring. You won't go wrong with one of these quality picks.
Editors' Recommendations