One of the most exciting parts about setting up an outdoor space is designing the lighting in a way that makes it not only beautiful to look at but enjoyable to spend time in. The types of lights and where you place them will depend on what your space looks like. Even in an urban apartment or home, you can accentuate balconies and patios with lights that make summer evenings feel a bit more magical — but how do you know what to choose? It's natural to make mistakes the first time around, like buying bulbs that are too large or a lamp with a cord when you don't have an outlet. Luckily, we've got a few outdoor lighting tips up our sleeve to help you forgo some of those initial hiccups.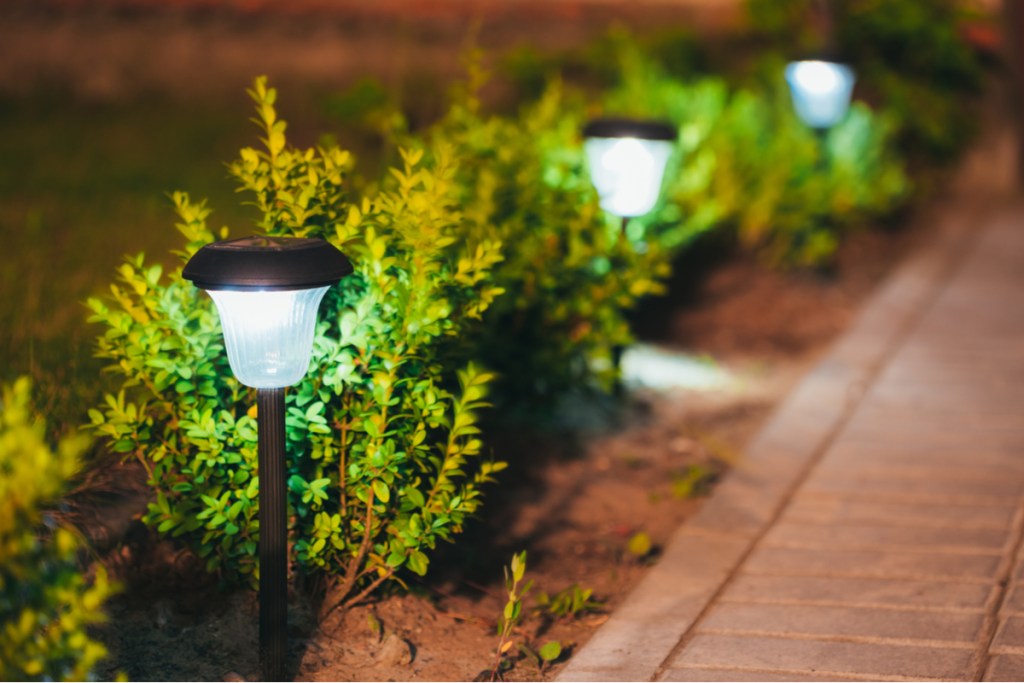 Different types of lights you can use
First thing's first: it's important to assess your space and consider the different types of lighting you can use for it. If you've got a deck with stairs, you can utilize things like lights placed under the steps to illuminate them or rail lights to keep the night extra safe. These lights are usually subtle, so you don't have to worry about them overpowering the area.
For outdoor spaces with an overhanging roof, you can make use of hanging lights and lanterns to make the space more dynamic. People who have paths through their gardens and yards, especially those leading up to doors or stairs, will use lamps to help light the way. These can either be large or small, but you'll want to keep in mind that if you use larger lamps, you should opt for fewer so the design doesn't feel crowded. Smaller lamps are often more delicate, which means you can use more of them to create the look you're going for.
Floodlights are another popular option to help illuminate the sides of houses, driveways, or even pool decks. Even though decorating the yard itself can be fun, you'd be missing a key component of your outdoor space if you forget to light up your house.
You'll find outdoor lighting listed under five categories:
Area lighting. Area lights are the ones you'll find along paths and in garden beds, as well as those that light up smaller yard fixtures.
Directional lighting. These lights are the ones that can be aimed in a specific direction and are typically used to light up shrubs, trees, and decor.
Path and step lighting. This category is self-explanatory, containing the lights that are used to illuminate pathways around your home and to make steps a bit safer at night.
Specialty lighting. Specialty lighting refers to the lights that are more decorative and less functional (think string lights, underwater lighting for ponds and pools, and lanterns).
Wall lighting. Floodlights are the most common type of wall lighting and are used to illuminate larger areas, like the outside walls of your home.
What about bulb type?
Aside from choosing the different kinds of lights you want to use, you'll also need to consider what bulbs you want. Different bulbs have different wattage, which can affect the brightness and color of the lights. There are three outdoor options you can choose from:
Fluorescent bulbs. A middle-of-the-road bulb cost-wise that's energy efficient; however, fluorescent bulbs can pose a health risk if broken due to the mercury inside them.
Halogen bulbs. The most inexpensive outdoor lighting option, though they produce a high intensity, bright white light and a considerable amount of heat.
LED bulbs. The most expensive of the three. These bulbs are long-lasting and energy-efficient, so could be worth the up-front investment.
What bulb type you choose is not only dependent on the kind of light they produce but also the cost. LEDs are quickly becoming the most popular option; however, they aren't exactly budget-friendly. So if you're working with limited funds in mind, you may want to start out with fluorescent or halogen bulbs and replace them with LEDs down the road.
Consider where your power is coming from
When designing the lighting for your outdoor space, the biggest thing to keep in mind is what kind of power you need and where it comes from. Specialty items, like hanging lights and small outdoor lamps, may need an outlet nearby to be plugged in. In a larger yard, you may not be able to hang them anywhere but your deck. Other kinds of lights, like the ones for paths, come in solar-powered options that give them the flexibility to be placed wherever you want them. The caveat there is that on days with not as much sun, your lights won't be as bright; however, solar energy won't use excess power and rack up your energy bill.
Some lanterns use candles, which don't require any power at all! But because they can pose a fire hazard, you'll want to only keep those in the space where you'll be sitting (a gazebo or a patio, for example), so you can monitor them while they're lit.
Being mindful of the power the lights require or use will go a long way in helping ensure you don't go home with lamps you can't use.
How easy are the lights to install?
Another outdoor lighting tip to keep in mind is how difficult installation will be. Lights that can be staked into the ground are much easier to install and maintain than, say, a new floodlight that requires re-wiring and installation so that you can turn it on from a switch inside your home. If you aren't familiar with electrical wiring, you can still get some for your home — you'll just have to be mindful of the additional cost needed to hire someone to help install the light.
That said, if you don't want to or can't shell out the extra cost, there are plenty of outdoor lighting options (like solar lamps, lamps that need outlets, hanging lights, and more) you can use to accentuate your home.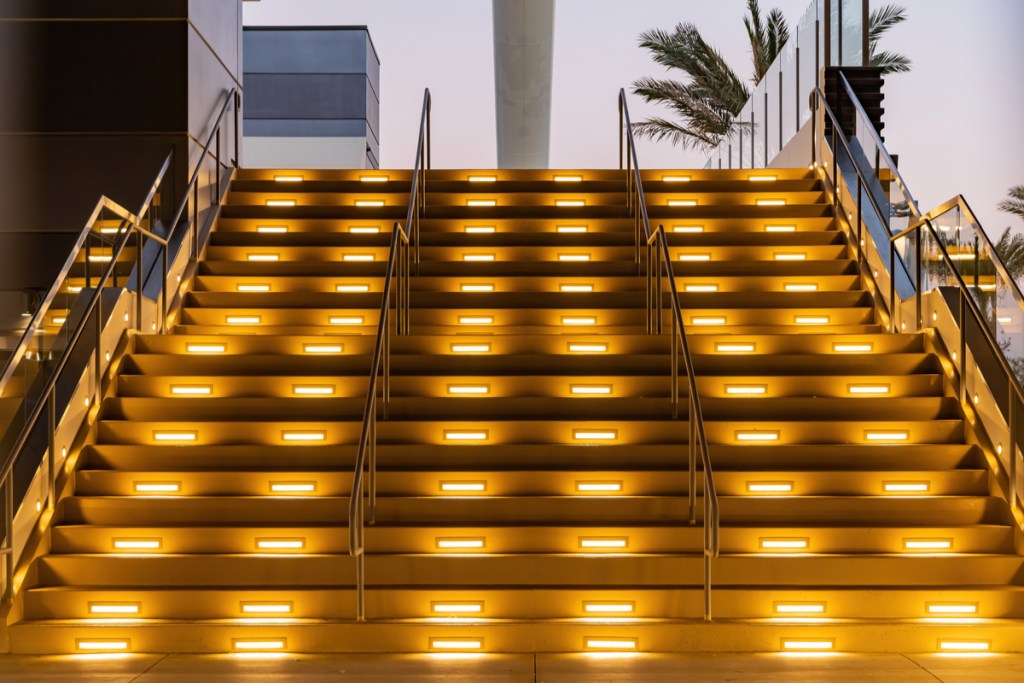 Think about the features you want to accent
Every home has different features that make them unique and beautiful. Using outdoor lighting to accentuate what you love most about your home will make nights outdoors that much more special and will show off your home in a… different light (see what we did there?). You don't have to illuminate everything — even one or two from this list will help create a new look and feel to your yard:
Balconies, decks, and patios
Driveways
Entries to the home or yard
Gazebos, pergolas, and trellises
Pathways and stairs
These are just some of the most common options. If you have something that's completely unique to your home, like a carved wooden statue from an old tree stump, you can use directional lighting to give it some nighttime ambiance! Think of what makes your home special and give it the extra love it deserves.
Make sure not to overdo it
Although these landscape lighting tips can go a long way in amplifying your outdoor space, you should be careful not to overdo it. Light pollution is a common problem; if you want to enjoy your outdoor space and still be able to see the beauty the night has to offer, make sure not to clump too many lights together or use too many. The key is moderation. With that in mind, there's no reason you won't be able to create an outdoor space you love spending time in.
Editors' Recommendations