Most people like to spend evenings outdoors in their yards or on their patios when it's warm enough to do so. Indeed, there's truly nothing like having fresh air, cozy seating, maybe a campfire, and a soothing breeze to accentuate an already lovely night.
There are some great ways you can boost the ambiance and overall mood. One of those ways is by adding outdoor lighting. DIY outdoor lamps can transform your patio or yard into a space that's simply magical when combined with all the other elements previously mentioned. So take a look at the ideas presented below and get some ideas for your own outdoor lamp creations!
It can be hard to enjoy your yard or patio during the day due to bug problems, heat, and humidity, especially in the south. However, when the sun sets and temperatures cool a bit, things become more enjoyable. You can sit outdoors on the porch, sip a cocktail or two, and watch the stars come out.
However, suppose you're looking to make the experience just a little more romantic. You can do so by turning off your regular porch lights and adding some mood lighting. A great source of that kind of light is this solar chandelier, which DIYers will find super easy to make.
Another excellent (and inexpensive) lighting idea uses solar power and mason jars. It sounds weird, but they're cool light sources that cast an attractive, patterned glow. It's recommended that you make more than just one. Make a few! Then hang them in areas where they'll be exposed to the maximum amount of sunlight during the day. They'll recharge during this time, and then when night comes, the magic begins! These mason jar lights can add a fantastic, elegant look to whatever outdoor space you choose to place them in.
Okay, we understand that the thought of making a lantern using a tuna can sounds strange. However, hear us out. You can create an amazing light source using a tuna can, a copper adapter, an old broomstick (or dowel), and wood screws. You can use alternative materials for several parts of this DIY project, so there are multiple ways to make this lantern. When you're done, you'll have a rustic-looking backyard lantern that you can use as a conversation starter.
These glowing outdoor orbs are literally one of the easiest backyard lighting hacks in existence. Strategically place several of these awesome orbs around your seating area and you'll have an unparalleled atmosphere. They're easy and quick to make and are highly recommended!
By now, you probably get that we dig DIY outdoor lamps that create a slightly magical, romantic environment. This last item on our list is no different than the others in that regard. It provides a vibe that's perfect for chilling on your porch after the sun goes down. It's perfect for people who live outside the city limits. This simple outdoor lamp post is excellent for throwing out just enough light to dispel the pitch black. At the same time, it won't stop you from star gazing with that special someone.
Making it is relatively easy, and you don't have to worry too much about the cost since most of the materials are readily available and inexpensive.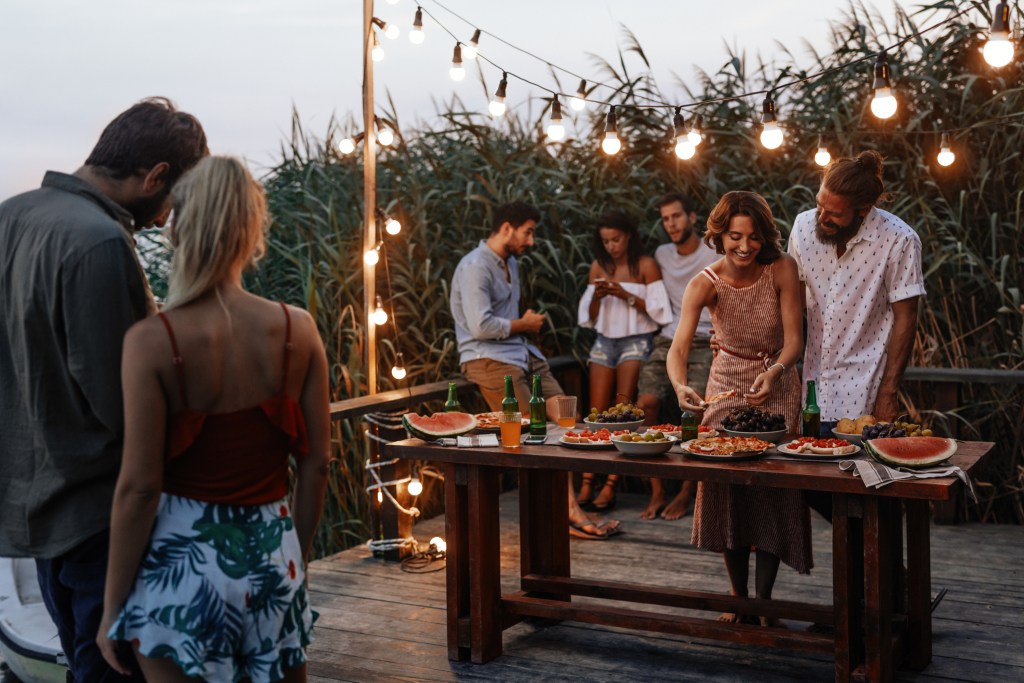 The last word on DIY outdoor lamps
Here's the deal. DIY lamps are perfect for recreate that feeling of being a kid, when there was nothing better than catching fireflies in jars. Think about it. As the sun goes down and the first star appears, there you were with a pickle jar chasing fireflies with the other neighborhood kids. Then the garden lights, lanterns, or lamp posts come on as the sun sinks beyond the horizon.
Using the ideas outlined above, you can literally give your yard or patio a makeover that creates a sense of relaxation, pleasure, and satisfaction.
Editors' Recommendations