While amaryllis flowers are often forced into bloom during the holidays, they actually thrive as vibrant outdoor plants in the spring. It's easy to see their appeal throughout the year — they flaunt long-lasting, star-shaped flowers and double blossoms with strap-like leaves and tall stalks that can reach over a foot tall.
Amaryllis care is also easy. As outdoor plants, they thrive in sandy, well-draining soil inside containers, where they can push out around three to six flowers per cluster. Once the blooms fade, all you have to do is cut off the flowers and feed your plant with high-phosphorus fertilizer.
If you're looking for an amaryllis variety to grow in your garden this spring, there are quite a few to choose from. You can often find amaryllis flowers in shades of whitish green and red, but there are also many salmon and red-striped cultivars as well. To get you started, we've gathered seven of the most striking types you can likely find online and in your local garden centers.

1. Amaryllis 'Royal Velvet'
For the reddest of reds, the Royal Velvet amaryllis variety will stun with the rich scarlet color on its trumpet-shaped flowers. If you're looking to add height to your garden landscape, this particular variety can reach up to 2 feet tall. Hardy in climate zones 8 through 12, Royal Velvet will brighten up warm outdoor spaces in six to eight weeks after planting — just keep the soil lightly moist.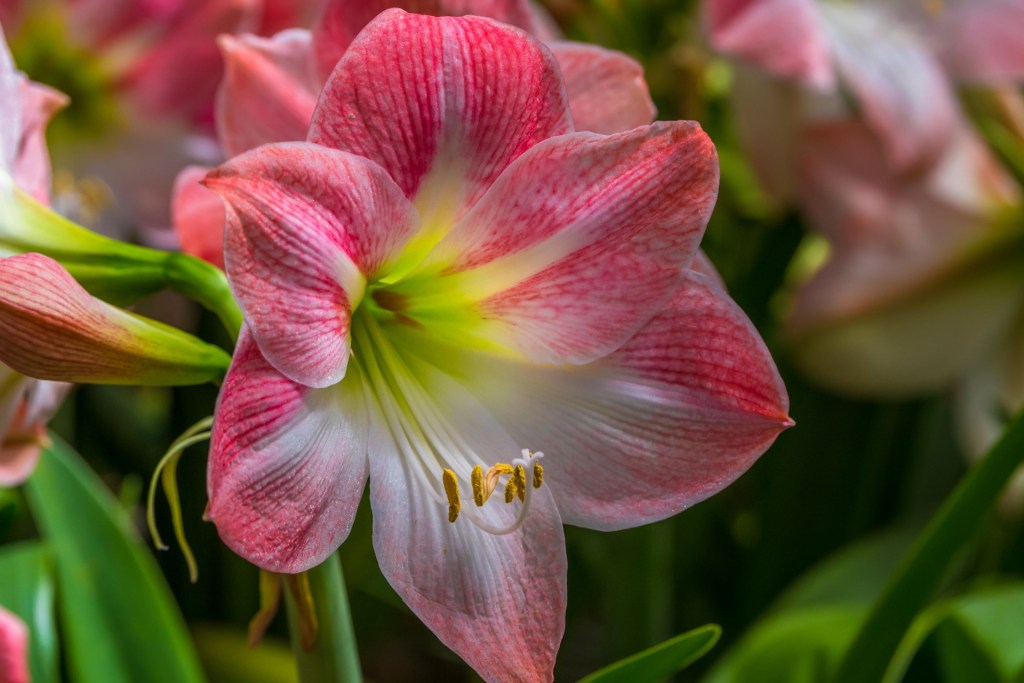 2. Amaryllis 'Apple Blossom'
If you're less into red and more into a peachy pink vibe, Apple Blossom is the perfect flower for you with its white base, powdery pink finish, and green center. While soft in color, it's certainly grand in height and width. The blooms aren't unassuming by any means, capable of growing 8 inches in width on stalks over 2 feet tall.
Hardy to climate zones 8 to 11, it takes about six to eight weeks to bloom. Give your plant full sun or light shade depending on how hot it is outside and remember to water sparingly.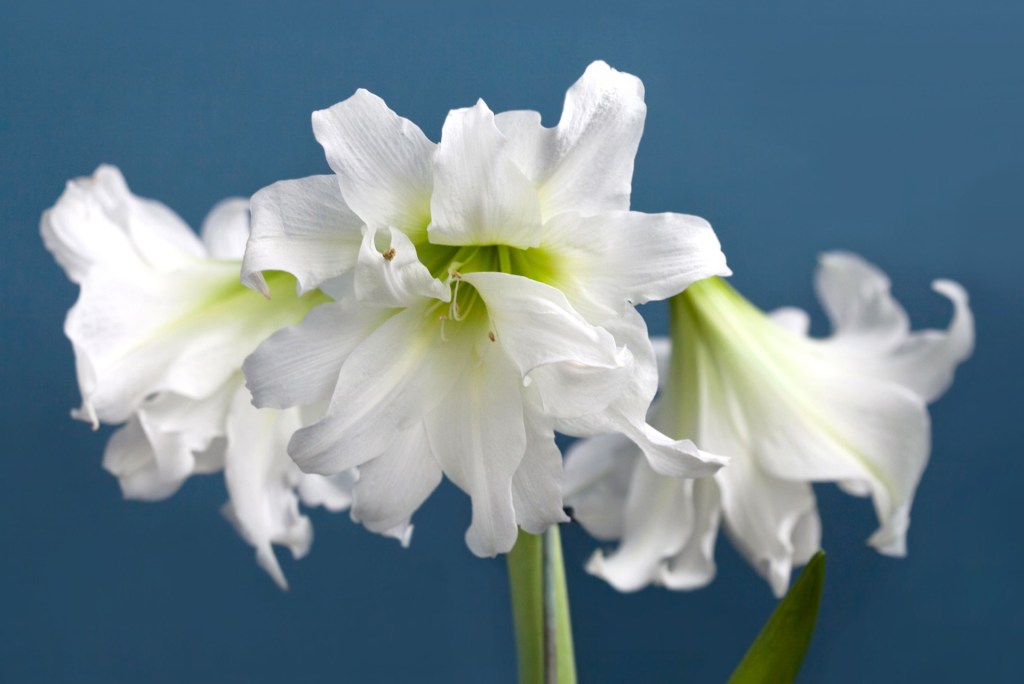 3. Amaryllis 'Ice Queen'
For a striking contrast to all your brightly colored flowers, try the Ice Queen variety of amaryllis — in fact, these flowers will look great next to your rich Royal Velvet flowers. Coming in a lush double form, the stunning white petals have a somewhat spidery silhouette and light strokes of green.
Great for climate zones 9 through 11, Ice Queen bulbs typically take around six to eight weeks to bloom. Keep your soil moist, but never soggy, and be sure to give it partial shade or full sun.
4. Amaryllis 'Sumatra'
Sumatra is a reddish-orange variety of amaryllis that's a great alternative to a more intense red cultivar like the Royal Velvet. If you've already got a wide collection of showy, full amaryllis, you might want to try something a little different with the Sumatra, which features pointy petals and whitish-orange stamens that curl out.
The Sumatra also tends to be a bit smaller than other amaryllis varieties, as it features six blooms that grow around 1 to 2 feet tall. Hardy in climate zones 8 through 11, it takes about 8 to 10 weeks to bloom, requiring evenly moist, well-draining soil.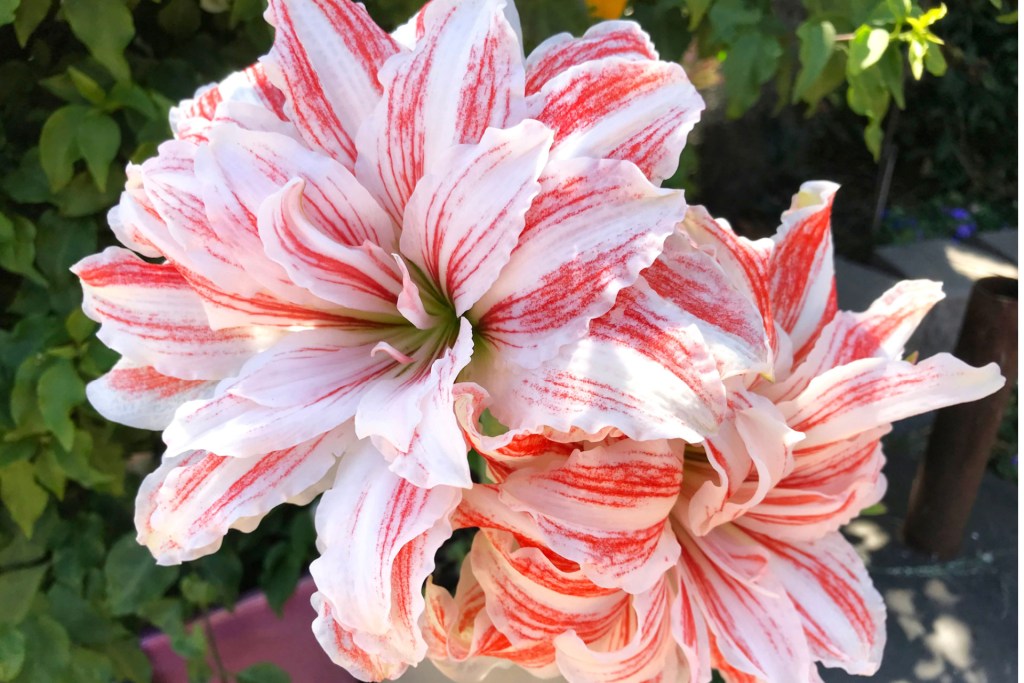 5. Amaryllis 'Dancing Queen'
Amaryllis "Dancing Queen" is a white flower with striking red stripes across the double petals. If you're looking for a tall flower that looks full, you can't go wrong with this particular variety. It's a fairly popular holiday pick for forced bulbs, and it's easy to see why — with the Dancing Queen, you can truly have the time of your life (get the ABBA reference?) with the 5-inch blooms and 20-inch stalks for a showy display.
As a double, it also features multiple flower layers and may bloom sooner than your average single variety. Once you get your bulb, pot it up and lightly water the soil for blooms in six to eight weeks. Hardy in climate zones 8 to 10, it can thrive in full sun or partial shade outdoors.
6. Amaryllis 'Picotee'
The Pictotee variety is simply different. It features darling white flowers with a thin red edging that gives it a cartoon-like yet elevated vibe — if you cut it before it fades, it could make for a stunning addition to your floral arrangements.
Hardy to climate zones 8 to 11, the Picotee takes about six to eight weeks to bloom. It's fairly low maintenance, although you will want to give your plant good eastern or western exposure to get prominent red edging.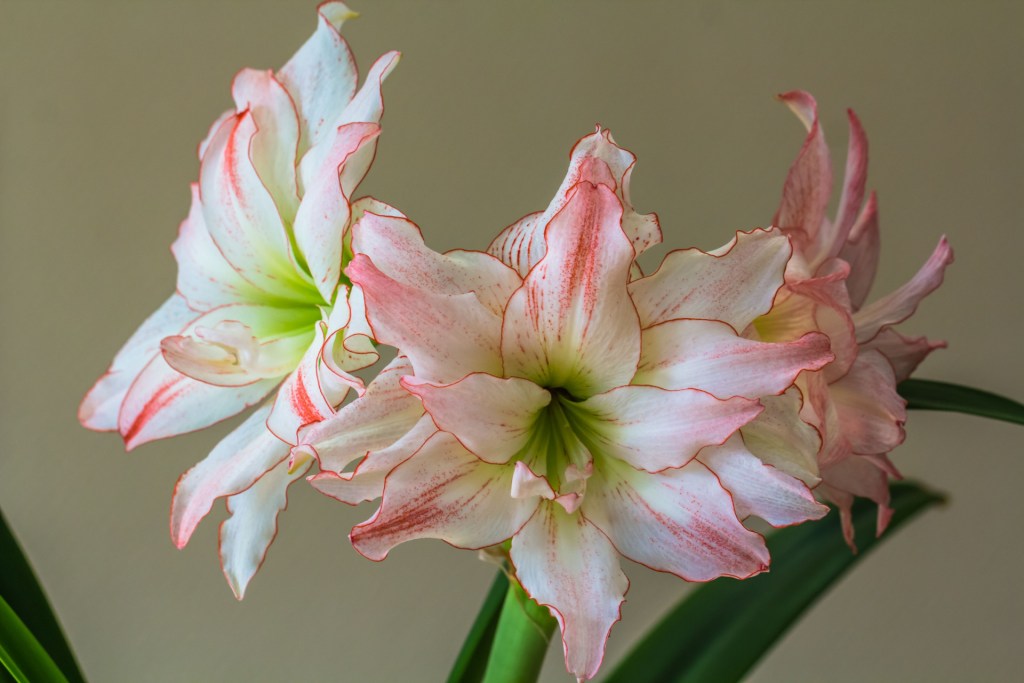 7. Amaryllis 'Aphrodite'
It's named after the goddess of beauty for a reason — this mesmerizing double amaryllis features red edging and streaks on showy, slightly ruffled white blooms. It's a bit smaller than most amaryllis, rising up between 14 and 18 inches tall. Still, its double, 9-inch flowers are hard to overlook.
Perennial in climate zones 8 to 11, it favors dry, well-draining soil and does well in full sun or light shade. As a smaller, double variety, it generally takes less time to bloom, but you may have to wait around 8 to 12 weeks to enjoy the flowers.
You can't go wrong with any amaryllis flower, as all varieties are gorgeous, long-lasting blooms. Still, knowing a few of the most-beloved types can help you start your amaryllis collection effortlessly. No matter if you enjoy your blooms as annuals or perennials, you're bound to enjoy cheerful pops of color and lush silhouettes with a springtime garden that features amaryllis flowers.
Editors' Recommendations