Spring is here, and summer is right around the corner. There is still time to do some DIY projects and build something that can greatly enhance your outdoor life — like an outdoor shower. It may seem like a luxury, but outdoor showers can be fairly inexpensive to build if you stick with cold water, which will feel great in the hot summer sun!
If you're an avid runner, swimmer, gardener, or anyone who enjoys breaking a sweat in the summer, an outdoor shower can improve your life dramatically. A simple shower can cost you less than $1,000, and we're going to show you how to build one step by step.
How to build an outdoor shower enclosure
Plan the shower drainage
First things first, check with your local regulations to make sure you can build an outdoor shower. Some communities require you to install a drain that connects to your home's waste system, which needs to be done first. The base will also need to have a drain strainer and be sloped so water flows into the drain. If this is required, a concrete base is your best bet; it will be easy to mold and will last a long time. You can even tile the concrete base if you want to go the extra mile.
If you don't need to regulate water runoff, then the easiest thing to do is allow the water to flow into a garden.
Construct a shower base
Unless you are lucky enough to have a flat piece of ground that drains well or you have a deck, you will need to construct a shower base. A flat, stable base is required for functionality and safety. The dimensions should be, at a minimum, 30×30 inches because this is the most common floor space required by code; however, it is usually a good idea to make it bigger.
As we said before, create the base from concrete or another nonporous material if your shower needs a drain. If no drain is needed, then you have two options that allow water to soak into the ground: cement pavers or wood decking. In addition, some freestanding shower kits are available with a platform so you can skip this step and save some time.
Build the enclosure
If you want to enclose your shower for privacy, now is the best time to create it, specifically the back wall where you will mount the showerhead and valve. Construct the back wall out of wood, vinyl, or any material that is strong enough to support a showerhead and heating unit if you are going with hot water. Alternatively, if you are building your shower next to a fence or similar structure, you can simply mount the shower head on an existing fence post.
The enclosure is really where your creativity can shine. Enclosures can be made with almost anything, as long as you use a waterproof sealer, including bamboo, corrugated metal, sliding door, or simply a curtain.
Install the shower head and valve
This step will be the easiest or hardest, depending on whether you're using a freestanding shower. If you are, then all you have to do is position it wherever you want. Stabilize it by pounding a 6-foot metal stake or rebar at least a couple of feet into the ground, then tie the shower riser to it.
If you are using a propane shower instead, which usually comes equipped with a handheld showerhead, make sure to mount it high enough so you can stand underneath it when the handheld showerhead is not in use. Remember to create a place for the propane tank. When installing an outdoor shower valve and head, secure everything to the wall with copper pipe clamps.
Hook up the water
Finally, you are ready to hook up the most essential part: the water. When installing a freestanding shower — solar or propane — all you need to do is take a garden hose and screw it into a hose bib. Turn the water on and leave it to control water flow from the shower. If you went with a solar shower, then the heating reservoir needs to remain in complete sunlight for a few hours before the water will be warm enough to use.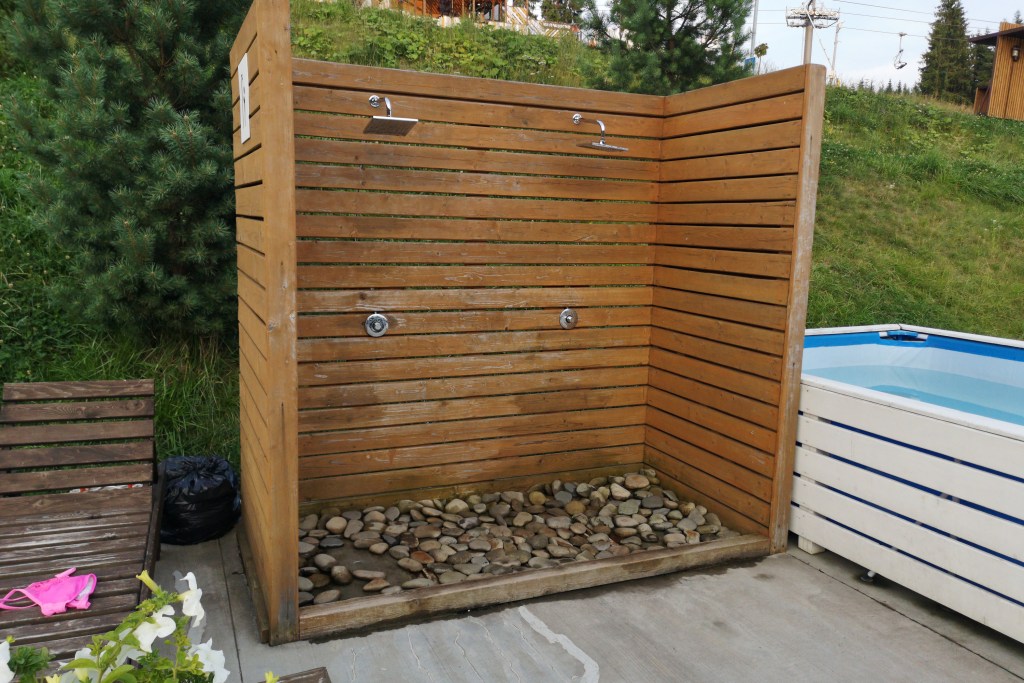 Protect your shower in the winter
Not many people remember this, but your outdoor shower will be exposed to the winter months when not in use. This means you will need to protect it from cold temperatures, depending on your location. The most important thing to do is make sure your shower is completely drained of water to prevent freezing and cracking to the supply hoses and shower fixtures. If you bought a freestanding shower, things are easy for you. Simply remove the garden hose and put away the shower for the winter.
If your shower valve is installed on the wall and connected to a heater, turn off the water supply, put away the hose, and open the shower valves and leave them open. Also, make sure to remove the showerhead and valve from the faucet so that any residual moisture can escape.
The actual shower enclosure will also need to be protected during the winter. When you are ready to close the shower for the season, thoroughly dry the inside and cover the enclosure with a tarp, making sure the tarp is tied securely. If you did not build an enclosure, then cover the shower pipes.
Final thoughts
Outdoor showers may have seemed like a luxury for the wealthy, but anyone can create their own unique shower to enjoy during the summer. Whether you go with a simple freestanding shower with only cold water or go all out with a bamboo enclosure and propane heater, building one only requires some planning, patience, and the willingness to learn.
Editors' Recommendations