Built-in gas grills are a great way to enhance your outdoor space. Sure, you can opt for one that's moveable, but especially if you have an outdoor kitchen, a grill as a permanent fixture completes the space and can act as a centerpiece. If you're considering a built-in outdoor grill, it might be worth noting that there a lot of options, as the designs are far and wide, and there's always something for everyone.
Choosing your preferred grill type
Gas grills are separated into two different types: propane and natural gas. Before choosing a design for your built-in grill, you should choose which type you want to use. A built-in natural gas grill will be a bit more complicated and costly. Natural gas grills cook with, well, natural gas, which requires a gas line to be run from your house to the grill. This can limit where you put it in your yard and will increase your overall cost (unless you already have a gas line from a previous installation).
A built-in propane gas grill may be a more affordable option as it runs off of a propane tank and you won't have to worry about where or how to install a gas line. In both cases, the gas will cook your food just fine, so it boils down to what you can afford and what you prefer. There are also built-in charcoal and electric gas grill options, if you find that cooking with a gas grill isn't for you.
Design elements to consider
When selecting the design of your built-in grill, you'll want to consider the space you're working with, any furniture you already have, and the overall style you want for your outdoor space. There are quite a few elements you can choose from/incorporate with your built-in grill, lending creativity where moveable grills do not.
Angles or curves?
You should start by deciding if you want your grill to fit in with curved counters or with angled counters. Harsh angles, like the classic L-shape, lend themselves to more defined areas and spaces. You can clearly separate the seating from the outdoor kitchen with an L-shaped grill counter. On the other side, the curves allow the space to feel more open and inviting. If you're working with a small area, curved counters for your built-in outdoor grill will help it feel more open and less defined.
Few or many cooking surfaces?
You should also consider how many surfaces you'd like for your outdoor kitchen. Smaller spaces will lend themselves to fewer counters, perhaps making use of an island or mobile cart for an additional surface during gatherings. Larger spaces, however, can feel more put together with multiple surfaces. With a larger outdoor kitchen, you're likely hosting bigger gatherings, and extra counters can serve as a place for more food, drinks, and other things to sit on.
Island or connected?
In a similar vein as utilizing islands and mobile carts in smaller areas, grill islands can add a dynamic touch to a space; however, depending on the size of your space and the design/layout that you want, a grill island could be less practical. It may make the space feel closed off, or it could serve as a centerpiece for the entire outdoor kitchen.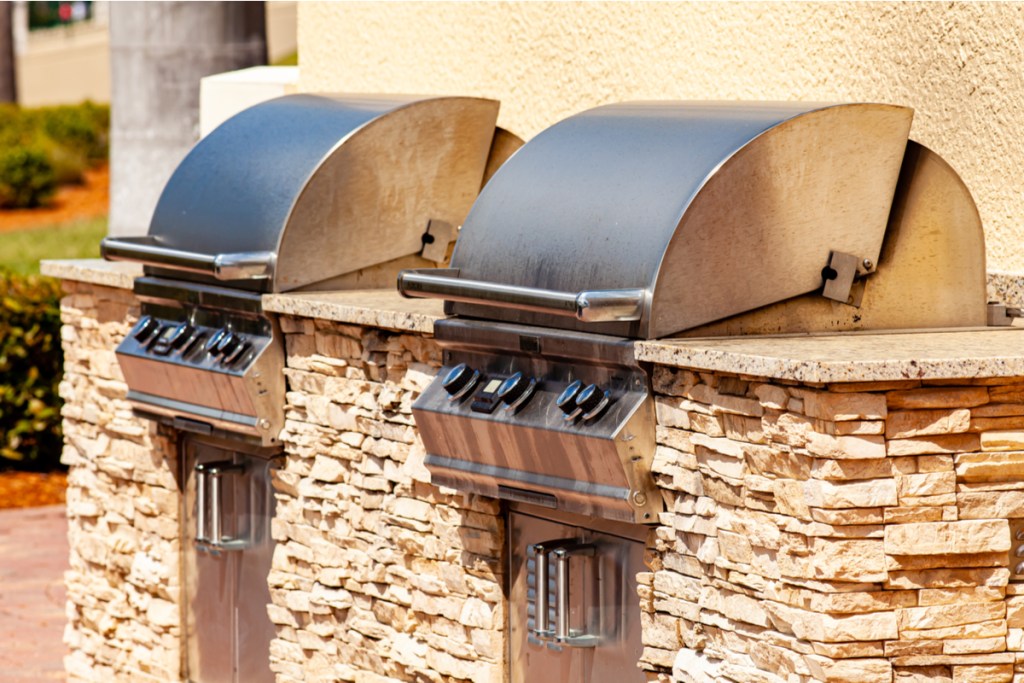 Creative touches that won't go out of style
Possibly the biggest thing to consider when choosing your built-in outdoor grill design is the material you want to use for it. There will always be materials that are "in style," but be cautious of ones that could go out of style. Unless you're sure you'll love the material forever, it may be best to go with something timeless that will be "in" no matter what the trends are.
Brick is a classic material that never goes in and out of fashion and is something that works well for multiple styles. You can curve them, angle them, and best of all, they come in a variety of color schemes. Any kind of weatherproof steel or copper will look lovely paired with brick, and you won't have to worry about your built-in propane gas grill keeping up with the times.
If you're looking to add even more uniqueness to your space without following trends, consider adding things like a built-in electronic system (TV, stereo, etc.), a fireplace, or an outdoor sink to your space. They'll spruce it up while making it feel even more like a place of gathering and warmth.
Editors' Recommendations