It doesn't matter if you live in a city, suburb, or rural area; you can decorate outdoor walls for any style and any event! Just imagine having a space you can party in that rivals the living room. It doesn't matter if you want something contemporary and edgy or more traditional in nature; we've outlined five outdoor wall decor ideas to enhance your outdoor space and create massive visual appeal.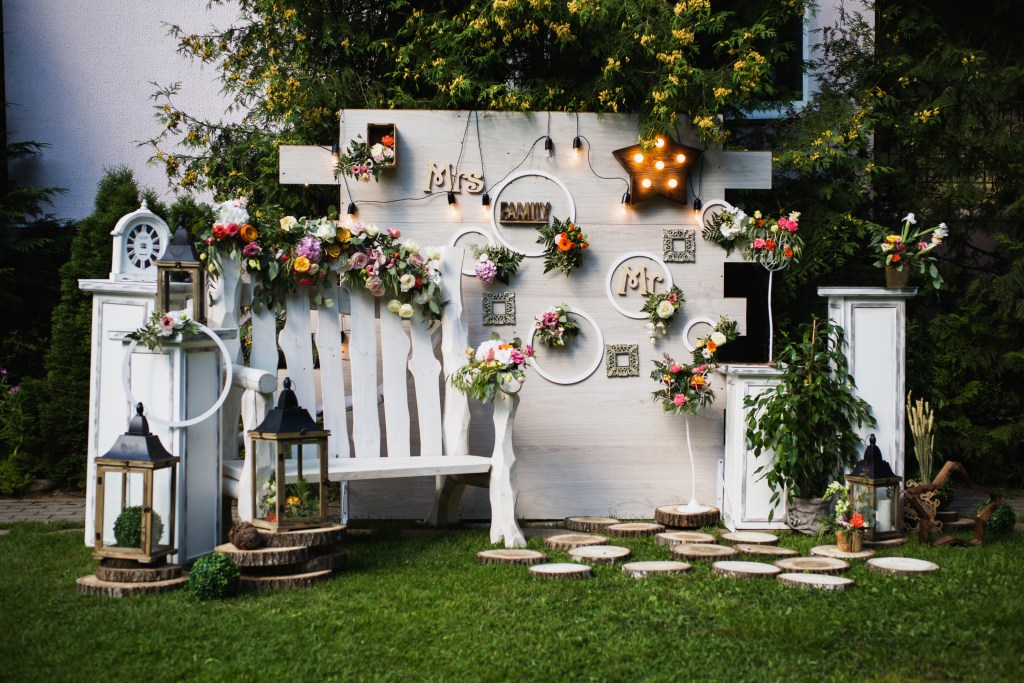 Dress the walls in black
If you really want a way to create a contemporary and edgy outdoor space, then black decor might be your answer. We suggest using black on any outdoor wall or fence because it contrasts beautifully with green plants or outdoor furniture.
If you want your guests to pay attention to your design scheme, this one's important! Plus, we think dark colors evoke feelings of mystery and intrigue—so they can really get people talking about what you have going on outside.
Keep your decor minimal
The outdoor space can be likened to a canvas for the house's interior. The outdoor space is typically much more raw and natural in its aesthetic, so you should keep your decorations minimal to allow it room to breathe.
We recommend sticking with black outdoor wall decor or using woods that are light in color (think: cedar). But don't limit yourself—experiment with textures like stone or metal finishes. It'll give your outdoor walls an edgy look while still maintaining their simplicity.
You could also use outdoor wall tiles as decoration on vertical surfaces, which would make them easy to clean but still aesthetically pleasing.
Bring back brass
To create outdoor wall decor that's both neutral and inviting, consider using brass. Brass always has a warm glow to it, which will help your outdoor walls feel welcoming during the cooler months of winter when they need warmth the most. Brass fixtures look great next to wood finishes like cedar or oak because they're light in color while maintaining their natural texture.
This would allow for outdoor wall decor without having to take away from any of your aesthetic choices with too many other colors or materials used—something we recommend sticking to for outdoor walls so as not to overwhelm them!
Invest in custom signage
Custom signage as outdoor wall art is a home decor trend on the rise. Signage can come in many different forms—from signs that read "welcome" to those with family names or signs that say things like "our little oasis." They're a great way to customize your outdoor space and can provide distinct meaning, depending on the message you wish to convey.
We recommend investing in custom signage for outdoor walls if you want something personal but not too permanent. That's especially true when you have a more temporary need for them, such as at a wedding event.
And there's no better way to start off than by throwing up some simple DIY outdoor wall decals! Decals aren't time consuming and are perfect for outdoor walls that have a bit of blank space to fill.
Create a feature wall full of natural greenery
Suppose you're looking to create outdoor wall decor with a natural flair. In that case, there's no better way than by incorporating brightly colored plants and greenery. This will help make your outdoor space come even more alive—perfect for those who are in need of some outdoor rejuvenation!
You should start by picking out some plants native to your area. If you're concerned with ensuring your feature wall looks great during the summer without any drooping or brown leaves, be sure to purchase and use drought-resistant plants. Then plan out where you want the shelves to go, and start mounting.
Party down
There's no better way to get summer party vibes going than by adding some rocking outdoor wall art. Think beyond the essentials and get creative!
Remember that utilizing many of the same principles you'd use in interior design work when it comes to outdoor walls too. The only difference is that you should account for nature and allow the space to breathe.
Editors' Recommendations