So you're trying to spruce up your patio. You must be in the process, then, of choosing outdoor furniture for gatherings as well as for those nights when you simply want to relax outside. But are the seats comfortable enough – for yourself as well as for potential guests? There are 12 well-known types of patio chairs, ranging from plastic to metal to wood to wicker. For the most part, you can choose which type of chair suits the look and feel for your patio best. Perhaps you prefer one type of chair over the other, or you can accommodate better for lounging chairs than swinging chairs. Some types of patio chairs are also better for tight budgets than others.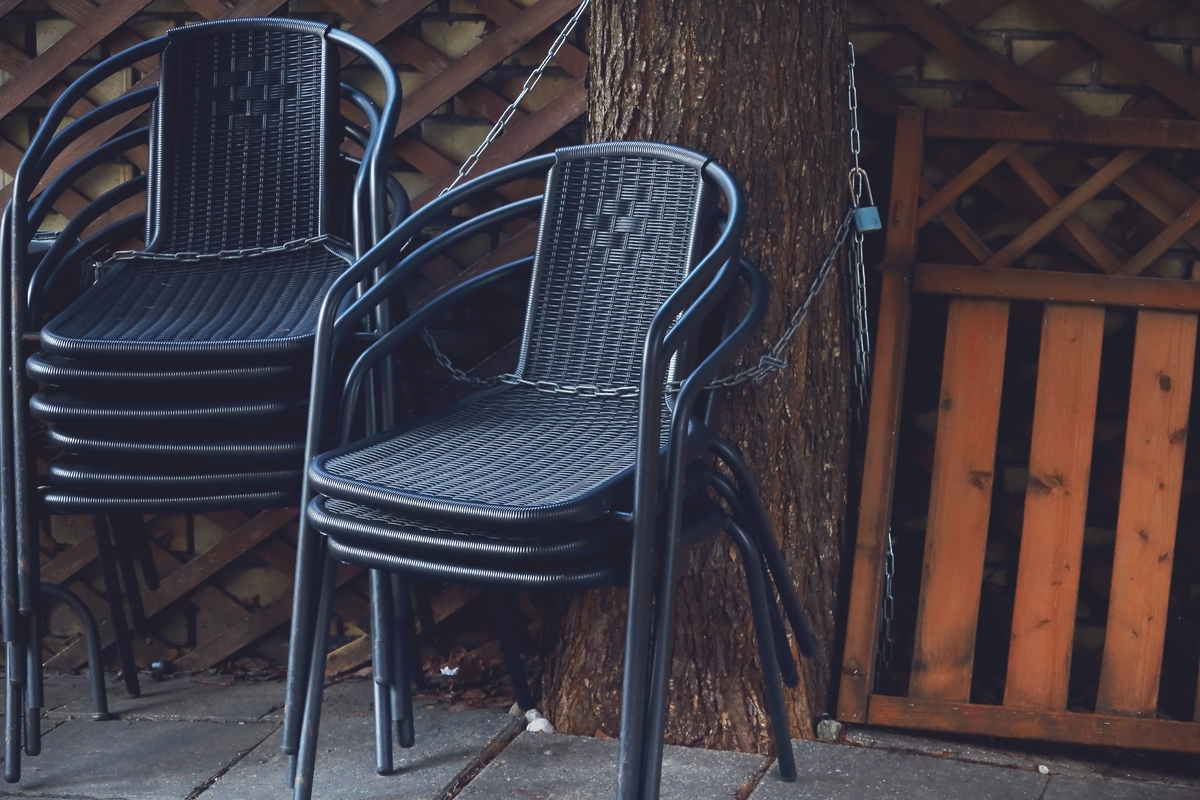 Stackable
Stackable plastic patio chairs are some of the more affordable ones you can buy, and they save space when you aren't using them! The chairs are made to stack together, so you can bring them out and put them away whenever you need to use them. These chairs are especially ideal for people with smaller patios or who want extra seating options for hosting guests and having parties. They can stack high, so you'll have the option to buy quite a few of them without having to allot too much space to storing.
Metal
Metal patio chairs are a good durable option, and as long as you care for them, they'll last quite a long time. There are many different styles of metal chairs to choose from, too, so you'll be able to pick the ones that fit your patio's aesthetic best. Like all metal, there's always a possibility for rust if the chairs are left out too often in harsher, wet weather. You'll want to store them in an accessible place during the winter, and if you have something like an awning to store them under during rain, that would help ensure longevity.
Plastic
Plastic patio chairs aren't the most popular option because their look doesn't feel as sleek or stylish, but they're one of the more affordable options and easy to be replaced if something happens to them. Because of their lower cost, you're able to get many of them for the price of some of the more expensive patio chairs on the market (bonus for storage if you get the stackable plastic patio chairs).
Wooden
Wooden patio chairs cost a bit more money, but they look a bit more stylish if the appearance of your patio is important to you. There are more options as far as style is concerned with wooden patio chairs, and the durability of them may be worth the extra money you spend. You can choose between light- or dark-colored wood depending on what works with the rest of your furniture and what you prefer.
Wicker
Wicker patio chairs are appealing in both their style and feel. They bring a unique look to your space and are overall a classic item that works with a lot of decor designs. Some wicker furniture does err on the more delicate than others, so it's a good idea to test out the seating if you can before buying it. Especially if you live in an area with harsher weather, you want to make sure your patio chairs will be durable and last you a long time. Aside from just patio chairs, you can get full wicker sets that complete the aesthetic if that's something you have the space for.
How do I choose which type is best for my patio?
How you select your patio chairs will depend on your wants, needs, budget, and style preference. Aside from the above standard materials patio chairs come in, you can get them in different styles, from swinging chairs to benches to lounge chairs and even hammocks, if you want a place to lie down and relax. It boils down to the space you have to allot, how much money you can spend, and if you want chairs that are easily stored in harsher weather.
When it comes down to style, you want to consider what your space will allow you to do. On patios without many railings or ones that aren't near trees, a hammock will be less practical than a bench. On larger patios that have an outdoor kitchen and can accommodate sets of furniture, you may want to opt for a more stylized wicker ensemble to complete the space. Maybe you want to splurge on a swinging bench to go alongside your stackable plastic patio chairs, giving you the option to have a chair that moves while having others you can easily move out of the way.
Whichever patio chairs you choose, be sure that you do what you can to maintain them. The more you take care of them, the longer they'll last and the less you'll have to replace them.
Editors' Recommendations