When shopping for patio furniture, you will stumble across one of the most popular types — wicker. Yet not all wicker furniture is created equal, and you will need to ask yourself some important questions. Is wicker weather resistant? If so, how long will wicker furniture last outside? Is natural wicker a suitable choice for outdoors?
Many people love the natural, crafted look of wicker furniture. It looks as gorgeous on a patio at sunset as it does holding laundry in your bedroom closet. Also, yes, it is weather resistant, although it depends on the type you get. We will take you through the types of wicker furniture available, what makes it weather resistant, and how to keep it looking brand new years down the line.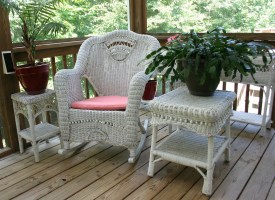 What is wicker furniture?
Before you run off to find that cute table you saw online, let's break down exactly what wicker is. The term "wicker" does not actually mean a type of material but rather a weaving process. Wicker is a woven fiber that is formed into something rigid, e.g. furniture.
The fibers used in the weaving process can be from any fibrous plants, such as raffia and willow, although rattan is the most popular for furniture. The bottom line is that rattan describes the material and wicker describes the process. Most stores will refer to the furniture as "wicker," but don't be confused if "rattan" is used as well.
Natural vs. synthetic wicker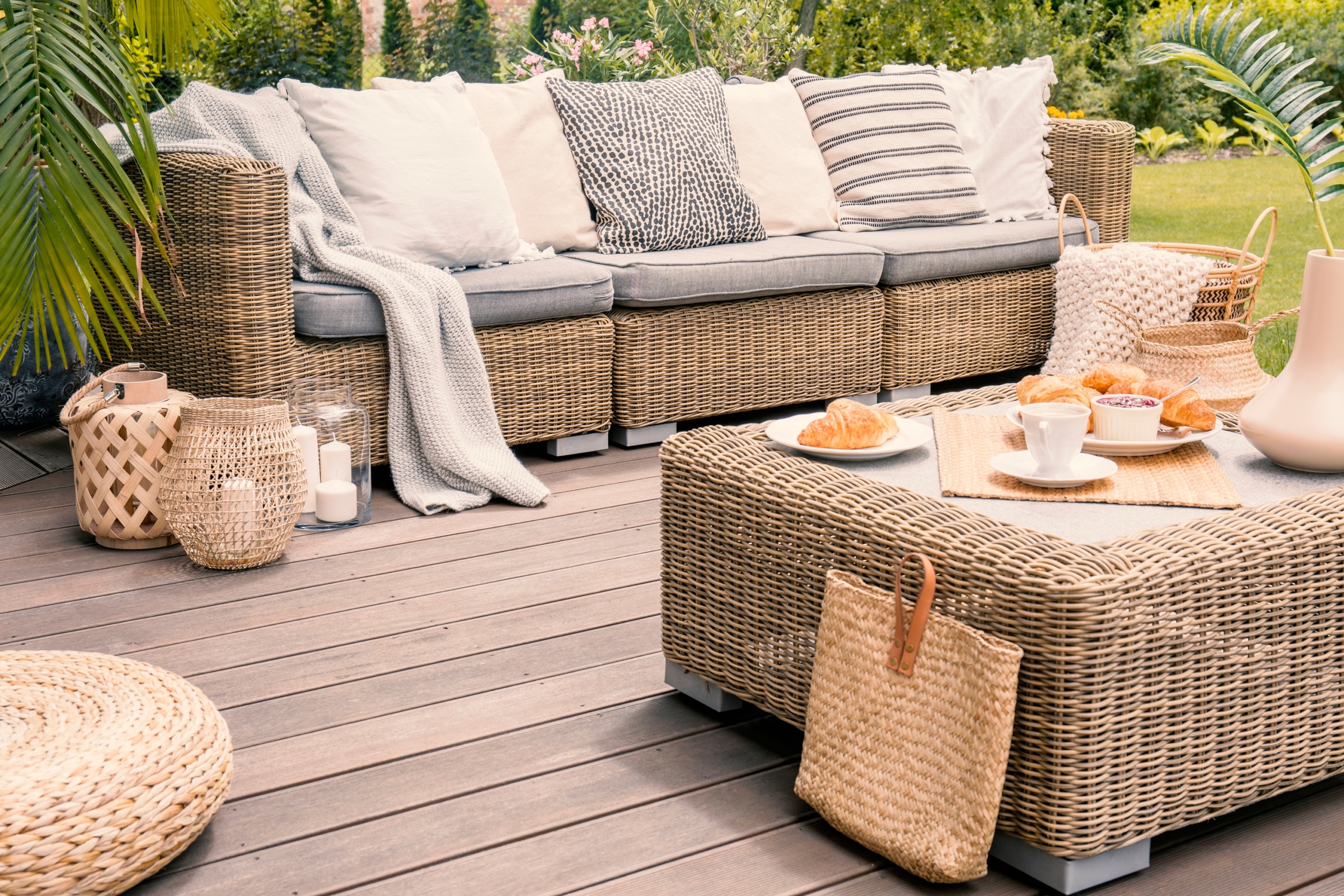 Wicker furniture has always been durable, but contrary to popular belief, natural wicker does not belong outside. It can fade in the sun, become brittle and crack in the cold, and blemish when splashed with a glass of red wine (don't worry, we have all done it).
However, that's where synthetic wicker furniture comes in. Quality, all-weather wicker furniture will be impervious to the forces of Mother Nature and your day-to-day use. Synthetic wicker furniture is woven from new weather-resistant synthetics that are more durable than the traditional style.
What's the problem with natural wicker furniture? While it is great for indoors, natural wicker is porous, making it susceptible to moisture and rotting. Also, natural wicker does not have a high tolerance for UV rays. This means that you need to always cover your furniture when not in use or remember to bring it inside. While some natural wicker furniture pieces come with a seal to protect them from the elements, these seals can and will break down. Generally, synthetic wicker is almost always the better option for outdoor use.
Be warned, though, not all synthetics perform the same. Choose outdoor wicker furniture made from polethylene, not polyvinyl chloride (PVC). Not only is PVC less durable than polethylene, but PVC emits toxic compounds during production and decomposition that are harmful to both you and the environment.
When in doubt, stick with products that say "all-weather" or "synthetic" wicker furniture, such as the SOLAURA All-Weather Set , the Pyramid 3-Piece Bistro Set , or the Kinsunny Coach Set .

Cleaning your wicker furniture
You've just bought your new patio set and can't wait to use it. However, sooner or later, you will have to clean the furniture. Thankfully, synthetic wicker is considerably easier to clean than natural wicker. But, that doesn't mean your furniture won't get dirty. Mother Nature can and will throw everything at it: bird droppings, rain, tree branches, etc.
There are a number of steps you can take to ensure that your furniture looks brand new 10 years down the line.
Tarps: Invest in a moisture-protecting tarp. This will help keep your furniture clean and protected; no dirt or debris, no cleaning required. Of course, this deprives you of great backyard views of your wicker furniture. At the very least, use a tarp before it rains and/or when the sun is highest in the sky during summer.
Spray with water: Generally, you can simply hose down your furniture because synthetic wicker is nonporous and water resistant. If you want to get down and dirty, combine three-parts water with one-part bleach and scrub away.
Cold weather: While synthetic wicker survives better in cold temperatures, the weather is still not great if you want your furniture looking brand new. The best thing to do? Store your furniture away until the warmer months (you probably won't be having any barbecues anyway). If you don't have the room, then a tarp is the next best option.
Choose aluminum over steel
The frames and legs of your furniture will generally be steel — avoid this. Steel will eventually rust when exposed to the elements. While aluminum also rusts, it rusts the same color as the brand new aluminum, looking perfect years out of the box. Because of it's non-corrosive properties, aluminum is used to make parts in the automotive and space industries.
The bottom line is this: Choose synthetic wicker furniture over natural. While both look fantastic, synthetic wicker is designed to be used outdoors and will survive far longer in the natural elements. However, that doesn't mean synthetic wicker is indestructible. Use a tarp when the furniture is not in use, store the furniture during the winter if possible, and hose the pieces down if they get a little dirty.
Editors' Recommendations