If you find yourself outdoors in the backyard, and especially if you do a lot of barbecuing, the thought of installing an outdoor kitchen has probably crossed your mind more than once. After all, a modern outdoor kitchen can allow you to do so much more than throw a few more shrimps on the barbecue!
Expanding your living space by putting in a new outdoor kitchen is a worthwhile investment. In fact, it's an upward trend, and people all over are jumping on the bandwagon. Just as kitchens do indoors, outdoor kitchens often create a space where friends and family gather to talk and have some cocktails (or beer), all while the chef is gets down to business.
With that said, there are a lot of decisions to be made when making decisions about your kitchen's design. Below, we've listed a few considerations you should keep in mind.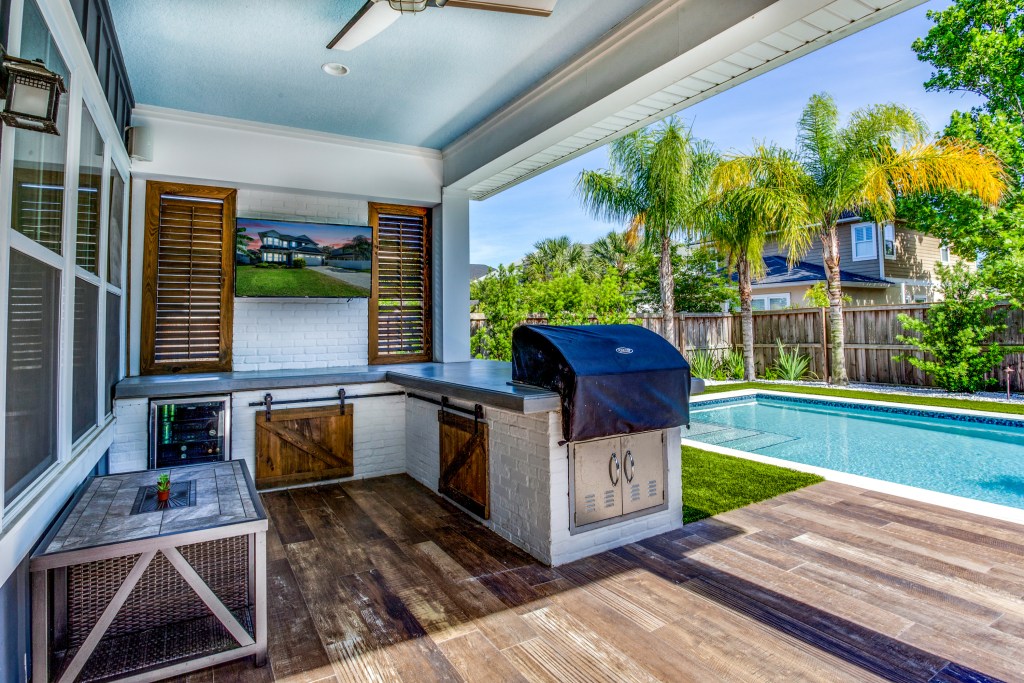 Decide the size kitchen that would work best for your space
A functional space doesn't require a large layout. Many of the best backyard small kitchen designs are built around the fundamentals, and that's it. Of course, you'll need a high-quality grill that will act as your kitchen's centerpiece. However, you should also think about designs that incorporate small space-saving cabinets so you can store utensils and accessories. A mini-fridge can complement the setup nicely with just enough room to store beer or vegetables.
Make a priority list of appliances you'd like to install
Nothing says "modern outdoor kitchen" like sleek appliances. Throw in contemporary lighting and streamlined finishes, and you'll have all the elements necessary for a modern outdoor kitchen design. Consider using marble countertops with neutral colors. Then, add in benches and bar stools, and other seating options that provide a pop of contrasting color.
Of course, your modern outdoor kitchen also needs to incorporate refrigerators, sinks, and built-in grills if you want to give guests the impression of a well-coordinated space. You could also choose to install a kitchen island as a prep area.
When thinking through which appliances you'll be installing, it would probably make sense to consider installing stainless steel appliances, because they're incredibly durable by nature and are typically resistant to weather-related corrosion and heat damage, which makes them a great choice for outdoor use. To ensure a cohesive finish, try to pair your appliances with aluminum slate or classic steel accessories.
At this stage, you might also want to consider the proper ventilation. Maybe you didn't think this was something you'd have to think about, considering an outdoor kitchen is, well, outdoors. However, you'd be wrong. A vented outdoor kitchen design is perfect for allowing fresh air into your space while grilling.
Next, choose the kitchen shape that would work best
If efficiency is your thing, choosing an outdoor kitchen with an L-shaped design is a good choice. Plus, an L-shaped design is great for improving your ability to entertain guests. Use the longer sides for appliances and built-in grills. Meanwhile, you can use the shorter side to prepare food, as a serving station, or as a mini-bar area.
U-shaped kitchens provide a great deal of flexibility. They're enclosed, and if large enough, they'll ensure plenty of cooking, prep, and schmoozing space. There are also a lot of things you can use to accent the scenery, such as adding an outdoor rug.
There's also the option of installing a modular system, which probably appeals more to those inclined to DIY projects, who may want to add to their outdoor kitchen in incremental bits and pieces, then a modular design might be right up your alley. Start off with the foundational pieces, such as a gas grill. Alternatively, you could go for a built-in grill with interior storage and side shelves. Either way, your entire outdoor patio can become more functional since you have the option of adding wheels to make your modular kitchen mobile.
More benefits of an outdoor kitchen
Today, more people are eager to get outside and enjoy quality family time in their backyards like never before. Cooking, grilling, and barbecuing have all become investments most are willing to make. Regardless of whether you want to make better use of your patio space, or you're incorporating an outdoor kitchen into a new house you're building, remember the following benefits of having one:
They're great for entertaining guests and family.
They increase the value of your home.
They can help save on utility costs.
They keep the grilling and barbecuing smells outside.
They can help save money by eating at home instead of going out.
Once you've answered these initial questions, you'll be able to move onto the fun part: the design and style! Be sure to start saving up inspirational images from Pinterest and magazines, so when it comes time, you'll know exactly the type of decorations that will work best for you and your space.
There are so many things you can do with an outdoor kitchen. Once you've chosen a design you like, it's a fair bet you'll start wondering how you managed without it!
Editors' Recommendations