Who doesn't want to enjoy the summer on their patio? Think of all the socializing you can do. Imagine schmoozing over cocktails and sitting in comfy outdoor furniture while your significant other grills steaks. There are all kinds of attractive scenarios that could play out on your patio, and why not? Most people value having a patio as part of their outdoor space.
In fact, up to 58.6 percent of new single-family homes in America have them! However, designing a patio space with the right furniture and decor is easier said than done. There are many factors to consider, and most end up making mistakes that detract from their patios' overall attractiveness.
Never fear! In this article, we'll show you how to arrange patio furniture while avoiding seven common mistakes.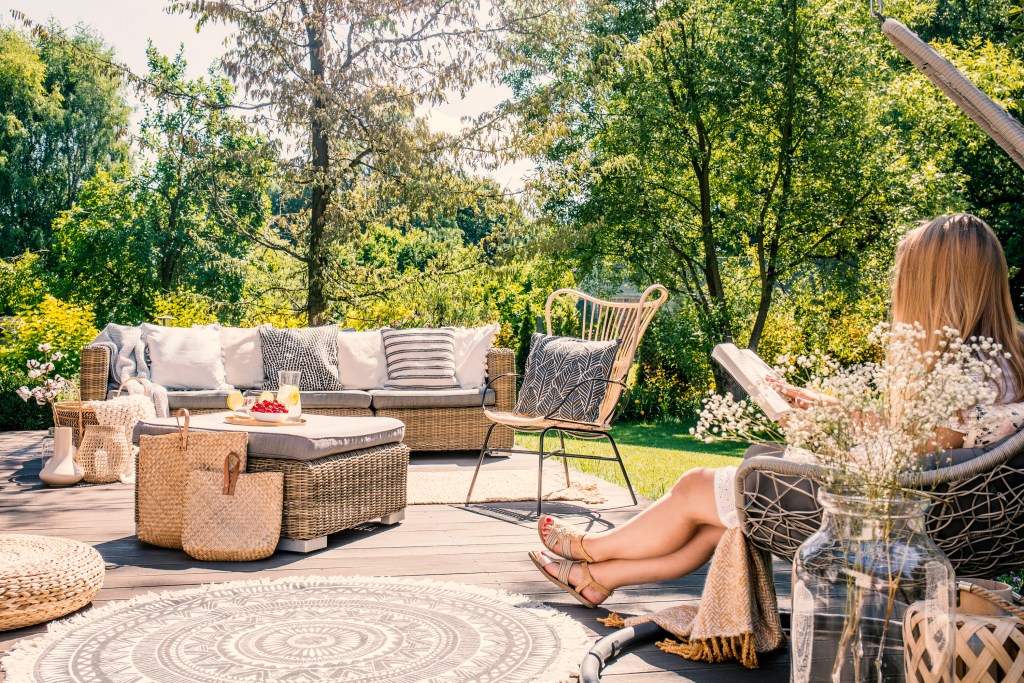 Designing for indoors instead of outdoors
Many people want the transition from their indoor space to their outdoor patio to be seamless. However, you really shouldn't use the same furniture or decorations on your patio that you use inside your home.
First of all, indoor furniture doesn't do well outdoors. It can't stand up to the sun, the wind, or the rain. In fact, most indoor furniture and décor would be ruined not long after setting them up on your patio. Therefore, from the very beginning, it's best to avoid the issue entirely by choosing patio furniture, which is weather-resistant and made explicitly for the outdoors.
Too little or too much furniture
Another common error people often make is they go to extremes. Knowing how to arrange furniture on a small patio isn't something you're born with. Oftentimes, people don't put enough furniture on their patio, or they put too much.
Of course, when there's not enough furniture for guests and family to sit on, spending time out on the patio isn't as pleasant an experience. On the flip side, when you have too many pieces, the space can feel claustrophobic. Plus, having too much furniture makes it hard to walk from one place to another since you have to navigate around or through everything.
It's a best practice, then, to choose the number of pieces of outdoor furniture thoughtfully, so your patio looks nice and traffic in and out of the house isn't restricted.
Not enough decor
Speaking of decor, this is another area where people tend to go to extremes. With only a few small pieces, your patio can feel like you forgot something. Too much, and it can seem cluttered. As with your furniture, you need to strike the right balance.
Some excellent weather-resistant accessories you could consider using to provide the right accents include:
Wall art
Candles
Wind chimes
Garden statues
Hanging ornaments
Lighting
Pillows and cushions; and
Containers and pottery
No plants
You risk having a space that feels a bit lifeless if you don't utilize plants as part of your decor. Green plants provide a sense of freshness and soften the feeling one gets upon entering the patio space. Moreover, you can't mimic their pleasant smells with store-bought products.
You might try adding potted plants, freshly cut flowers, a dish garden, or patio trees. Of course, your patio's size will dictate which of these will work best.
Too many plants
Some people are super nature lovers. They tend to pack their patios with as many plants as possible. However, like other kinds of decor, they can crowd the space. Don't pack everything together. Remember that you should enjoy the presence of plants while still having plenty of room for seating and other decorations.
Lack of connection between the indoor-outdoor areas
While you don't want to use indoor furniture and decor out on your patio, it would be a mistake to think that it's not an extension of your home. It is. Therefore, try to make your outdoor furniture and decor mesh with the overall style and theme of your home's interior.
Not enough lighting
Remember that to enjoy your patio to the fullest, sitting and enjoying company at night is necessary. You can't do that if you don't have enough lighting. Moreover, it isn't just about having lights that are safe and functional. You want lighting schemes that help enhance the atmosphere. Maybe there's a certain feeling or energy you want guests to experience when stepping out onto your patio. The right kind of lights can help provide that.
Just a few ideas about outdoor lighting you could incorporate into your design are:
Energy-efficient LEDs
String lights
Solar lamps
Sconce fixtures
Lamp posts; and
Pendant lights

The takeaway
It's all about balance. Whether you want to barbecue and invite people to eat out on your patio or you simply want to relax and talk, you want your patio to feel just right.
However, it's easy to get carried away and pile too much into your outdoor living space. It's just as easy to go the extreme minimalist route. Neither is ideal. Ensure that your space is just right by placing outdoor, weather-resistant furniture that's attractive and functional in such a way that there's enough seating without the space feeling crowded. Don't forget to add in decor and plants, but do so sparingly and use only as much as is aesthetically pleasing.
Editors' Recommendations