Your living room should not be the only place that gets to be colorful. The outside of your house should be just as dynamic as the inside, and the color doesn't need to come from plants alone. The best way to bring color to the outside is with colorful patio furniture.
From colorful patio chairs to the best patio furniture arrangements, there are many things to keep in mind, but finding correct combinations does not need to be complicated. There are a number of general tips you can try at home to become a master at colorful patio furniture.
Choose bold primary or tropical colors
Get a sense of the types of colors that are out there. It is definitely easier to find patio furniture that comes in traditional white or natural wood tones, but there are plenty of pieces that are made with more bold primary and tropical colors. Even whites are not all the same, with some that (literally) sparkle to more muted and hardened tones.
You need to find what you like and what works for you. Whether you want to hop on the latest fashion trend or stick to your own favorite colors, chances are good that you can find patio furniture that suits your color palette.
Look at what you already own
Since there are many ways that color can be brought into an outdoor space, the best thing to do is see what you already own outside and inside. Plan just a little bit to understand what will work best in your space. The best place to start is to take a look at your surroundings before introducing a new color. There are two things to think about when checking your home:
Use the color of the outside of your home to see what colors will go well against it. You want your outdoor space to be an extension of your home, not separate.
Check the surrounding foliage, flowers, and plants for ideas on what works. Once you know the colors of your plants, you can decide whether you want to harmonize or break away.
Now that you have decided on a plan, let's explore the infinite possibilities.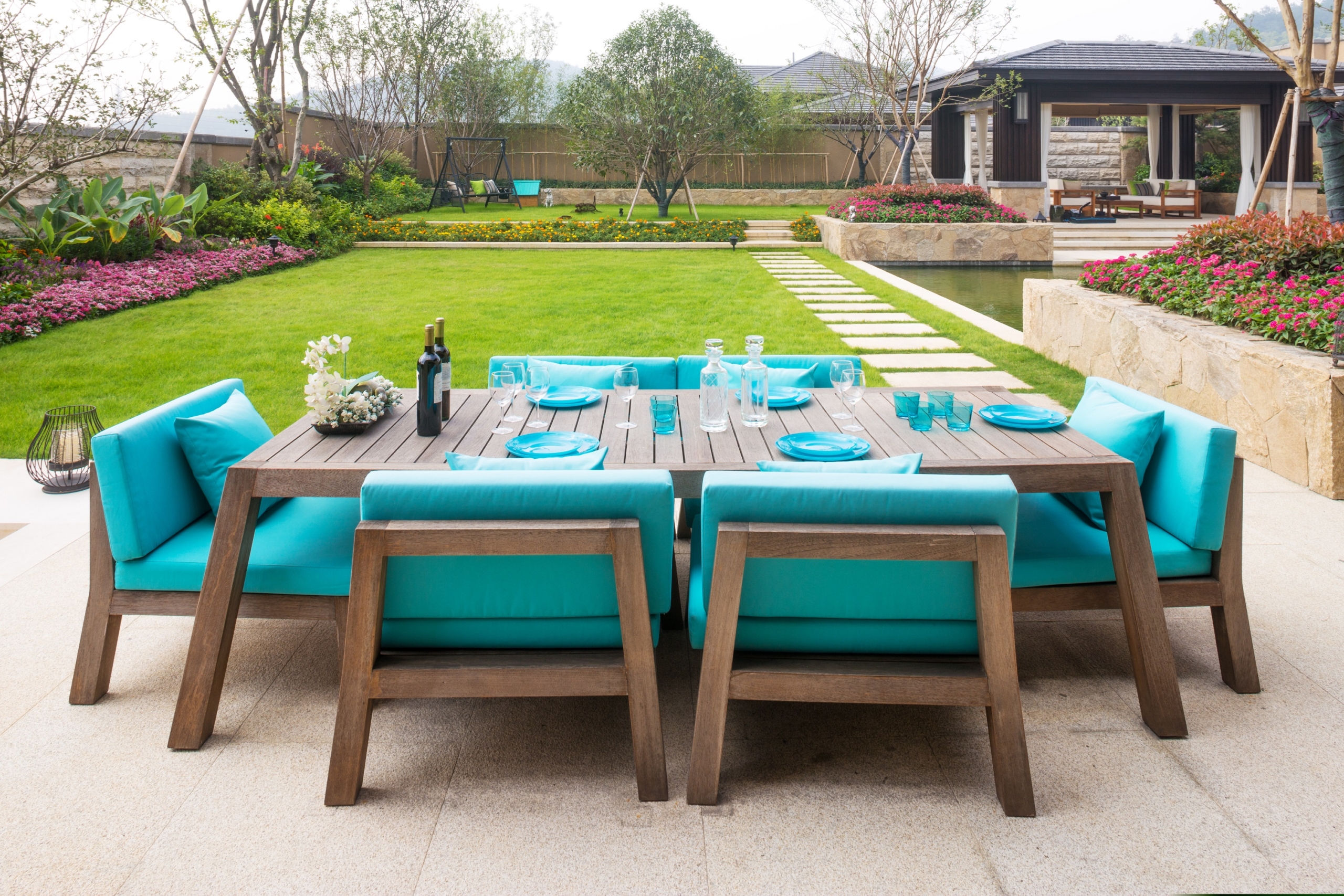 Different places to add color
You took a look around your house and know what will and won't work. Now is the time to decide what colors you want for each piece of furniture. There are numerous pieces you can fit into your outdoor space, and we will go over them all.
Chairs and hammocks: Color does not need to come from just cushions or pillows. You can very easily jump into brightly colored chairs with different materials and styles, like this

Crosley Retro Metal Set

. There are so many different types of styles — wicker furniture, painted wood, or resin, and even slings and hammocks can give a laid-back vibe. Choose the material you think works best for your space, then go for the color.
Outdoor tables and ottomans: Tables can brighten up any outdoor seating area in the same way that chairs can because they come in numerous colors, materials, and styles. While a stained glass table is one of the most popular choices, you can also take a look at painted, resin, or mosaic tables if you really want to blast the color.
Patio umbrellas and awnings: Don't think of umbrellas as simply just for shade. Awnings are the focal point of an outdoor setting and can be used to brighten an entire area depending on the color used. Choose one that you love and fits your surroundings because it will attract a lot of attention.
Pillows: Everyone loves pillows. They are comfy, cozy, and can bring together a room like no other piece. Not only can they provide a pop of color, but they can also dress down your furniture if you already own brightly colored pieces. If your current furniture is drab, go for pillows in fun colors with interesting patterns. Buy different coverings so you have rotating colors depending on your mood.
Outdoor rugs: Outdoor rugs are not commonly used because most people find it weird to put a rug outside. However, if you do not want to go out and buy new furniture, adding a brightly colored outdoor rug can do a lot in enhancing a space, such as the

Nourison Aloha Rug

. If you do buy an outdoor rug, match the color with your pillows or vice versa.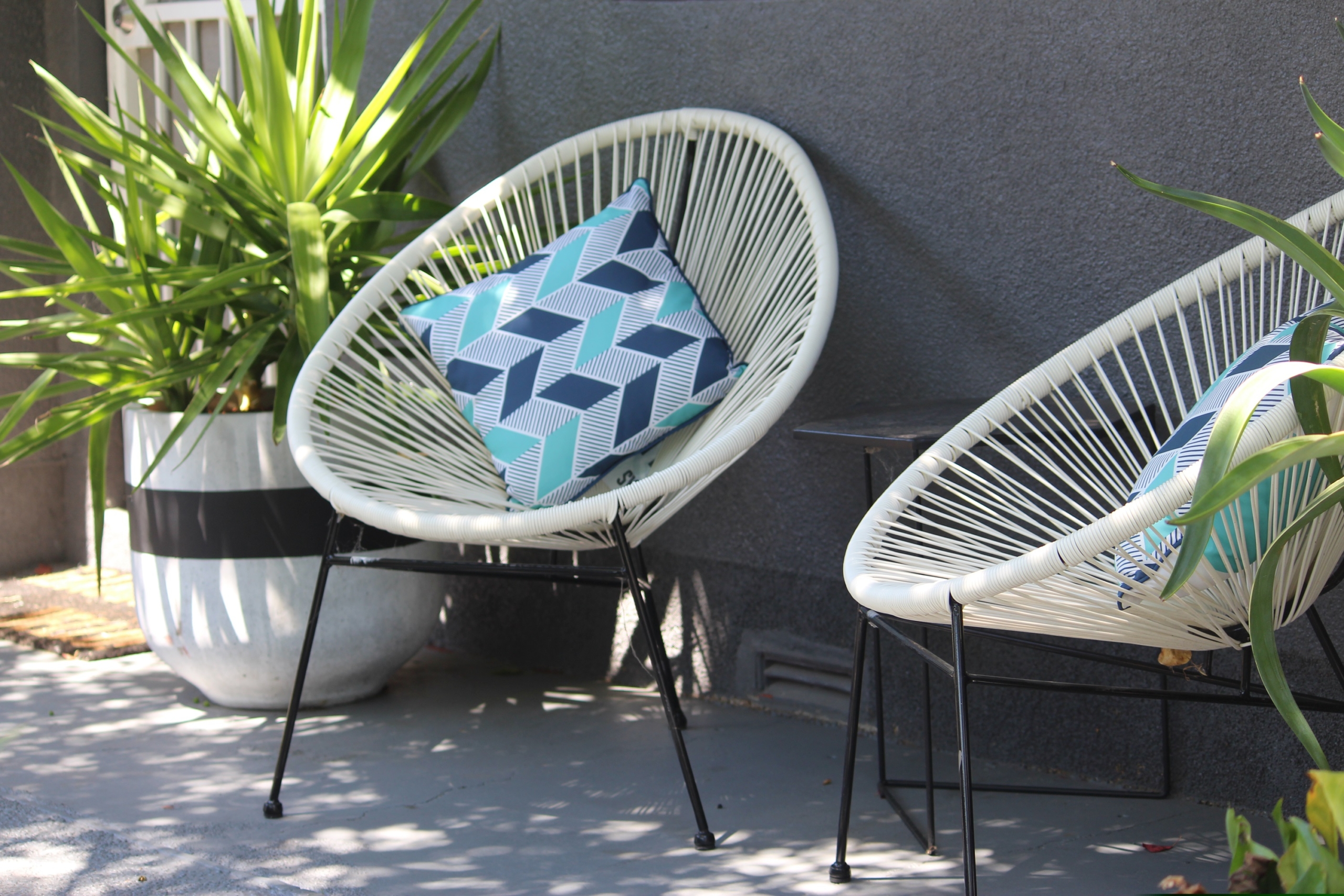 Choosing colorful patio furniture does not need to be hard. Look at your current outdoor furniture, the color of your home, and the colors of your furniture inside. Once you have an idea of your current color scheme, look for new colors that match.
Editors' Recommendations